Today's recipe is very tasty chickpea omelette with avocado and mango salsa from Happy Food book by Bettina Campolucci Bordi. Bettina, know as Bettina's kitchen on Instagram has produced an amazing book full of fast, fresh and simple plant based dishes.
All dishes are inspired by Bettina's travels around the world including  Tanzania, Sweden, Italy, Spain and Bulgaria, so you can expect fresh, quick, colorful and delicious dishes bursting with flavours without any comprises.
Happy Food book will take you through the morning till the evening...Think Hearty Buckwheat Waffles with strawberries for breakfast or Polenta with Oven-roasted Tomatoes and sweet, sticky garlic.
For lunch you can make a quick Hazelnut crust pizza & peppery rocket or One Pot Curry in a Hurry followed by Chocolate Ganache Torte and of course this super easy chickpea omelette with avocado and mango salsa which I have re-created and demolished all by myself.
This chickpea omelette is delicious savoury breakfast idea or light lunch or the perfect weekend brunch dish. I love the mango salsa that comes with it along the creamy avocado. I used spinach instead of rocket and added thin slices of radishes and sweet red peppers. It also call for chickpea flour, also known as gram, which you can get in Tesco for £1 only!
Bettina writes "Happy Food book is a cookbook for everyone! Grandmothers with newly converted vegan granddaughters coming over for Sunday dinner, couples who want to increase their veggie intake, single people looking for a quick meal after a long day or families that have food allergies but want to enjoy a meal together without compromises on comfort and taste". You can get your copy of  Happy Food book here.
Here's the chickpea omelette with avocado and mango salsa recipe
Chickpea Omelette with Avocado and Mango Salsa recipe
Yield: 1 - 2

Prep Time: 10 minutes

Cook Time: 5 minutes

Total Time: 15 minutes

This delicious Chickpea Omelette with Avocado and Mango Salsa recipe omelette is a brilliant savoury breakfast idea, quick & light lunch or the perfect weekend brunch dish. It's vegan, gluten, nut and dairy free too!
Ingredients
For the omelette
70g (½ cup) chickpea flour (also known as gram flour)
125ml (½ cup) water
½ tsp salt
Pinch ground turmeric
½ tbsp apple cider vinegar
½ tsp bicarbonate soda
For the filling
Handful of rocket or spinach
1 avocado,sliced
1 small spring onion, chopped
1 tbsp pomegranate (I used sweet red beller pepper and radishes instead)
For the mango salsa
1 shallot, finely chopped
¼ red pepper, finely chopped
1 tomato, finely chopped
½ mango, flesh finely chopped
1 tbsp chopped coriander
salt and black pepper to taste
½ red chilli, chopped
drizzle of olive oil
Instructions
Start by putting all the omelette ingredients into a bowl; give everything a good mix and set aside for 10 minutes
Meanwhile make the salsa by frying the the shallot and pepper in a drizzle of olive oil for about 5 minutes.
Next add all the ingredients to a bowl, give it a good mix and set aside.
Now time to make the omelette which is made exactly as you would do a traditional omelette making sure the batter is evenly spread over the base
Fry for 5 minutes and then flip over to cook the other side
Now time to assembly; transfer the omelette on a plate, add one handful of spinach or rocket on one side, a spoonful or two of mango salsa, some sliced avocado, some spring onion and the pomegranate seeds if using.
Demolish immediately

How easy and quick is this chickpea omelette? Bettina has loads of them, so make sure you follow her on her Facebook, Instagram and check out her blog too! Make sure you also pin this one!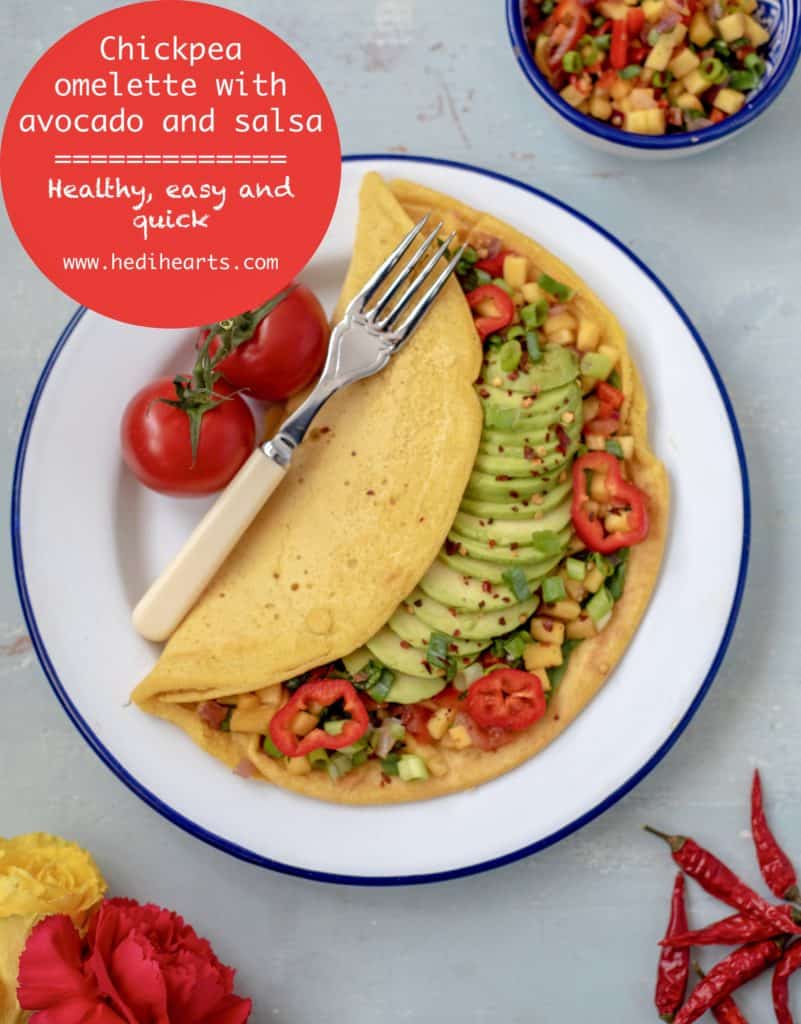 If you are after more chickpea recipes make sure you check this lovely Avocado and Chickpea Toast. As always please, if you make this recipe share it with me either on my Facebook,Twitter or Instagram. I would love to see it! Hashtag #HediHearts
Much love,
Hedi