I just got back from a lovely weekend in my homeland and fancied something tasty, filling yet light. I was pleasantly surprised how lush this turned out, so decided to share this healthy Aubergine Lasagna recipe with you.
I never liked aubergine, until now. It is actually very filling, "meaty" and versatile fruit. Yes, you read it correctly, aubergine is a fruit. If you are unconvinced by aubergine, this is a dish to convert you!
This recipe requires 40 minutes from start to finish, and hopefully you have all the ingredients you need in your cupboard right now! Don't sweat it if you're missing a couple of spices. If you're checking most the boxes, you're good to go! The only unusual ingredients could be nutritional yeast, which I get from here or Rizopia Brown Rice Lasagna.
This Healthy Aubergine Lasagna is also perfect for freezing and meal prepping. You could double up the ingredients, cook it all in one dish, then divide in 8 servings. Then just eat/serve the portions you want and freeze the ones you don't for another day. Simples!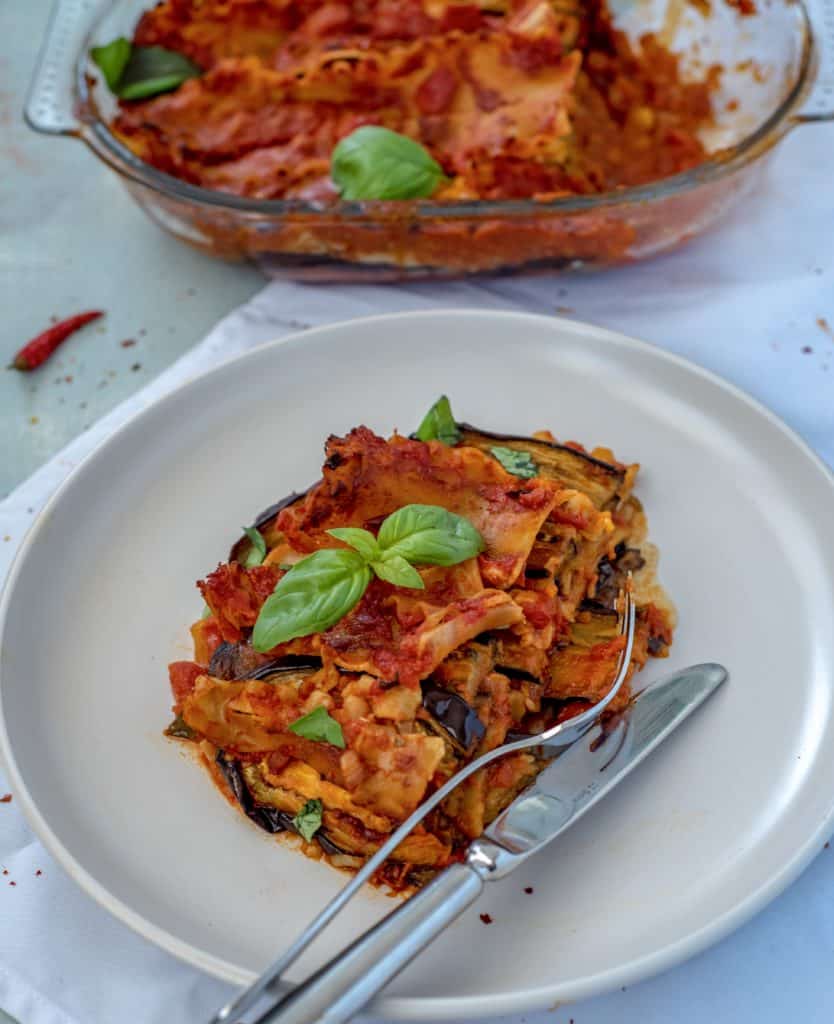 Here's the Healthy Aubergine Lasagna Recipe
Healthy Aubergine Lasagna Recipe
Yield: 4

Prep Time: 10 minutes

Cook Time: 30 minutes

Total Time: 40 minutes
Ingredients
2 big aubergines, sliced lengthwise
2 tins chopped tomatoes
1 tin coconut milk
1 cup vegetable stock
3 tbsp nutritional yeast
1 tbsp tomato paste
1 onion, diced
3 cloves garlic, minced
1 tsp paprika
1 tsp dried thyme
1 tsp dried basil
1 tsp chilli flakes
Salt & pepper to taste
Olive oil
Fresh basil
Brown rice lasagne sheets (I used Rizopia)
Instructions
In a pan heat a tiny drizzle of olive oil and in the onion and garlic
Fry those for a few minutes before adding in the paprika, dried herbs and chilli flakes.
Next add in the tomato paste, tinned tomatoes, coconut milk, vegetable stock and season it with salt and black pepper.
Combine well, bring up to a boil and then leave it to simmer for around 10 minutes or until thicken
In the meantime spread sliced aubergine out across 2 lined baking trays and brush each slice both sides with olive oil.
Pop these in the oven to roast for 10 minutes, then flip them over for another 10 minutes.
Next, add the nutritional yeast to the sauce along with handful of fresh basil torn up.
Now get your baking dish and layer in ⅓ of the sauce, then layer ⅓ third of roasted aubergines, then layer on some brown rice lasagna sheets.
Repeat 2 - 3 three layers like that, depending on the size of your baking dish
Once all done, pop in the oven to bake for around 30 minutes.
Serve with fresh basil.

This healthy Aubergine Lasagna recipe is just filled with flavour and oozy goodness. I promise you, your family, friends and even fussy kids will love it. While you're here make sure you check out my Spicy Aubergine Recipe which I just perfect for hot summer nights. It tastes soooo good!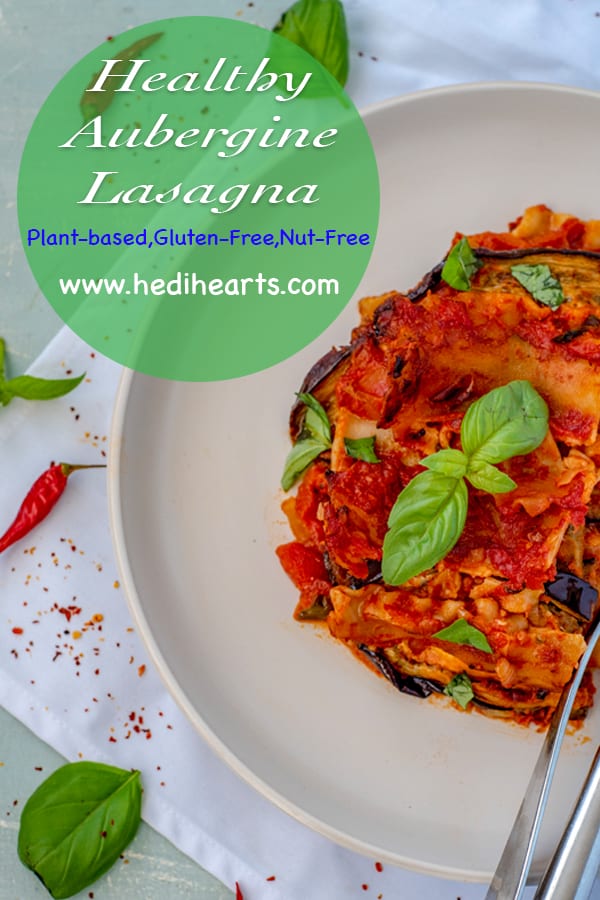 As always please, if you make this recipe share it with me either on my Facebook,Twitter or Instagram. I would love to see it! Hashtag #HediHearts.
Much love,
Hedi