If you are after a lighter version of classic shepherd's pie, here I am with my easy, healthy shepherd's pie recipe. It's made with lentils, mushrooms, tomatoes and of course loads of love. Budget food at its best!
This light yet still hearty dish is loaded with hearty mushrooms, lentil, tomatoes and topped up with crispy crushed white baby potatoes. It's packed with vitamins, minerals, fiber and a good amount of protein too, so get your apron ready and let's get cooking.
I promise you this is the ultimate no fuss recipe. You don't have to peel or mash the potatoes, you make it all in one pot and then simply pop under a grill and that's it. Awesome! Most of all there is almost no washing up to do afterwards. Win, win!
This a true family favourite in our house! Even the fussy teenager likes it and doesn't even notice there is no the meat in it at all. If you aren't a huge fan of white potatoes, swap these either for sweet potatoes, butternut squash or even pumpkins! I know summer is all about salads, smoothies and wraps, but I am often left hungry and begging for something a bit more filling . 
Naturally, this recipe is vegetarian and what's even better is that it's vegan, dairy free and gluten free too. It's also budget friendly because mushrooms, potatoes and lentils are not expensive, especially when bought in bulk. You can cheat and buy ready-to-eat lentils to speed up the process... and btw eating more legumes (like lentils) has been shown in studies to reduce heart disease risk, so this shepherd's pie is definitely recioe to make minimum once a month.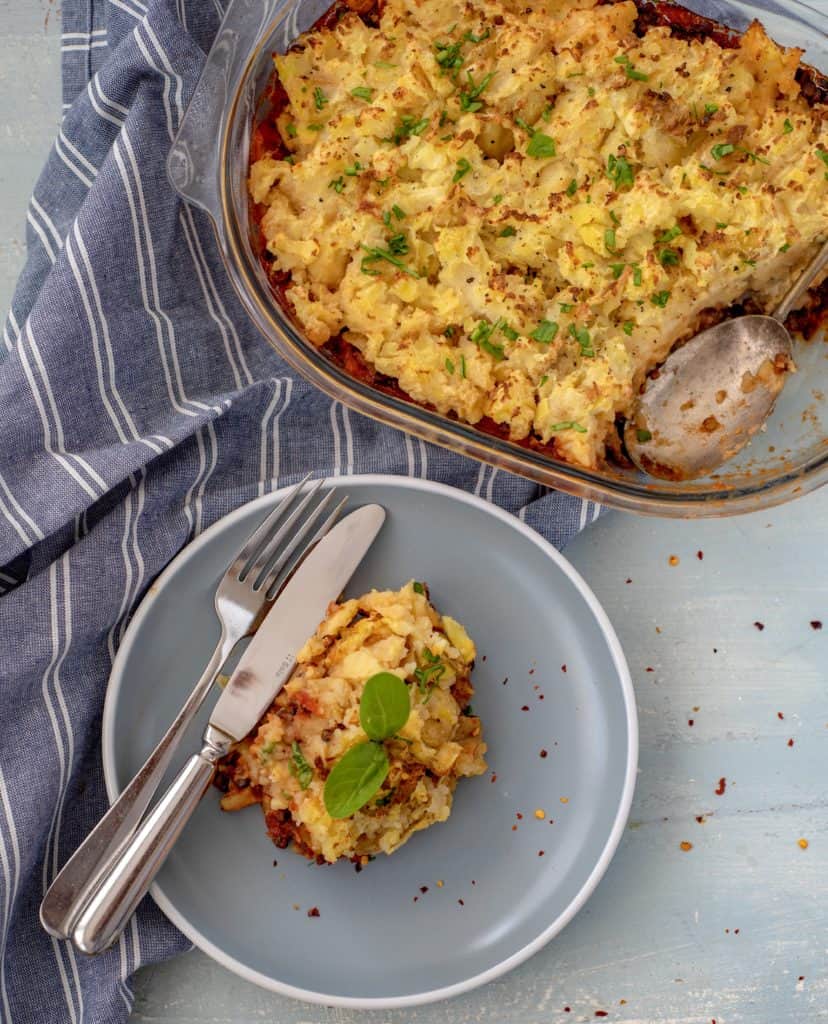 Here's the easy healthy shepherd's pie recipe
Easy Healthy Shepherd's Pie Recipe
Yield: 4

Prep Time: 5 minutes

Cook Time: 30 minutes

Total Time: 35 minutes
Ingredients
1 punnet closed cup mushrooms, thinly sliced (300g)
250g cooked green lentils
500g white baby potatoes
2 tbsp tomato purée
1 cup water
1 tin chopped tomatoes
1 onion, diced
2 garlic cloves, minced
1 tsp chilli flakes
Olive oil for frying
Salt and pepper to taste
Instructions
Start with cooking the potatoes in a pot of boiling water for 12 mins or until tender.
Drain, season to taste and then lightly crush with a fork. Set aside.
In a pan fry the onion and garlic for around 2-3 mins.
Add in the mushrooms and fry for around 5 minutes or until softened.
Next mix in lentils, chopped tomatoes, tomato purée, water and chilli flakes
Reduce heat and let buble for 8-10 mins or until the sauce has thickened
Time to assemble the pie.Tip the lentil and mushroom mix into a baking dish, and spoon over the crushed potatoes.
Switch your oven grill on (approx. 200 degrees) and grill for 8-10 mins until the potatoes are crispy

Boom! There you have it. Easy, healthy shepherd's pie recipe which is rammed with good -for-you stuff and tastes great too! If you are after more light yet filling recipes try my Aubergine Lasagna. It rocks. As does this dairy free quinoa risotto. Make sure you pin this recipe up for later!
As always please, if you make this recipe share it with me either on my Facebook,Twitter or Instagram. I would love to see it! Hashtag #HediHearts
Much love,
Hedi