I know this is a bold statement, but this truly is the Best Healthy Flapjack! And it's very easy to make and no fancy ingredients required either. minimal prep time and so simple that this is a fabulous recipe to make with kids.
Flapjack is great to have at hand when you feel a bit peckish, but also when you need to recharge. It is packed with protein and a lot of good carbs - those that will make you energised and full for a while.
Oats in particular. I love oats, it is incredible in how many ways you can use them.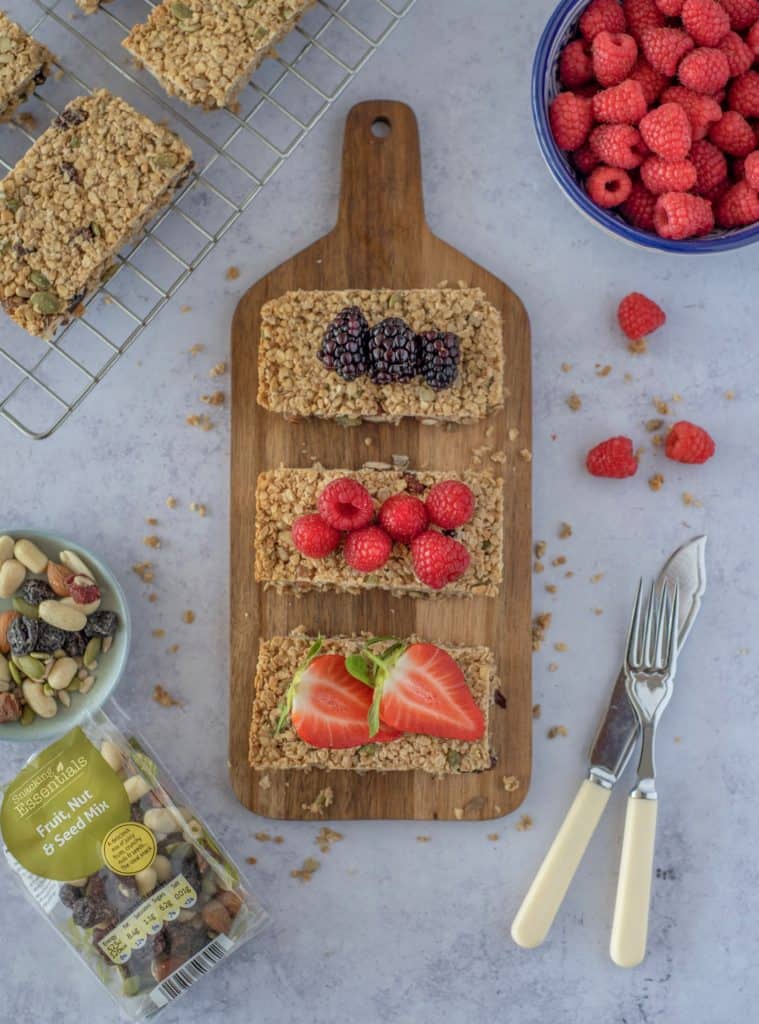 How to make the Best Healthy Flapjack?
The procedure is simple, the result fabulous!
The good thing about flapjacks is that you can use everything and anything you like. Someone prefers chocolate and a whole range of nuts and seeds, while others prefer to add some dried fruit.
Play with it! And use this as a base and just one example of how to make your best healthy flapjack.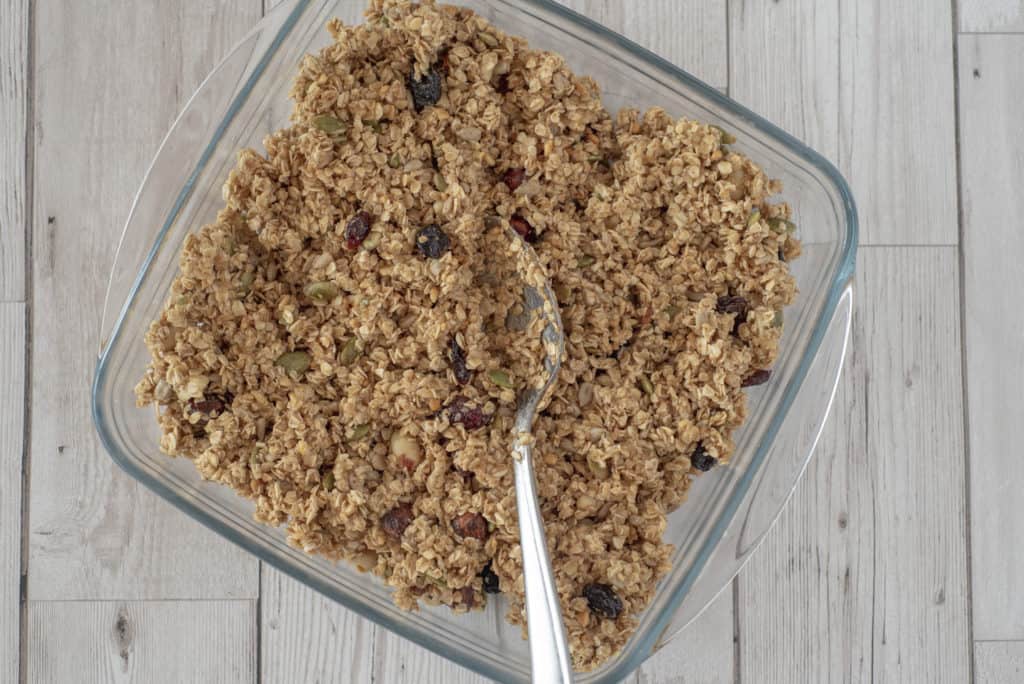 The Best Healthy Flapjack Ingredients
Oats - I used rolled oats in my flapjack recipe, as I find that it holds together a lot better. However, you can use whole/jumbo oats, you will just get a more crumbly texture.
Nuts - If you are looking for the best nuts, and seeds go with Snacking Essentials. I am a proud ambassador of their products and their brand.
Bananas - the riper, the better. Spotty ones are the best
Nut butter - any nut butter will do. I used cashew nut butter to keep the flavours neutral and creamy
Coconut Oil - to make it stick together and to add a touch of paradise
Date Nectar - any liquid sweetener will do, so experiment
Add a pinch of salt to intensify the flavour.
Flapjacks are very easy and quick to make, although you do have to wait for them to cool completely before you remove them from the tin and start slicing or they will fall apart.
More Healthy Bar Recipes
Here's the Best Healthy Flapjack recipe
Best Healthy Flapjack
Yield: 8

Prep Time: 5 minutes

Cook Time: 15 minutes

Total Time: 20 minutes

The Best Healthy Flapjack recipe loaded with oats, seeds and nuts perfect for morning or afternoon snacking.And a lot healthier than traditional flapjacks!
Ingredients
Dry Ingredients:
2,5 cups gluten free oats
1 pack Snacking Essentials Fruit and Seed Mix
1 tsp cinnamon
Pinch of salt
Wet Ingredients:
1 ripe banana, mashed
3 tbsp coconut oil
3 tbsp nut butter of your choice (I used cashew nut butter)
3 tbsp date nectar (or honey, maple or rice syrup)
Toppings:
Berries, yoghurt or nut butters
Instructions
Preheat oven to 180 degrees and grease your baking square dish with a touch of coconut oil
Now in a medium size bowl mix together all the dry ingredients and set aside
In a smaller bowl mix all the wet ingredients and pop it in the microwave for around 20 seconds to melt
Pour the melted ingredients into the bowl of oats and stir to combine; make sure everything is well covered
Tip the mixture into the prepared baking dish and press down firmly with a spoon or spatula
Place in the oven and bake for around 25 minutes or until the top is golden
Cool in the oven with the oven door ajar for 15 minutes
Slice it in 8 squares or slices and serve with fresh berries and/or yoghurt

If you liked this recipe then this healthy Chocolate flapjack or this Simple Flapjack might be right up your street!
As always please, if you make this recipe share it with me either on my Facebook,Twitter or Instagram. I would love to see it! Hashtag #HediHearts
Much love,
Hedi