Porridge has recently been a big trend! And no wonder because it's healthy and nutritious. How about savoury porridge also known as oatsotto? If you prefer a savoury breakfast, you simply must try this savoury porridge recipe. Or cook this treat for dinner; it is quick and very comforting food.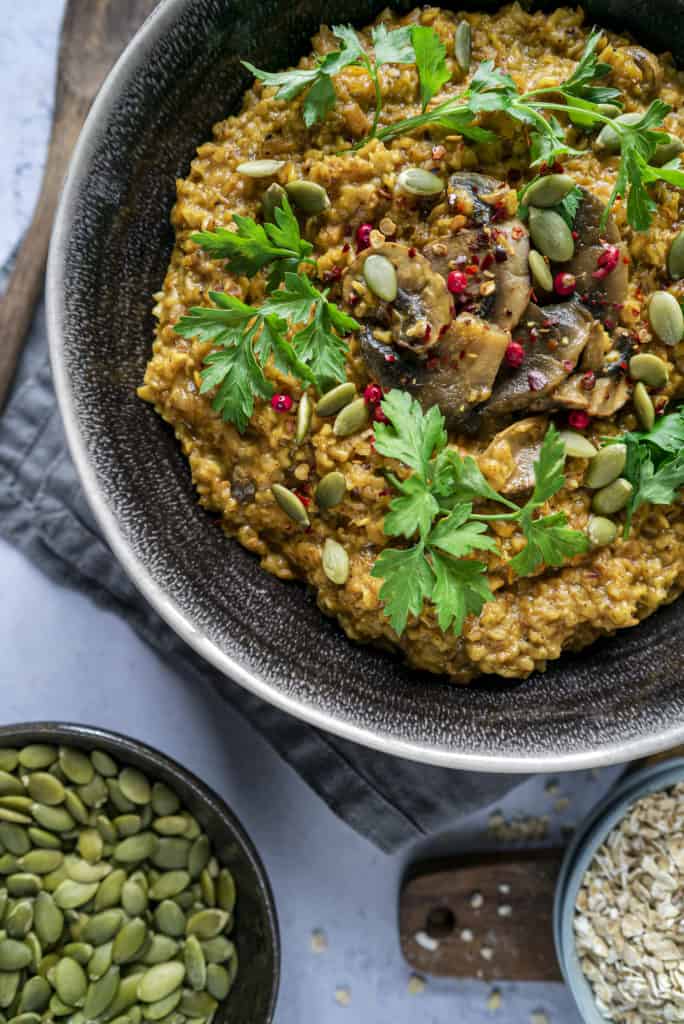 If you need to recharge your "batteries" superbly, for example, after a full-day bike trip or before/after some endurance race this Oatsotto will give you plenty of energy, vitamins and a carb boast! You only need simple ingredients and few extra toppings including mushrooms, Snacking essentials Pumpkin Seeds, pinch of chilli and plenty of freshly cut parsley.
Of course you can experiment; add different spice and herbs, fresh garlic, or kale, spinach or/and avocado.If would like to try something even more different then you must check out my Cauliflower Porridge.
How do you make Oatsotto Savoury Porridge?
Well it's same as your traditional porridge. But instead of milk you add vegetable stock, spices, grated sweet potato, mushrooms and top it up with your some more sauteed mushrooms, chilli flakes and freshly chopped parsley.
Oatsotto Savoury Porridge Recipe
Oatsotto aka savoury porridge is the perfect savoury breakfast, or dinner idea. Ready in less than 20 minutes, it is flavoursome and a proper comfort food.
Ingredients
120g oats
1 small sweet potato, peeled and grated (150g approximately)
3 mushrooms, cleaned and chopped
2 garlic cloves, minced
1 tablespoon olive oil
1 teaspoon ground turmeric
1 teaspoon ground nutmeg
1 teaspoon ground cumin
650 ml vegetable stock
30g Snacking Essentials pumpkins, slightly toasted
Salt and pepper to taste
Instructions
Heat olive oil in a medium pan over a medium heat. Add the grated sweet potato, oats and let it all fry until slightly brown (approx.10 minutes)
Add the chopped mushrooms, garlic, spices and cook for another 2 minutes
Pour in the veggie stock, bring to boil, then simmer on a low heat for around 15 minutes
Toast lightly the Snacking Essentials pumpkins in a pan and set aside
Now divide the porridge between 2 bowls, sprinkle with freshly chopped parsley and toasted pumpkin seeds and enjoy!
This is really great breakfast meal, but I would eat it for lunch, dinner or brunch anytime! You can serve with anything from caramelised onion, sauteed mushrooms and spinach to roasted tomatoes with roasted garlic.
As always please, if you make this recipe share it with me either on my Facebook,Twitter or Instagram. I would love to see it! Hashtag #HediHearts
Much love,
Hedi