Healthy almond florentines recipe is the latest addition to my "healthier treats" section. They are so good and taste just like , if not better, the traditional almond florentines.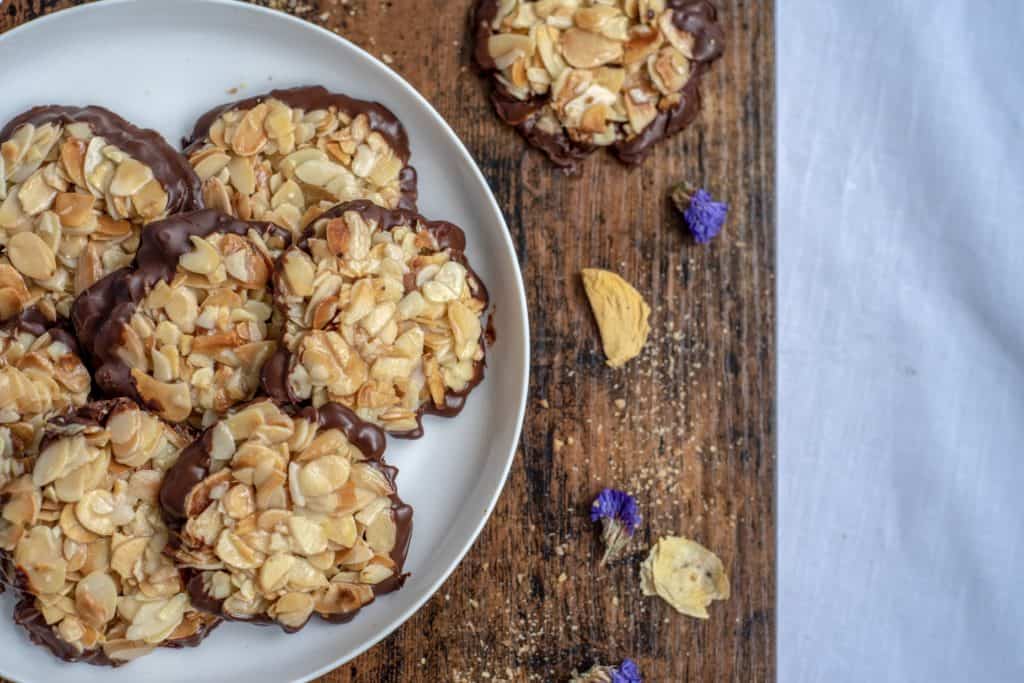 And with valentines around the corner, nothing says how much you care than a homemade edible gift! These would be the perfect post Valentine dinner treat.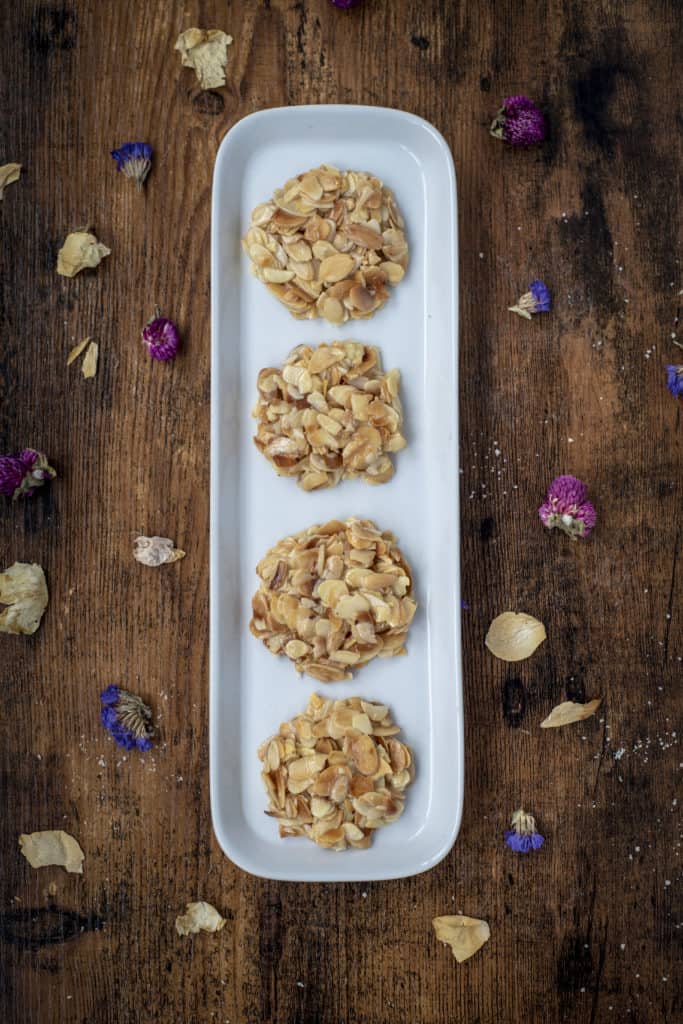 As with most of my recipes these almond florentines are gluten-free, dairy-free, egg-free, grain-free, vegan and completely utterly delicious. And no baking involved either!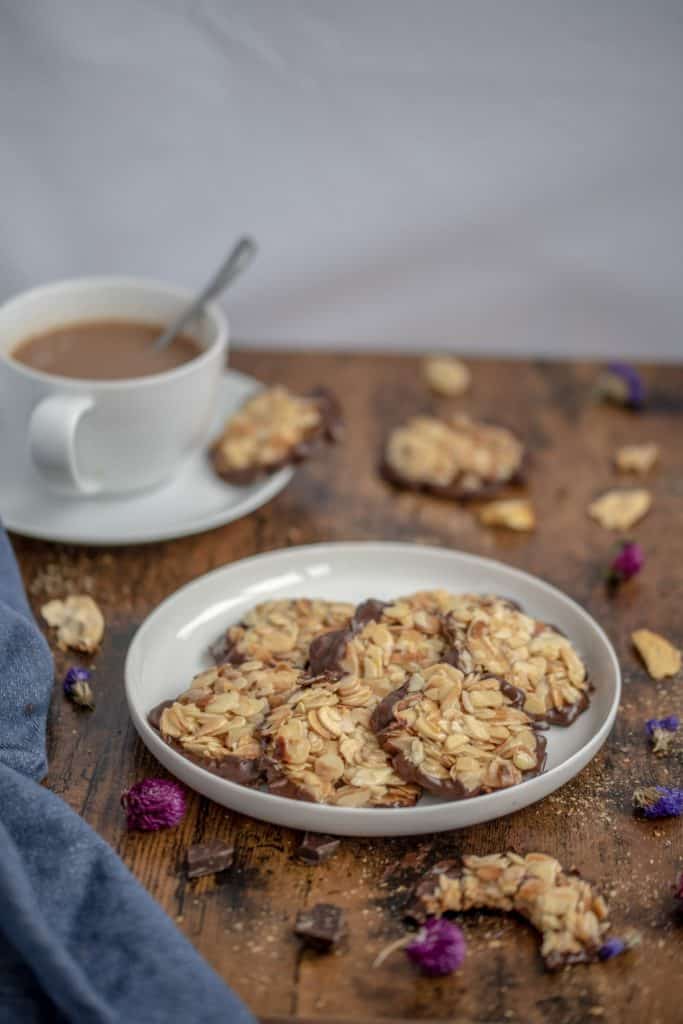 These almond florentines are perfect for those who are interested in making healthier treats in a few easy steps or great to make with the young family chefs 🙂 You only need almonds, rice syrup (or any other liquid sweetener) and coconut oil.
They taste almost like sweet crackers; they're perfectly crispy while still being chewy. Simple and sweet. And to make them extra special I dipped their bottoms in dark raw chocolate. But you don't have to, only if you want to 🙂
How to Make Healthy Almond Florentines
The secret to this recipe lies in its ingredients. All are easy to find, and once you've tasted them in your florentines, you won't go back.
The ingredients are as follows:
Sliced Almonds: I have used sliced almonds, because they stick together nicely, but you could try crushed almonds too. Just make sure they are all coated properly with the syrup and coconut mixture to help them stick together and stay together.
Rice Syrup - I love this Brown Rice Syrup, but you can use any other liquid sweetener such as maple/date or agave syrup.
Coconut Oil - nothing work better than melted coconut oil, it adds a gentle coconut flavour while helping these beauties stick together.
Dark Chocolate Chips (optional) - I love a nice dark chocolate here. Chocolate chips are easiest, but if you don't mind a bit of chopping, a chopped a good-quality dark or raw chocolate would be perfect for that chocolate dip.
If you're looking for more healthy snacks, check out these 4 ingredient Granola Bars or Healthy Chocolate Flapjack.

Here's the healthy almond florentines recipe
Healthy Almond Florentines
Ingredients
150g sliced almonds
⅓ cup rice syrup (you can use any other liquid sweetener such as date or maple syrup)
¼ cup melted coconut oil
Optional; melted dark chocolate for dipping
Instructions
Start by roasting the almonds in the oven. You don't have to, but roasting the almonds take these florentines to the next level.
Preheat oven to 180 degrees, line baking tray with baking paper and roast the almonds for around 8 minutes
Once done, pop the almonds to a bowl and set aside (leave the baking tray with baking paper aside too, we will need it again)
Next put the rice syrup and coconut oil together in a small pot and gently bring to boil
Take off the heat and pour the mixture straight into the almonds
Let cool down for a minute or so and then take a heaped tablespoon of the mixture and flatten onto the baking tray
It should make 10 florentines.
Pop the tray into freezer for around 15 minutes
Melt the raw chocolate and then dip bottom of the florentine into the chocolate and put it chocolate side up on a baking tray
Pop back in the freezer for 20 minutes to set.
Once you take the florentines out of freezer place them into an airtight container and enjoy loads ad loads
If you liked these healthy almond florentines, then you'll probably love our my
cherry bakewell cookies
. See what you think! If you're wanting a proper dessert then you could do worse than this beautiful
strawberry cheesecake
.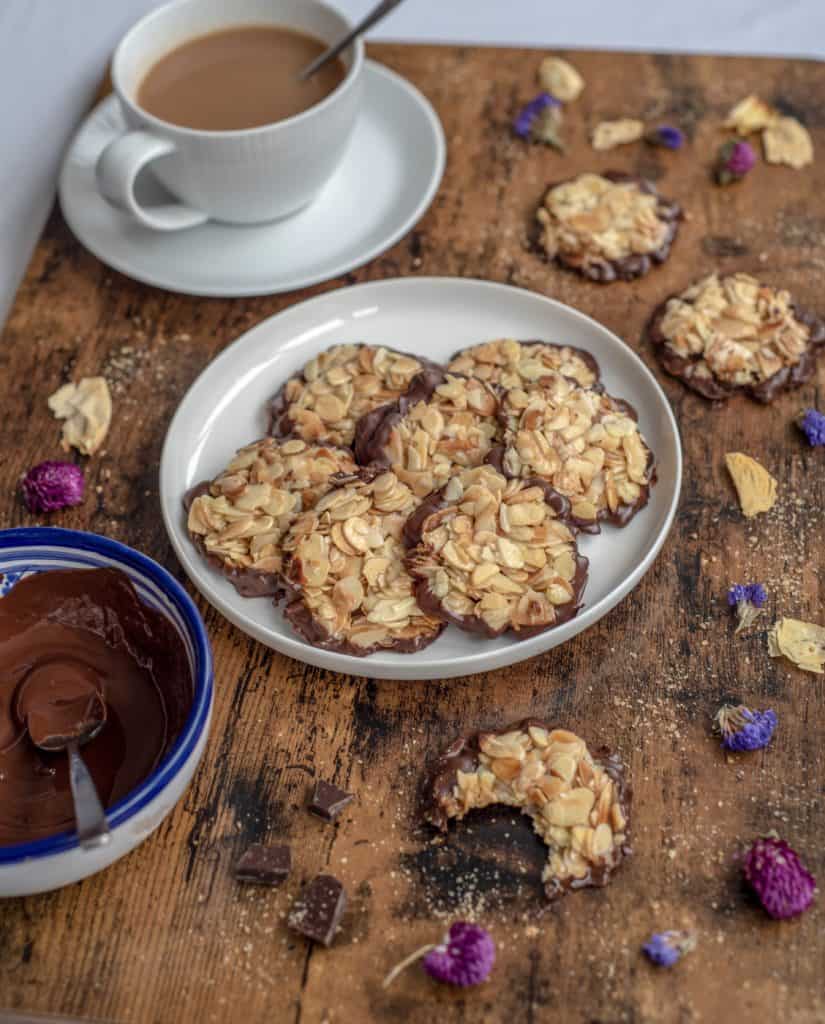 As always please, if you make this recipe share it with me either on my
Facebook
,
Twitter
or
Instagram
. I would love to see it! Hashtag #HediHearts
Much love,
Hedi