The oven is usually full on during the festive period, so pivot to a fresh and healthy Brussels sprout slaw that needs no cooking. It's so easy yet super nice, so get your sprouts on and let's get making.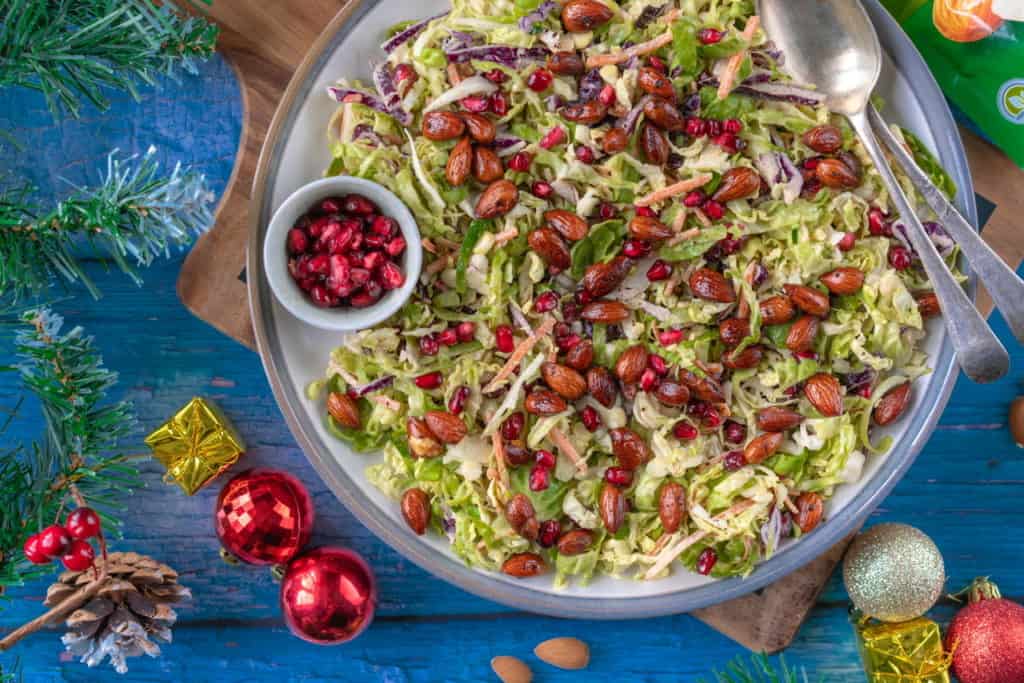 Love them or hate them, Brussels sprouts are in season and have to be included on your Christmas table.
You can learn more about the nutrition benefits of Brussels sprouts here and the top health benefits of Brussels here.
Today I am sharing with you this healthy Brussels sprouts slaw with spicy roasted almonds and tahini and maple syrup dressing which adds a nice tang to complete the crunch of the shaved sprouts.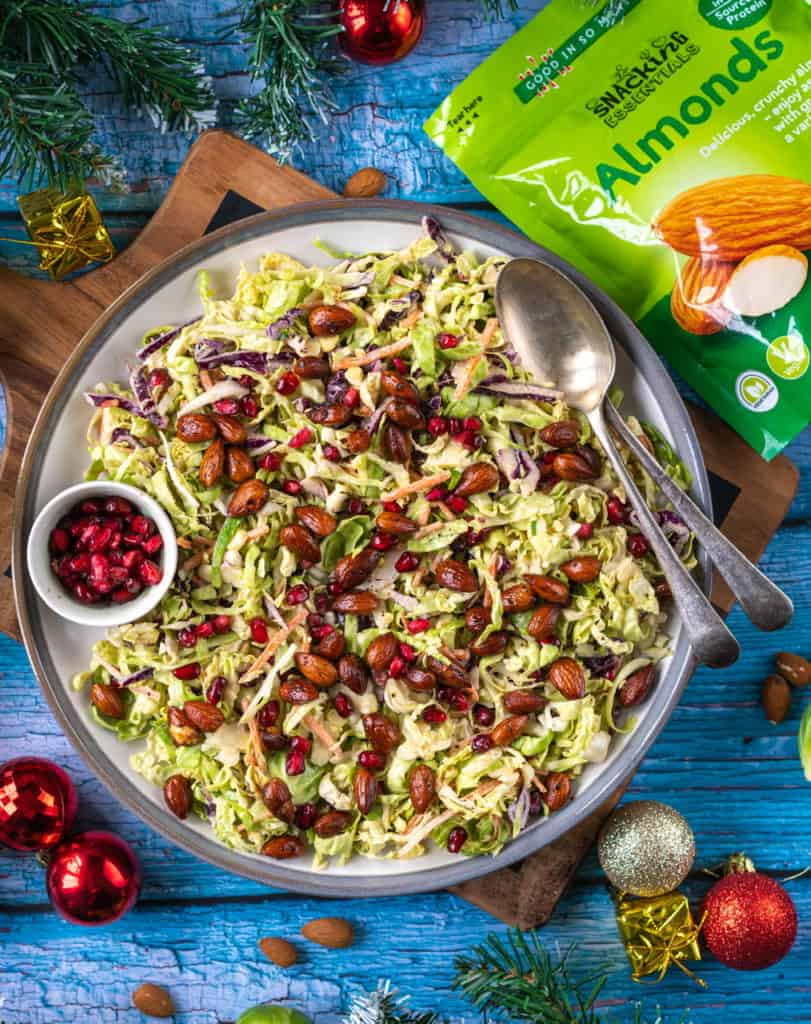 This recipe is completely vegan, plant-based, dairy and gluten- free and can be served as a side dish or even main course.
The Ingredients
Brussels Sprouts. Raw Brussel Sprouts are incredible. They have the perfect amount of crunch, plus they're packed with fiber, Vitamin C, and Omega-3 fatty acids.
Nuts. I have used Snacking Essentials almonds because I am their passionate ambassador and love their products. Make sure you don't forget to roast them, it makes a huge difference to the texture and the flavour of this slaw.
Pomegranates. Beautiful little gems that add crunch and stunning colour.
Carrots. Juicy and just a brilliant addition.
Cabbage. Purple one goes the best.
For the dressing, I opted for a healthy Brussels sprouts slaw with creamy Tahini Dijon mustard dressing, made with apple cider vinegar and a touch of maple syrup.
If you can't have nuts, used pumpkin or sunflower seeds or simply omit the nuts. Maple syrup can be replaced with any liquid sweetener of your choice.
How do you make healthy Brussels Sprouts slaw?
Slice the Brussels sprouts by hand, then shred or peel the carrot and the purple cabbage.
Add the pomegranates and spicy roasted almonds and drizzle it all with delicious tahini dressing!
Btw. Have you heard that my challenge is back? HEAT - Healthy Heating Challenge is a brilliant way to help you to change the way you make food, eat food and see food.
You can find out more in here and sign up! I used to do healthy eating challenges 3 years ago, and you all loved them, so here I am with a brand new one.
Here's the Healthy Brussel Sprouts Slaw
Healthy Brussels Sprout Slaw
Yield: 4

Prep Time: 15 minutes

Total Time: 15 minutes

The oven is usually full on during  the festive period, so pivot to a fresh and healthy Brussels sprout slaw that needs no cooking.
Ingredients
Brussels Slaw:
200 g raw Brussels Sprouts, trimmed and finely shredded or sliced
1 big carrot, shredded
1 cup purple cabbage, shredded or finely sliced
⅓ cup pomegranates
Tahini Dressing:
4 tbsp tahini or you can use any nut/seed butter
1 tbsp maple syrup
1 tsp Dijon Mustard
1 tbsp apple cider vinegar
3 tbsp water
Zest and juice from ½ lemon
Spicy Almonds:
½ cup Snacking Essentials Almonds
1 tsp coconut oil
⅓ tsp smoked paprika
⅓ tsp garlic powder
Pinch of salt
Pinch of black ground pepper
Instructions
In a medium bowl toss together the sprouts, carrot, cabbage, and half of the pomegranates.
Add the dressing to the bowl but leave some for the final serving.
Tip the mixture on a serving dish, top with remaining pomegranates, the spicy almonds and generous drizzle of the dressing.
For the dressing:
Pop all ingredients in a jar or a bowl and whisk until completely smooth and creamy. If too thick add more water
For the spicy almonds:
Mix all ingredients in a bowl until well combined and each almond is coated
Roast the almond in a pan until brown; be careful not to burn them, it takes seconds

If you want more Christmas recipes make sure you check out my healthy Mince Pies, my Gingerbread granola, my Christmas Pudding Bites or my Festive Chocolate Bark.
As always please, if you make this recipe share it with me either on my Facebook,Twitter or Instagram. I would love to see it! Hashtag #HediHearts.
Much love,
Hedi