Hello Spring! So nice to meet you again, I have missed you loads. I am celebrating your arrival with my Rice noodle bowl with crispy tofu. It's fresh, colourful and light, just like you, my Spring.
I am sure we all love a bit of takeaway delivery. The good news is you don't need delivery! Instead, slurp away on this Rice noodle bowl with crispy tofu which is loaded with veggies, and wholesome ingredients making it an easy and delicious weeknight meal.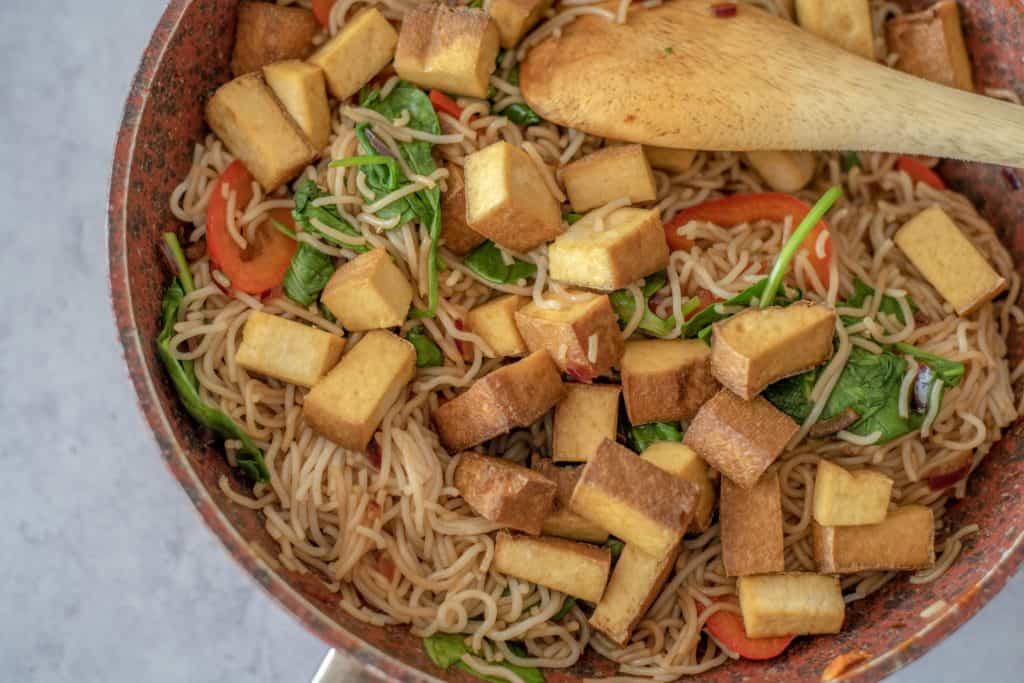 All you will need is one wok or a skillet, and all of the ingredients listed below. I used whole wheat brown rice noodles because I love their slightly nutty flavour, they are easy to cook and I feel they add an authentic oriental touch to this recipe .Overall it takes about 30 minutes to make this mouthwatering dish. Delicious lunch or dinner made in no time!
I decided to add crispy tofu and Snacking Essentials nuts and seeds which add extra protein and texture and take this recipe to a whole new level of delicious.
Here's the Rice Noodle Bowl with Crispy Tofu Recipe
Recipe
Rice Noodle Bowl with Crispy Tofu
Ingredients
1 pack firm tofu, cubed
1 pack Wok rice noodles (300gr)
1 shallot, diced
1 red pepper, sliced
Stir Fry Sauce:
⅓ tamari soya sauce or low sodium soya sauce
1 heaped tablespoon maple syrup (or any other sweetener is fine)
2 tablespoon apple cider vinegar (Rice vinegar works nicely too)
1 tablespoon water
Pinch of chilli flakes
¼ teaspoon cayenne pepper
Toppings:
Generous sprinkle of Snacking Essentials Fruit and Seed Mixture
Instructions
Preheat oven to 180 degrees and line a small baking tray with baking paper
Place the tofu on a baking tray and bake around 20 minutes until golden and crispy
In the meantime, whisk together all the stir fry sauce ingredients
In a pan fry the shallot together with the red pepper
Add in the sauce and cook until the sauce starts to bubble, then quickly add in the rice noodles and baked tofu
Taste, adjust seasoning and fry for another minute or so, then remove from the heat and add in the spinach
Sprinkle with some Snacking Essentials seeds, and serve with fresh basil and a few squeezes of fresh lime
This is my kind of meal. Fresh, quick, satisfying, lots of vegetables, and plenty of protein. If you need more healthy eating dinner recipes try my easy
Veggie Balls
,
Stuffed Butternut Squash
or deliciously creamy
Alfredo Pasta
.
As always please, if you make this recipe share it with me either on my Facebook,Twitter or Instagram. I would love to see it! Hashtag #HediHearts
Much love,
Hedi