Bananas here, bananas there, bananas AND chocolate everywhere...now tell me honestly what could be a better combination than lovely sweet bananas with some dark chocolate?? Today I am sharing Clean chocolate banana bread recipe and it's blooming delicious!
This clean chocolate banana bread is the ultimate treat, breakfast on the go, quick snack or little "me" moment with a nice green cuppa. Please I beg you not to eat it all in one go and keep some for the next day...the flavours settle and mix making it taste even better the next day! I have made this bread 3 times, the first time with rye flour and it just wasn't good enough and ended in the bin, the second attempt was a mixture of buckwheat and oat flour and it turned out great, but didn't raise enough and the texture was poor. So my final flour was spelt flour and that is it!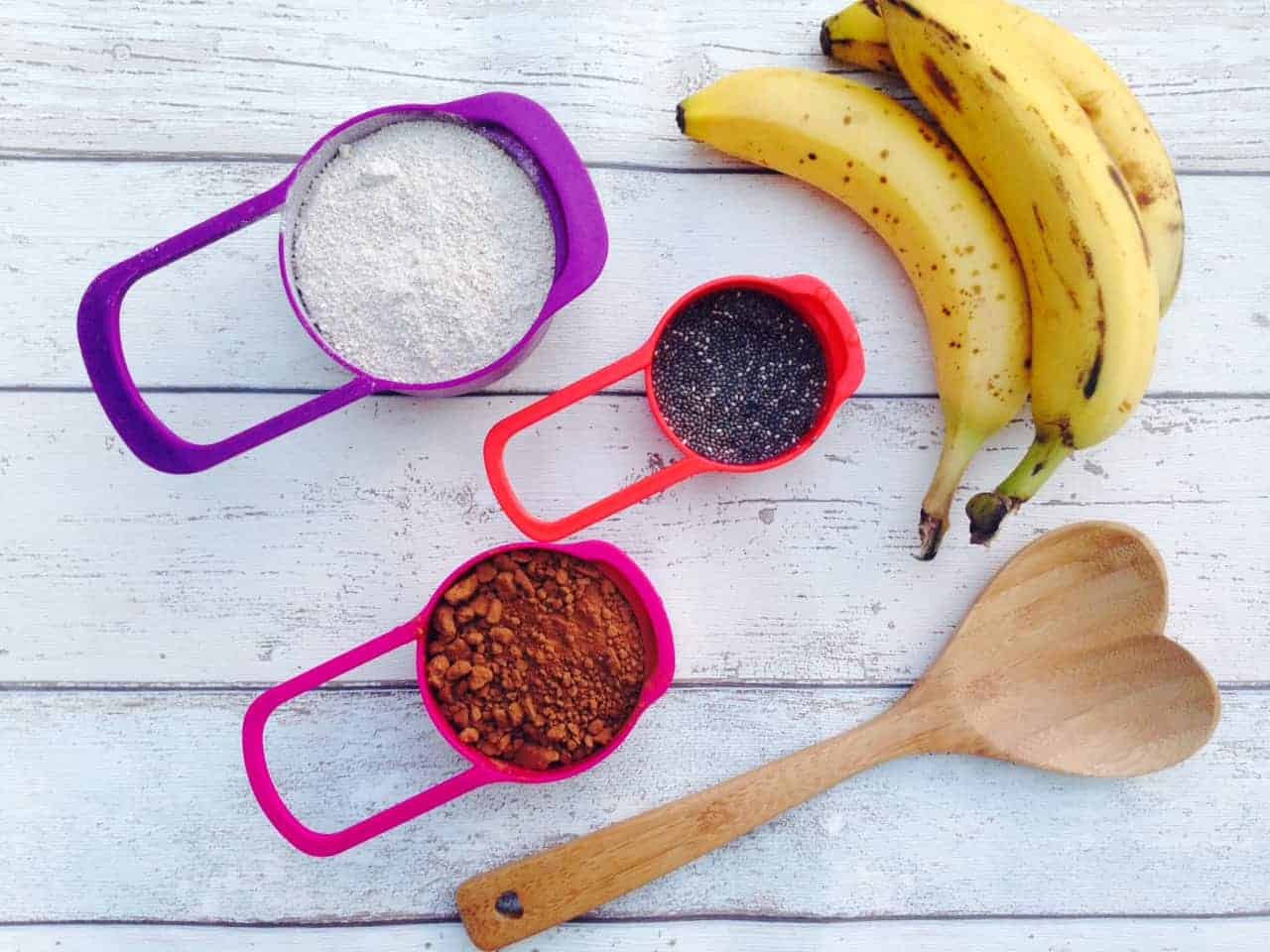 Moist, chocolatey, not too sweet and pumped with loads of great fiber, healthy fats and protein. If you don't have chia seeds, you can use flax seeds instead. As for milk I used my current favourite Rice and coconut milk from Provamel - the first organic plant-based milk ever in the chiller! You have to try it, it is so delicious!
Here's the Clean chocolate banana bread recipe
Clean chocolate banana bread
Chocolate banana bread recipe from Hedi Hearts. Don't throw away your spotty bananas, turn them into clean chocolate banana bread.
Ingredients
3 medium spotty bananas
1 cup spelt flour
½ cup cacao or cocoa powder
1 teaspoon baking powder
½ cup melted coconut oil
¼ cup milk (I used Provamel coconut and rice milk)
1 chia egg (1 tablespoon chia seeds + 3 tablespoon water)
½ cup cocoa nibs (or you could use dark chocolate sugar, but watch the sugar)
pinch of salt
Optional
Couple of tablespoons of liquid sweetener if you prefer something a bit more sweet (honey, maple syrup or date syrup)
Instructions
Preheat oven to 180 degrees and grease your banana bread tin
Mix together flour, cacao, baking powder, and salt.
Make the chia egg and let it settle for 10 minutes
In another other bowl whisk together mashed bananas, coconut oil, milk and sweetener if using.
Add dry ingredients to wet and mix until combined. Fold in the chia egg and then the nibs
Pour mixture in the tin, pop in the oven and bake for around 1 hour or until a tooth pick comes out clean.
Let it cool down completely before taking out of the tin
As I said above make sure you leave some of this lush clean chocolate banana bread till the next day! If you, like me, have a thing for banana bread, don't forget to check my other recipe for
clean banana bread
.
As always please, if you make this recipe share it with me either on my Facebook,Twitter or Instagram. I would love to see it! Hashtag #HediHearts
Much love,
Hedi
Much love,
Hedi