Oats, raisins, spelt flour, milk...these are some of the ingredients you will need for these clean eating simple cookies aka oatmeal and raisin cookies.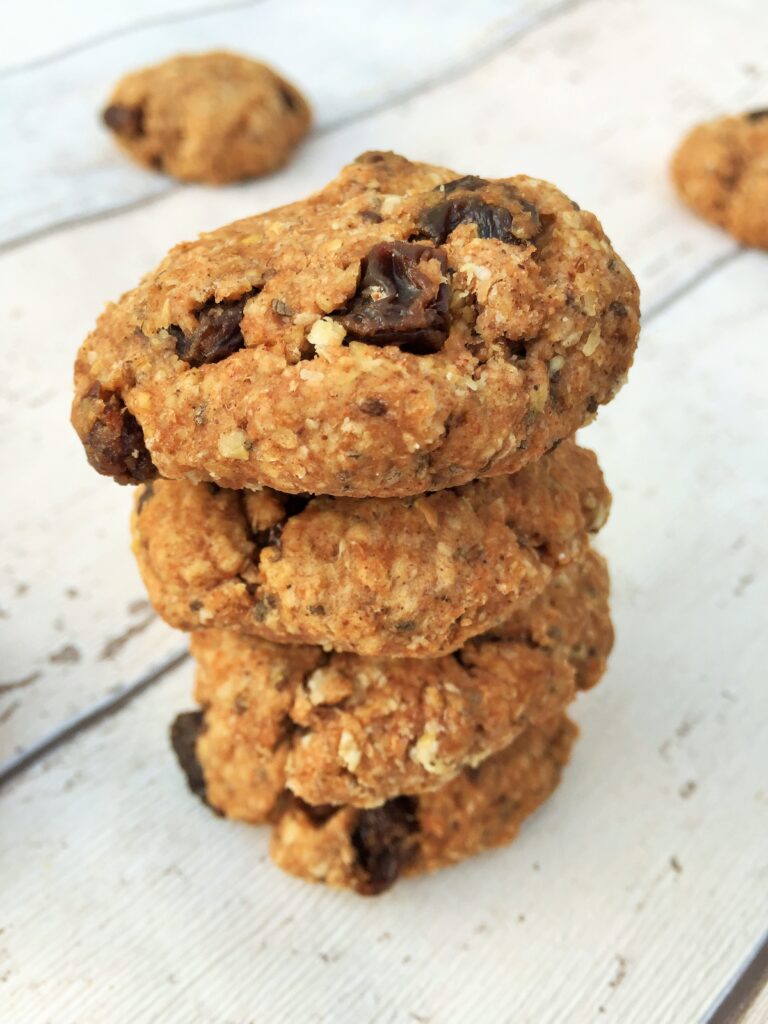 The traditional oatmeal and raisin cookies are usually full of butter, sugar and white flour but my version calls for health-giving ingredients and takes literally no time. I am mad about cinnamon and oats at the moment. Must be the autumny weather and cosy nights in. Having said that I wouldn't refuse these if they were offered on a hot summer day or as a breakfast on the go on a fresh Spring morning.
Simple cookies recipe
Make a batch of these on Sunday, and you will have a healthy grab-and-go breakfast all week. If you want to have extra protein spread a teaspoon of almond or peanut butter on top.
Clean eating simple cookies recipe
Ingredients
1 cup spelt or quinoa flour
1.5 cup oats
1 tablespoon chia seeds (I used ChiaBia)
3 tablespoon water
1.5 teaspoon baking powder
2 teaspoon cinnamon or even more
¼ coconut oil (I used Coconut Merchant)
¼ cup coconut sugar (I used Coconom sugar)
½ cup Provamel fresh rice and coconut milk (this one is the best however you can use any milk you like)
⅔ cup raisins (I tried cranberries, dates and figs and they all work nicely too)
Instructions
Start by preheating the oven to 180 degrees and lining your baking tray with baking paper
Make the chia egg by mixing chia seeds with water and let it stand for 10 mins
Next you need to combine all the dry ingredients, so place in a bowl spelt flour, oats, baking powder, coconut sugar and raisins.
In another bowl mix melted coconut oil with milk and then add the chia egg.
Pour this wet mixture into the bowl of dry ingredients and give it a good stir.
You should have a nice thick batter to be able to form cookies which you then place on the baking tray.
Pop the cookies in the oven for 15 mins
Once baked let them cool down for 15 mins to firm up nicely
And there you have simple and clean cookies that will get you fueled up and ready for whatever your day has in store. If you fancy more chocolatey cookies give a go to my macaroons.
Much love,
Hedi.