Easy Sweet Potato and Black Bean Stew recipe is super easy mid-week dinner or lunch idea. It's a delicious and warming meal after a long rainy day at work.
It's super quick, made in one pot, naturally gluten-free, vegetarian, vegan and soooo flavourful and delicious.
Black beans are my most favourite beans. They are good in just about everything from breakfast to dinner. Even in desserts.
Check out my Healthy Black Bean Brownies, they are divine! I get mine from Aldi, but you can get any. These are great too!
I love sweet potatoes not only because they taste delicious and are very versatile, but also because they are bursting with fibre, vitamins C, vitamin and other. nutrients and minerals.
HOW TO MAKE EASY SWEET POTATO AND BLACK BEAN STEW
The beauty of this recipe is that you don't actually need to soak anything before cooking and the rest of the prep is minimal.
Make sure you pick orange or red-skinned sweet potatoes that are firm potatoes without growths or discolouration on their skins; avoid soft or wet potatoes.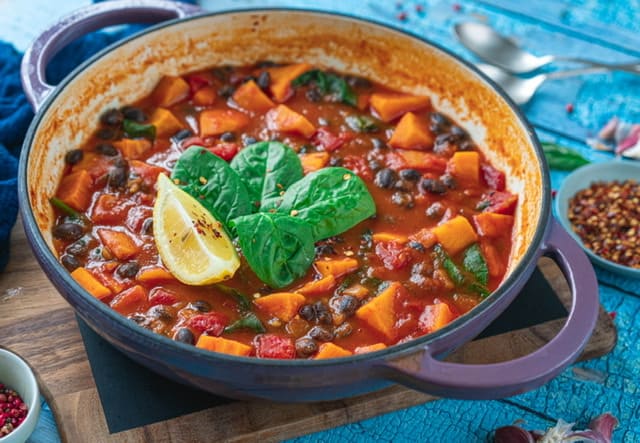 Here's the sweet potato and black bean stew recipe
Easy Sweet Potato and Black Bean Stew
Easy Sweet Potato and Black Bean stew recipe made in one pot. Hearty, warming yet delicious and healthy. Vegan and gluten free.
Ingredients
1 onion, diced
2 small or 1 large sweet potato, peeled and chopped
1 tin black beans, drained and rinsed
1 tin chopped tomatoes
1 tsp smoked paprika
1 handful spinach
2 tsp cumin
1 tsp olive oil
2 cloves garlic , minced
Salt and pepper to taste
2 cups vegetable stock
Instructions
In a large pan heat the olive oil and add the onions and garlic.
Cook for 2 -3 minutes until translucent, then add in the sweet potatoes
Cook for another 2 - 3 minutes
Next add in the smoked paprika, and cumin; give it a good stir
Pour in the tomatoes along with the beans and the vegetable stock
Put a lid on and cook for around 15 minutes
Once the potatoes are soft, stir in the spinach and adjust seasoning to taste
If you want you can mash some of the sweet potatoes for a thicker texture
Serve with more greens, slice of lemon, avocado and whatever else. you fancy
It should last for around 2 days in the fridge, that is if you don't eat it all in one go.
You can freeze it, but it is worth noting though that freezing the stew may change the texture a little, so you may find it's better eaten fresh.
If you liked this recipe, then make sure you try out these recipes :
As always please, if you make this recipe share it with me either on my Facebook,Twitter or Instagram. I would love to see it! Hashtag #HediHearts
Much love,
Hedi