Did I just say black beans & brownies in the same sentence? Yes, I sure did. Believe it or not but these healthy black bean brownies are fudgy, chocolaty and simply melt in your mouth.
Can you believe these guys up here are made without flour or eggs? Unbelievable...and the amount I ate since making them for the first time last week is out of control.
Also the best bit about these healthy black bean brownies is you can eat the batter! Ha!
Let's not forget to mention they're loaded with fiber, omega-3s and loads of other good-for-you ingredients.
How to make healthy black bean brownies?
Super easy, you only need a good blender and a baking tin,.
Pop all the ingredients below into a food processor and blend until smooth and creamy.
Pour the mixture in your prepared baking tin
Place the tin in the oven for around 25 minutes and you are done!
You can drop a handful of dark chocolate chips into the mix before baking if you want extra chocolatey flavour.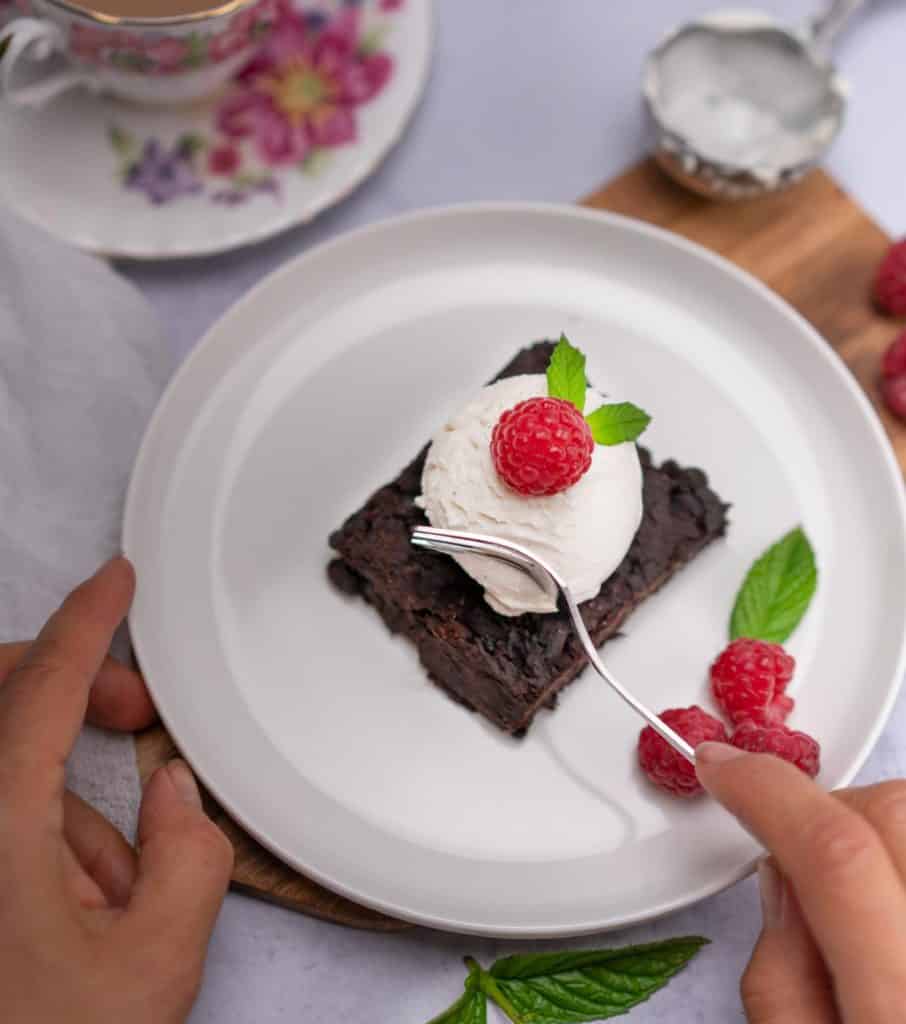 More Healthy Brownie Recipes
Here's the healthy black beans brownies
Healthy Black Bean Brownies
Healthy black bean brownies! With fudgy middle and rich chocolate flavour, these homemade brownies are the best. Vegan and gluten free.
Ingredients
1 can black beans (rinsed and drained)
¼ cup coconut oil ( I used Coconut Merchant)
¼ cup sweetener such as maple syrup, date nectar or any other syrup ( I used Coconut Nectar from Coconut Merchant)
2 chia eggs ( 2 tablespoon chia seeds + 6 tablespoon water - mix and rest for 5 minutes)
⅓ cup cacao powder
¼ cup milk ( I used unsweetened almond milk)
1 teaspoon baking powder
½ teaspoon baking soda
1 teaspoon vanilla extract
Pinch of salt
Instructions
Preheat your oven to 180 degrees celsius
Line up your baking dish with baking paper or grease your baking dish with coconut oil
Pop all ingredients in a food processor or blender and blend until smooth
Taste and adjust sweetness if needed
Pour the batter in your baking dish and spread out evenly
Bake for 20 minutes
Let cool down completely before eating and serve with fresh berries and homemade ice cream
If you love these healthy black bean brownies recipe and want to learn more about
what is clean eating diet
or join my next
HEAT - Healthy Eating Challenge
, get in touch.
As always please, if you make this recipe share it with me either on my Facebook,Twitter or Instagram. I would love to see it! Hashtag #HediHearts
Much love,
Hedi