Are you looking for something delicious, cold, and incredibly creamy? I am sharing today my healthy Dalgona coffee recipe which is just the perfect iced coffee drink that can be served with your favourite milk and your favourite instant coffee.
It can also be very strong depending on how much whipped coffee you make.
You know that Dalgona coffee you've seen dominating TikTok and Instagram? Now you can find it here on my blog! And it's a much healthier version. This is the best pick me up treat/drink, so be warned that the sweet and frothy Dalgona Coffee can be addicting.
Jump to:
Instructions
It's pretty simple:
mix 2 tablespoons of your favourite instant coffee with 2 tablespoons of your favourite sugar
add 2 tablespoons boiling hot water
using your whisk, beat the mixture into a thick paste
fill your glass with ice and milk and pour the thick mixture paste on the top of the milk
Frothing
I use a simple Electric Milk Frother from Amazon. It's super cheap and it's perfect for egg whites, cocktails, smoothies, milkshake etc. And it charges via USB cable, so no batteries needed!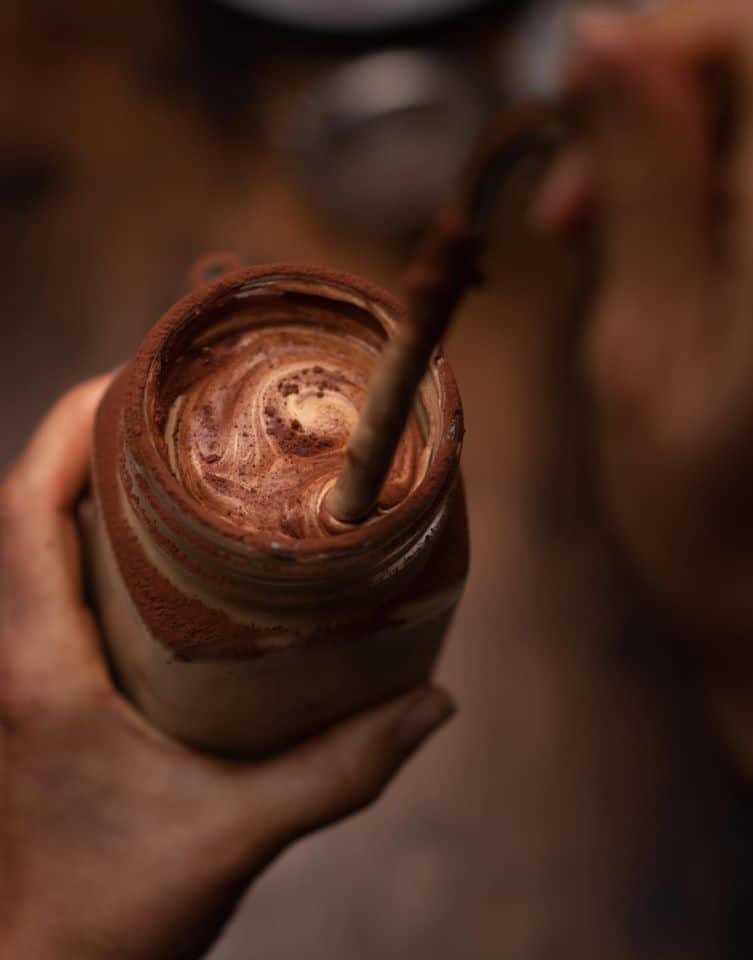 Recipe
Healthy Dalgona Coffee Recipe
Healthy Dalgona coffee recipe also known as whipped coffee. So airy, creamy and ready in 5 minutes. Vegan and gluten free too. Make it now!
Ingredients
2 tablespoon of your favourite instant coffee
2 tablespoon of your favourite sweetener (I used Organic Coconut Sugar from Coconut Merchant)
2 tablespoon boiling hot water
Your favourite milk ( I used Oatly)
Ice cubes
Cocoa to sprinkle on top
Instructions
In a jar mix the coffee, sugar and hot water.
Using a whisk or an electric blender beat the mixture into a thick creamy paste ( up to 3 minutes)
Get 2 glasses and add in ice
Fill both glasses with 3 quarters of milk
Divide the coffee mixture equally between both glasses, spoon on the top of the milk and sprinkle with some cocoa or cacao powder on top
Start sipping!
Related
If you fancy more coffee recipe please check out my:
Video
Here is a video of how you make my healthy Dalgona Coffee
As always please, if you make this recipe share it with me either on my Facebook,Twitter or Instagram. I would love to see it! Hashtag #HediHearts
Much love,
Hedi