It must be that time of year. I'm craving stews, hotpots, curry and I'm craving a health-kick, and I want it all now. This one-pot healthy cauliflower bake recipe takes care of it all!
I love one-pot recipes! They are real timesavers, require minimal effort while cutting down on the washing-up too. Also cooking everything together at once allows the ingredients and flavours to meld and complement each other creating a pot of utter deliciousness.
This one-pot healthy cauliflower bake recipe is just so good. To make it even better I added tahini and yoghurt dressing to enhance all the flavours. If tahini doesn't tickle your fancy, try almond butter or sunflower seeds butter, they both work well.
Cauliflower is the main stair obviously. Just like broccoli, cauliflower is made up of multiple small, packed flower heads which can be used in salads or as crudites for dips.
You will also need cherry tomatoes, purple onions, spinach and loads of spices.This is one tasty, nutritious dish that will become quickly a firm favourite. You can add other veggies such as courgette, peppers, sweetcorn or even olives or artychokes.
Did you know that if you steam or blanch cauliflower it'll often go soft and mushy, but by roasting it, you bring out its sweetness? Well the proof is in the pudding, but you gotta make it 🙂 Just don't burn it 🙂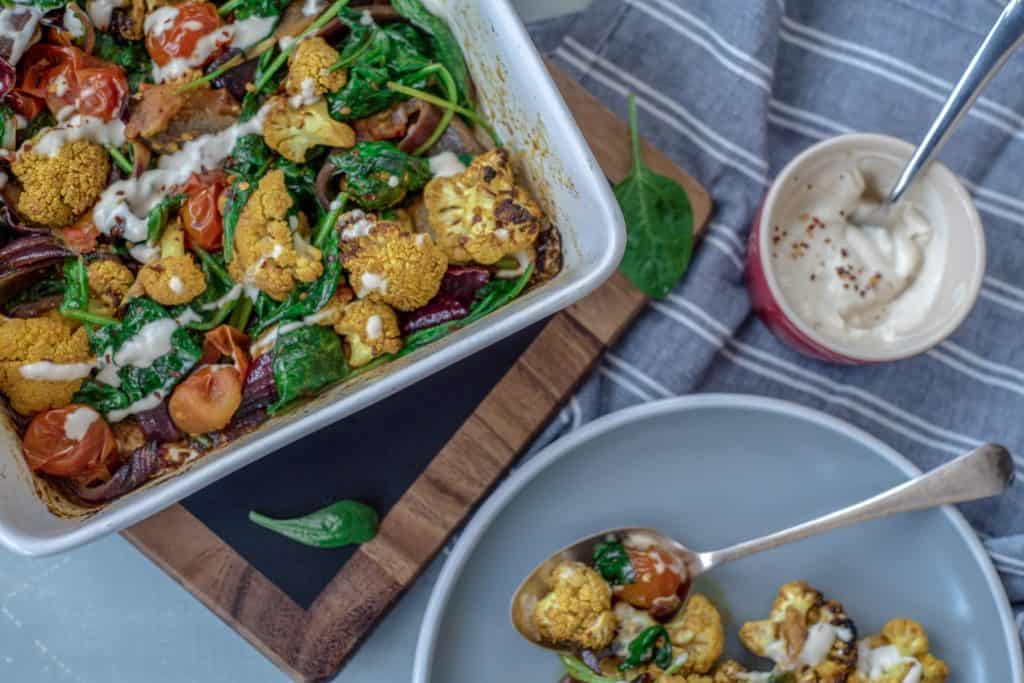 I love cauliflower, it's nature's superfood and has many nutrients, minerals as well as antioxidants that help to reduce inflammation and protect against several diseases, such as cancer and heart disease. The WHFoods recommends eating cauliflower on a very regular basis to keep your heart and body in tip-top condition.
Here's the one-pot healthy cauliflower bake recipe
One-Pot Healthy Cauliflower Bake Recipe
Ingredients
1 cauliflower, cut into florets
2 big red onions, cut into wedges
1 punnet cherry tomatoes (350g)
2 -3 handfulls spinach
1 teaspoon ground cumin
1 teaspoon cinnamon
1 teaspoon smoked paprika
1 teaspoon chilli flakes or chilli powder
½ teaspoon turmeric
Salt and freshly ground pepper
Tahini yoghurt dressing
1 tablespoon tahini
1 tablespoon white plant-based yoghurt
1 tablespoon apple cider vinegar or lemon juice
1 tablespoon water
pinch of salt
Instructions
Start by preheating the oven to 200C / 400F
Get a nice big baking tray and put in the cauliflower florets, onions, tomatoes, spices, and oil.
Give everything a very good mix making sure everything is equally covered.
Pop in the oven and bake for around 45 minutes or until the cauliflower is tender.
Check the bake a few times and give it a stir to avoid burning
Once baked take out of the oven and add the spinach into the tray and let it wilt from the heat of the veg
For the dressing put all the ingredients in a small bowl and whisk until smooth.
If it is too thick add a touch of milk or water. Taste and adjust seasoning
Serve warm drizzled with the tahini dressing and enjoy!
If you like this one-pot healthy cauliflower bake recipe then you definitely need to check out my Shepherds Pie , or if you want more cauliflower recipe go for Superfood salad or Cauliflower steak. Make sure you pin this recipe up too!
As always please, if you make this recipe share it with me either on my Facebook,Twitter or Instagram. I would love to see it! Hashtag #HediHearts
Much love,
Hedi