Cauliflower rice pudding is a low carb dessert or breakfast that's ideal for upping your vegetable and fiber intake, in a deliciously new way! It's filling, it's nutritious, and it's easy to make. Let's get started...
I know, it sounds a little strange, but bear with me when I say you need to try this cauliflower pudding before you knock it!
I won't pretend you don't taste the cauliflower, because you do, but it's very mild, very creamy and surprisingly yummy when made this way.
If you're watching your carbs, or just want to try something new and different, this cauliflower dessert recipe is for you.
How To Make Cauliflower Rice
Cauliflower rice can seem a bit baffling if you haven't made it before, but it's actually super simple.
If you have a food processor, it's very quick, but even with a handheld grater, it doesn't take long to make. I normally do a whole head of cauliflower at once, even if I'm not using it all that day, and freeze any leftover cauliflower rice for easy meal prep during the week.
Remove the outer green leaves and stems from the cauliflower head (don't throw them away, wash, cut and use in your salads)
Cut the cauliflower head into smaller pieces, including the cores.
I use the grater attachment on my Magimix and feed the cauliflower through. But you can also just use the regular blade on your food processor, or even make cauliflower rice in a blender by pulsing it until it forms a rice like texture - about the size of regular rice grains.
Alternatively, get out your grater and run the cauliflower florets over the larger holes to create your rice.
Sweet Cauliflower Rice Pudding Ingredients
The ingredients for this cauliflower dessert recipe are really simple, and most likely items you'll already have in your pantry. Let's take a look.
Cauliflower rice - made as per the instructions above.
Banana - you will need a nice ripe banana, half goes in the pot and the other half will be used as a garnish to serve.
Cinnamon and vanilla - work really well together, see variations for other spices you can add instead.
Milk - any kind you like! I used almond milk, but if you wanted the cauliflower rice pudding to be extra creamy you could use canned coconut milk too.
Optional - Maple syrup to add sweetness, raisins to make it more like a pudding, protein powder to make it more filling and nutritious!
How to Make Low Carb Rice Pudding
Place all the ingredients in a small pot and bring to the boil
Reduce the heat and let it simmer for around 15 minutes or until thick and creamy.
Take off the heat, add your favourite toppings and eat immediately.
If the pudding is too thick add a touch of warm milk and stir it through.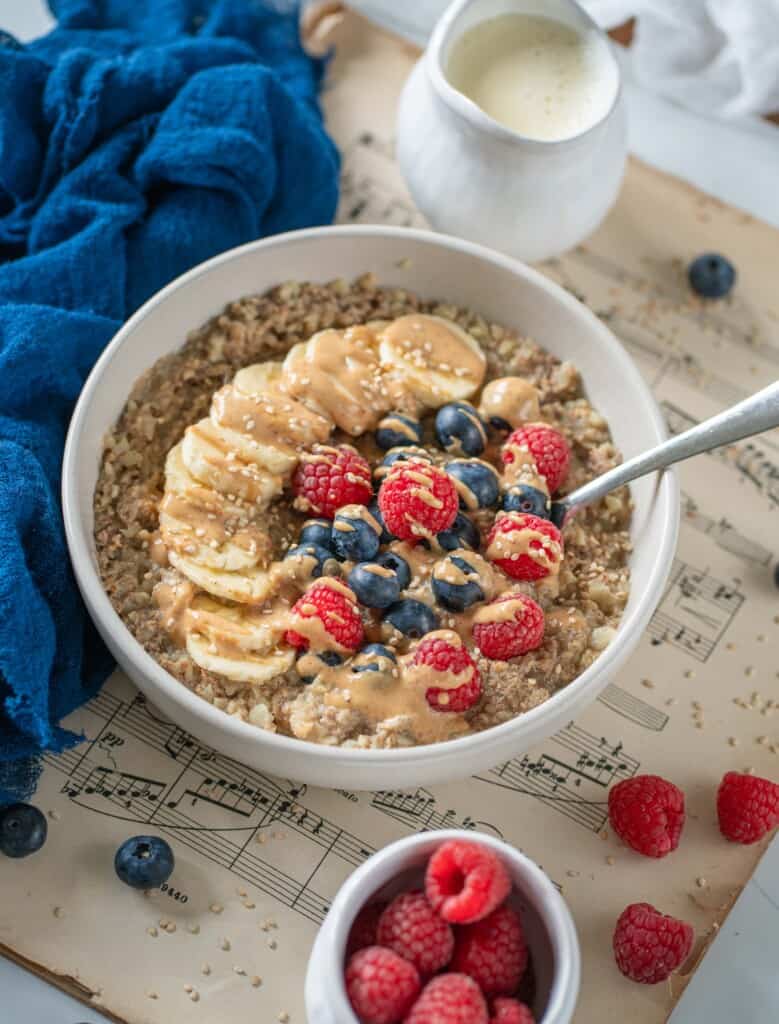 Cauliflower Rice Pudding Variations
There are many ways to make this cauliflower rice pudding recipe your own. Feel free to adapt as you please! Here are some ideas to get you started:
Change up the milks - cashew, oat milk, and coconut milk all add something delicious to this recipe.
Make it sweeter - this recipe gets some sweetness from the banana, but you can also add in maple syrup, raisins, agave, or coconut sugar if you like it sweeter.
Spices - I've used cinnamon and vanilla which go really well together, but you can also add in nutmeg, or even ginger to give it a bit of a kick!
Other additions - you can add in some seeds, nuts or fruit to add some lovely textures to this pudding. Try raisins, berries, coconut, walnuts, or chia seeds - anything goes!
Protein powder - If you're enjoying this for breakfast, you can up the protein by adding in some protein powder. If it's flavoured or sweetened, you may need to cut back on the other sweeteners and spices.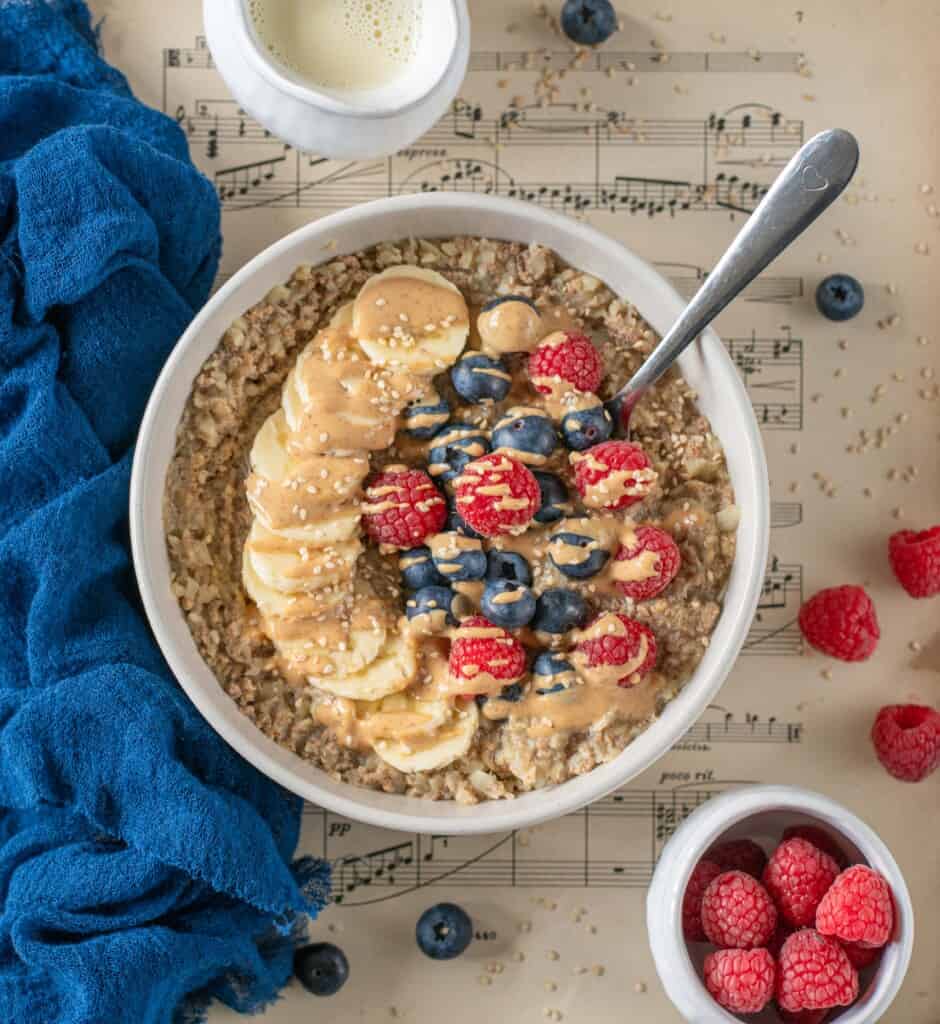 Other delicious ways to enjoy cauliflower:
Cauliflower Rice Pudding
How to make the most delicious, easy and healthy cauliflower rice pudding. Perfect breakfast, snack or even dessert. Great for leftover cauliflower too!
Ingredients
2 cups chopped cauliflower, made into rice (see notes)
1 banana (half in the pudding, half as a garnish)
1.5 cups coconut or almond milk
1 tsp cinnamon
1 tsp vanilla extract
Optional; 1 tbsp maple syrup
Instructions
Make the cauliflower rice by popping the cauliflower florets into a food processor and pulsing a few times
Get a small pot and add in the cauliflower rice and the rest of the ingredients leaving ½ banana for serving
Simmer on a low heat for around 15 minutes or until the rice is thick and creamy
Take off the heat, adjust sweetness by adding maple syrup and decorate with banana, nuts and berries.
As always please, if you make this recipe share it with me either on my Facebook, Twitter or Instagram. I would love to see it! Hashtag #HediHearts.
Also if you want more healthy recipes, check out my Youtube channel. Loads of fabulous and easy recipes waiting for you there.