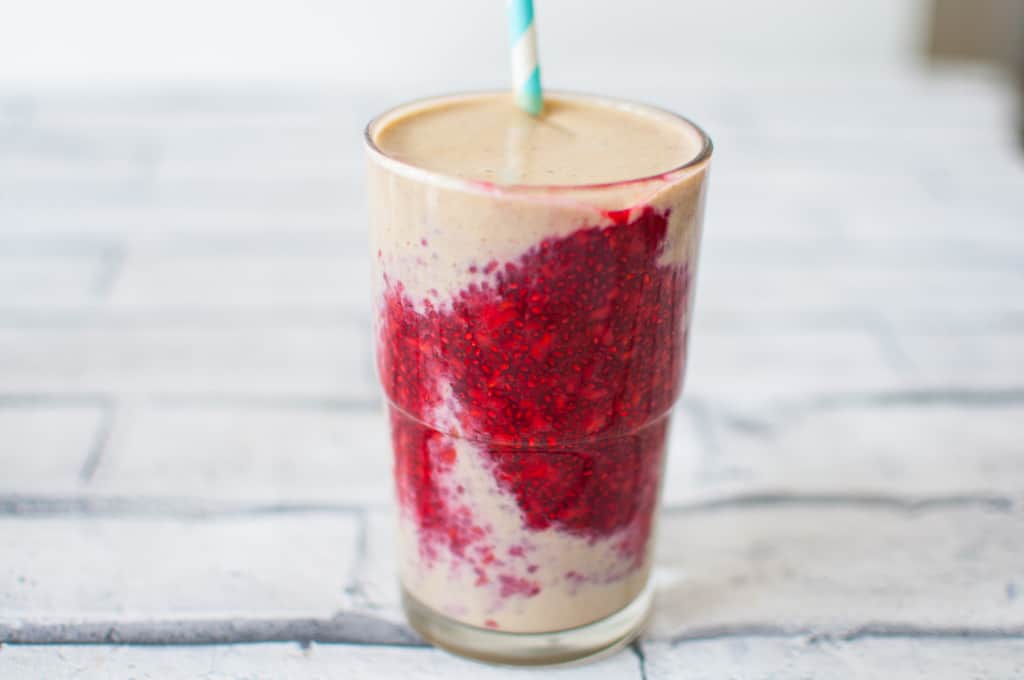 I am back to running and have started training for my marathon. This means smoothies after longer runs, and today I have finally made peanut butter jelly smoothie, which I have been craving since I first saw it on my Instagram feed. For my peanut butter jelly smoothie recipe, I have used my favourite drink...soya!
Nowadays it seems there is controversy around each and every food and this can leave us very confused concerning our diet plans. When it comes to soya, you shouldn't doubt its amazing qualities. After all, Japanese people have used it for more than 3000 years. The goodness of soya is tough to match. It is not too far-fetched to say that soya beans are some of world's healthiest foods you could ever find. Many studies have been performed and the results prove that soya brings along important benefits.
I personally love soya and thrive on it. I have done a lot of research and here are the main things you should know about it. Please note I am no doctor, or dietician, below is only what I found, what I believe in and what does me good.
Soya is the only natural source of essential amino acids such as leucine, lysine, methionine, isoleucine, or valine. This makes it highly important for bodybuilders or people who engage in athletic activities.
Soya stimulates the muscles, bones and nerves and it has hepatoprotective qualities, meaning that it can reduce damage to the liver.
Nutritionists recommend soya consumption in case of fatigue, hepatitis, rheumatism, high blood pressure, obesity or asthenia.
Soya is rich in proteins, which makes it one of the key foods for vegans and vegetarians, as it can substitute animal protein.
Soya milk can reduce cholesterol levels. This effect over cardiovascular issues was discovered in the 90s when nearly 40 clinical studies were published during a short, few year period. Soya proteins can diminish the level of triglycerides, while it maintains the HDL cholesterol (also known as the "good" cholesterol).
Soya contains significant amounts of iron, phosphorus, magnesium and calcium, as well as vitamin B-complex and omega 3 fatty acids. Also, due to the fibre content, it promotes digestion and it prevents gastrointestinal distress.
According to several studies, such as a 2007 one performed in Japan, the isoflavonoids included in soya can prevent some forms of cancer such as prostate or ovary cancer.
Thanks to the high quantity of minerals and isoflavonoids, soya protects the bones and contributes to the improvement of bone structure. In this way, you can prevent fractures. A study launched by Archives of Internal Medicine revealed that the bone density of women who go through menopause increased significantly after they consumed soya proteins for a half a year.
Soya helps with menopause. It raises the estrogen levels, which is beneficial for women who are disturbed by the unpleasant symptoms of menopause such as hot flushes, poor blood circulation, or psychological distress.
Soya has more protides (amino acid chains) than meat. The content is up to 40%, which is nearly double than the quite low content of meat, which only ranges between 15 and 20%.
Peanut butter jelly smoothie recipe
However, keep in mind that not all soya-based products preserve the benefits of the plant. This applies especially when it comes to soya milk. Some manufacturers use lots of additives, artificial sweeteners and preservatives so the soya content is very low. A pure milk contains only water and soya beans. Keep in mind to always go for organic products.
Provamel is a company that only sells such all-natural products like soya drinks , as well as desserts, soya yogurt alternatives or cream alternatives. So if you are still looking for a good brand, you should definitely try one of these products. I personally love Provamel and as you may have seen, use it in lots of my recipes. This peanut butter jelly smoothie is no different. Their soya unsweetened contains only soya beans and water. That is it! For peanut butter Meridian Natural Smooth Peanut Butter - No added sugar and no added salt is always my first choice.
Not a fan of jelly? Try my peanut butter banana smoothie instead!
Recipe
Peanut butter jelly smoothie recipe
Ingredients
1 cup Provamel Unsweetened Soya Drink
2 tablespoon peanut butter
1 frozen banana, cut into chunks
2 tablespoon oats (you can skip this if you don't like your smoothies too thick)
1 scoop of your favourite protein powder
Optional
Touch of maple syrup if you want it a bit more sweet
Jelly:
1 cup frozen raspberries
2 tablespoon chia seeds
Optional:
Touch of maple syrup if you like it a bit more sweet
Instructions
Let's start with the raspberry jelly.
Get a pot and place in the frozen raspberries
Cook on a gentle heat for around 5 minutes until the raspberries are all melted and add the chia seeds in. Mix well until the jelly has a thick consistency
Set aside and let it cool down completely
The Smoothie is next, and very easy. Simply pop all the ingredients in your blender or food processor and blend until smooth, creamy and no lumps.
Taste and adjust the flavour and texture by adding more oats, peanut butter or touch of maple syrup
Next get two nice glasses and divide the smoothie mixture equally then add in a good portion of the raspberry chia jam.
How gorgeous is that? Beautiful, super delicious packed with fiber, healthy fats and protein. You gotta make it and come back here and tell me you didn't love it!
As always please, if you make this recipe share it with me either on my Facebook,Twitter or Instagram. I would love to see it! Hashtag #HediHearts
Much love,
Hedi