Some people like to have a Saturday night out, some like to have a night in with XFactor or Strictly, and some, like me, like to crawl in mud! Yes, Saturday evening I took part in the Nuclear Mud Run with my friends and had the best time ever. One of the things that pushed me through was my raw snickers bites…they were my post run treat, my reward. I made them before I went racing and without even touching or licking one which was a challenge on its own. So here I am sharing my raw snickers bites recipe with you because sharing is caring and I care for you all!
The run was fabulous by the way and I have got myself another treat. Next week I am off to the Lifehouse Spa in Thorpe Le Soken here is Essex for a couple of days with some fellow bloggers. I also booked myself on the abdominal massage with castor oil. This massage is meant to help bloating, heal digestion and relieve menstrual pain (I really suffer from this). Now back to my raw snickers bites recipe.
This recipe is again a no bake no cook recipe. I think it you have been following me for a while you will have come to the conclusion that "she ain't any cook" and you are right. I really love simple recipes that don't require a lot of preparation, special gadgets (well I love my Cuisine Companion) or special ingredients. I love to take "cooking" short cuts because I have kids that constantly demand my attention, I have my blog, I have my friends, I have my challenge groups and I have you, my readers and my loyal and lovely Facebook following. I would rather chat to you rather than preparing a lengthy 6 course meal.
This raw snickers bites recipe is no different, full of shortcuts, quick to make but boy so so soooo dangerously addictive and indulging. It almost feels like I am cheating, but I am not. I always say it is all about balance. In this recipe you need these 4 ingredients….dates, the best are medjool dates because they are humongous, all squashy and so caramel like. Second are nuts (either peanuts, almonds or walnuts), third peanut butter (yep, peanut butter again) and last but not least, raw chocolate. I love Ombar. I usually get it from here (Wholesomeonline) because they have bulk offers, but you should be able to get your hands on it in any health shop. That's it. As with all my recipes this is a highly changeable recipe. No peanut butter use almonds, nut allergies use tahini and stuff it with seeds or dried fruits. No raw chocolate in the house (what???) use dark chocolate or dark chocolate chips, but be careful which one you go for as some of them have loads of sugar added.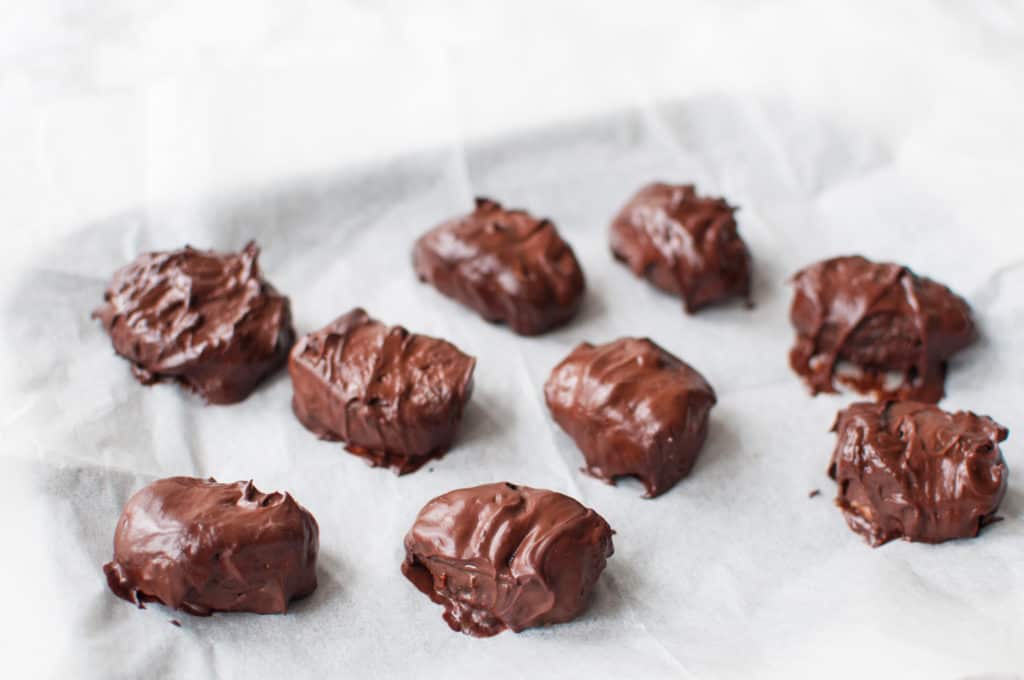 Here's the raw snickers bites recipe
Recipe
Raw snickers bites recipe
Ingredients
10 big medjool dates, pitted
20 peanuts or 10 almonds for stuffing
Peanut butter or any other nut or seed butter, approx. ¼ cup depending on the size of your dates ( I used 3 different ones for my bites)
1 -2 Ombar raw chocolate bars (alternatively you could use dark chocolate or dark chocolate chips, but watch the added sugars)
Instructions
Line a baking tray or dish with baking paper, set aside.
Take the pitted dates and place in each of them 2 peanuts or 1 almond. Once done add the peanut butter, you will probably need only a small bit but make sure you add as much as you can.
Pop the stuffed dates in a freezer for approx. 15 minutes
In the meantime, melt the raw chocolate.
Take the dates out of the freezer and dip each of them in the melted chocolate.
Place the well coated dates on the baking tray lined with baking paper. Continue until you have no dates left.
Place the tray/dish in to a freezer to set for around 15 minutes
Before eating let it thaw for a few minutes…that is if you can!
Don't forget to lick every drop of the melted raw chocolate left in the bowl, this mustn't go to waste.
How amazing does this raw snickers bites recipe sound? Now check the below pictures where I captured my Sofia helping me to make them but most of all eating them…she absolutely adores these. I am sure you and your family will too.
If you do make this recipe, come and share it on my Facebook,Twitter or Instagram. I would love to see it! Hashtag #HediHearts
Much love,
Hedi