Nothing screams more comfort food than my easy aubergine and lentil dhal recipe. Naturally, this recipe is gluten free, grain free, vegetarian and vegan while being also incredibly nutritious and delicious!
In winter I prefer to cook from root vegetables and legumes and make different combinations - depending on what is at home. One of my favourites is dhal.
Traditional dhal is basically a very mild curry made up mainly of lentils, tomatoes, chilli, and spices.
My version is without tomatoes, but instead I added an aubergine to make it more filling and satisfying.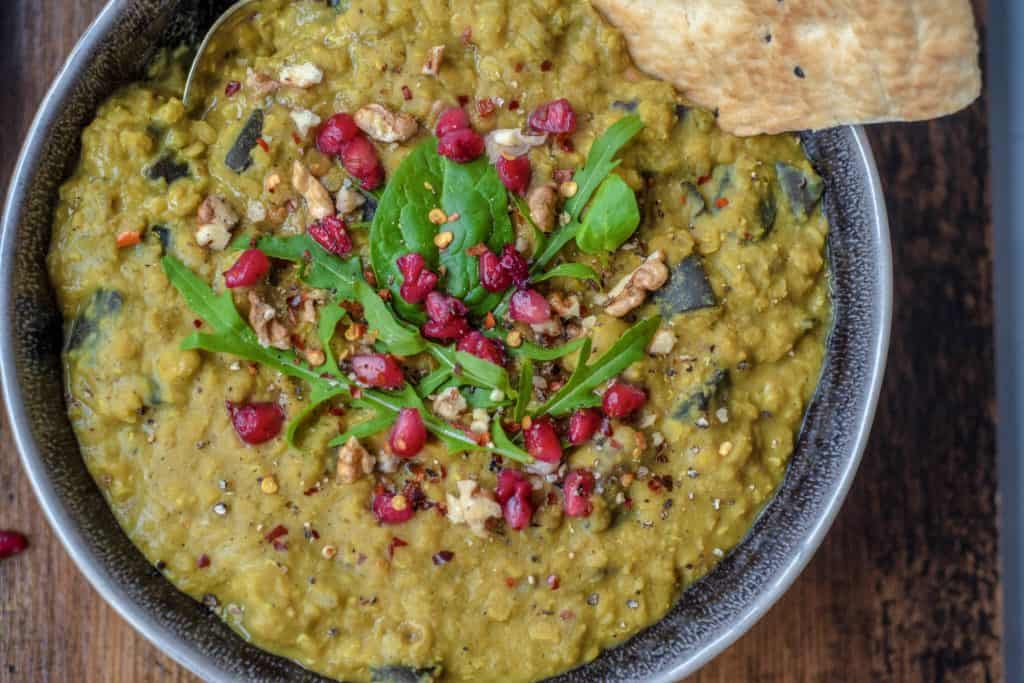 Aubergine is really nutritious. In a nutshell it's full of fiber, B1 and B6 vitamins, antioxidants and various minerals including copper, manganese and copper.
Lentils pack a protein punch, and are rammed with all-important fiber, too. This easy aubergine and lentil dhal recipe rocks!
How to do make easyMy easy aubergine and lentil dhal recipe is all about turmeric, cinnamon and ginger along with coconut milk to soften the spicy flavours. You can serve it with rice, my pitta bread, naan or with some homemade tortillas.
I really have to mention how easy this recipe is. After a couple of minutes prepping and chopping you pretty much throw the rest of the ingredients into a large pot and they'll cook themselves. So, grab your aubergine, grab your pan and get going!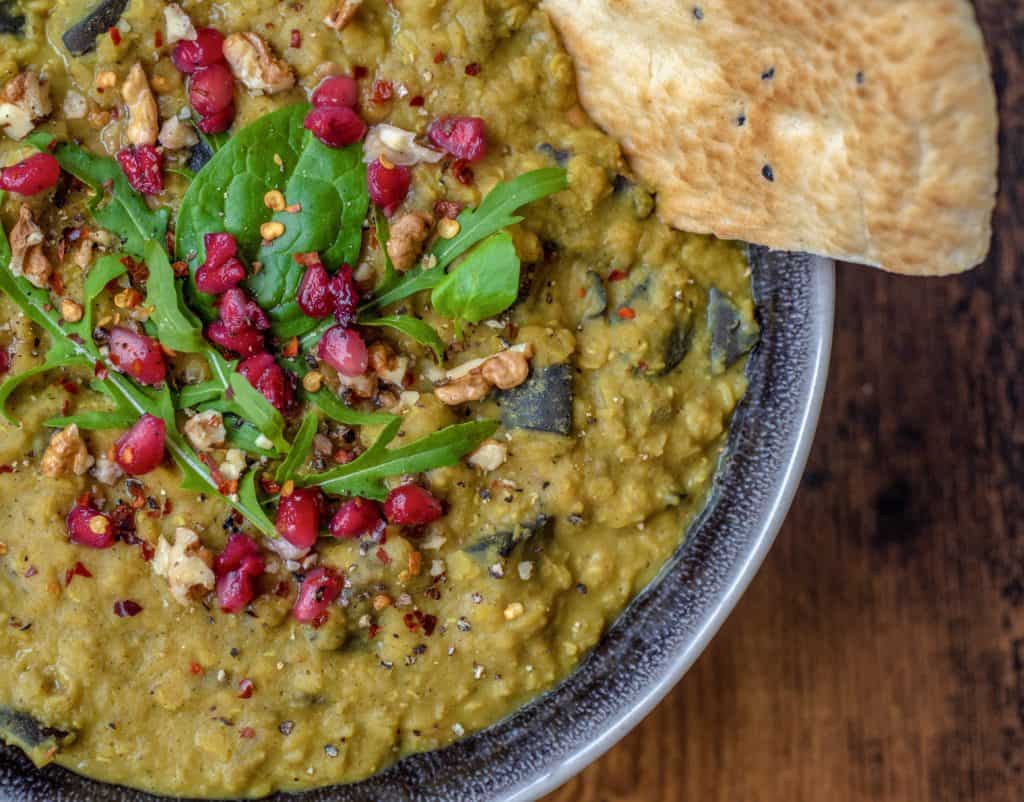 How to Store, Reheat, and Freeze This Recipe
To Store. Store leftovers in an airtight container in the refrigerator for up to 3 days.
To Reheat. Gently reheat dhal in a large pot over medium-low heat until hot. You can also reheat this dhal in the microwave until warmed through.
To Freeze. Place leftovers in an airtight freezer-safe storage container and freeze for up to 3 months. Let thaw overnight in the fridge
Here's the easy aubergine and lentil dhal recipe
Easy Aubergine and Lentil Dhal
Yield: 2 - 3

Prep Time: 5 minutes

Cook Time: 15 minutes

Total Time: 20 minutes

Easy aubergine and lentil dhal is a quick recipe perfect for those evenings when you want some tasty comfort food and you want it NOW! Vegan & gluten free too.
Ingredients
1 aubergine, chopped into cubes
1 cup dry red lentils
1 tsp olive oil
2 cloves of garlic, minced
1 tsp ground cinnamon
1 tsp ground turmeric
1 tsp ground cumin
500ml vegetable stock
½ cup coconut milk (tinned)
Juice from ½ lemon
Salt and pepper
Toppings: pomegranates, chopped coriander, crushed nuts,chilli flakes
Instructions
In a large pan add the olive oil and minced garlic; fry for 1 minute
Next add cinnamon, turmeric and cumin and fry for further 20 seconds.
Add cubed aubergine and fry until brown and softened
Now pour in the stock and lentils, and let simmer for around 15 minutes or until both aubergine and lentils are soft
Finally pour in coconut milk, lemon juice and season with salt and pepper to taste
Top up with loads of pomegranates, chilli flakes, chopped coriander and some crushed nuts
Serve with rice, naan or pitta bread

My easy aubergine and lentil dhal is a quick recipe – perfect for those evenings when you want some tasty comfort food and you want it NOW!
More comforting recipes like this easy aubergine and lentil dhal:
As always please, if you make this recipe share it with me either on my Facebook,Twitter or Instagram. I would love to see it! Hashtag #HediHearts
Much love,
Hedi