It must be that time of year. I'm craving comfort food and I'm craving a health-kick, and I want them both now. My cauliflower steak with smoky spinach lentils takes care of both. That's right a steak of cauliflower 🙂
Whether you're brand-new to Veganuary (going vegan for the whole of January) or you're a long-time clean eating vegetarian or vegan stuck in a rut, this cauliflower steak with smoky spinach lentils is a truly satisfying dish right at your fingertips.
I love cauliflower, it's nature's superfood. It's something that WHFoods recommends eating on a regular basis to keep your heart and body healthy. I personally prefer roasting cauliflower rather than the usual boiling or steaming methods, which often makes it mushy and bland.
There are a few key points to make this cauliflower steak perfect. First get a decent size of cauliflower, then remove the outer leaves and trim/level the stem end. Don't completely remove it as the stem helps to keep it all together.
Next get a good sharp knife and cut right through the centre of the cauliflower head. This will keep the florets nicely together. You should be able to cut 2 - 3 thick slices. Don't throw away the remaining florets, just roast them alongside the cauliflower steaks.
Add your favourite spices, touch of oil and pop it in the oven to roast. This cauliflower steak goes just with everything. Think my sweet potato kale mash, roasted vegetables with salsa, turmeric rice or like in this recipe with smoky spinach lentils.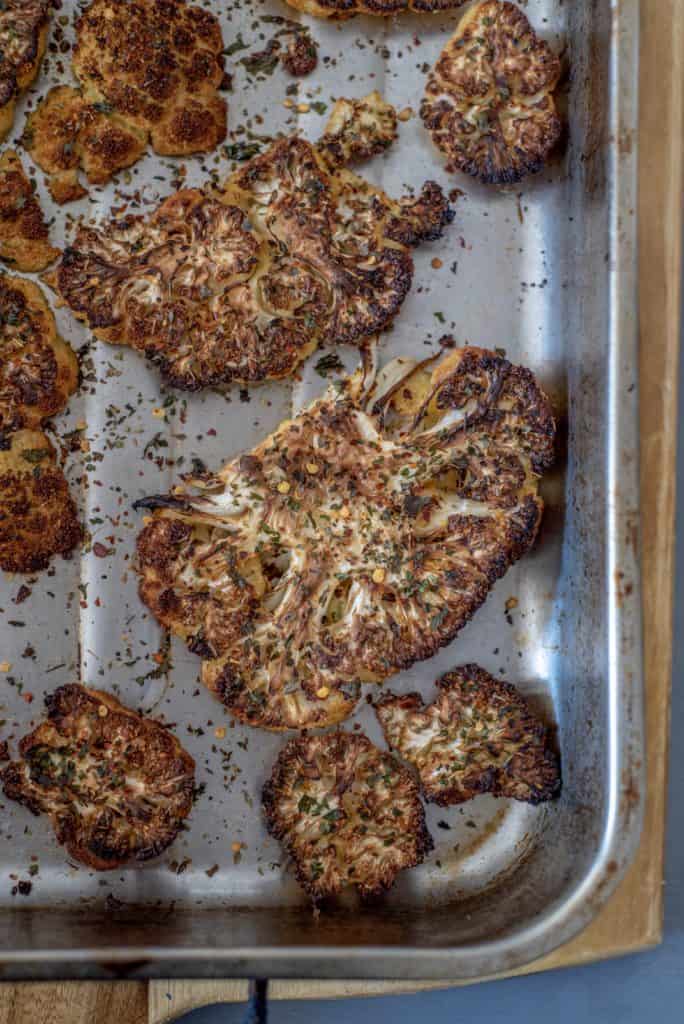 Here's the cauliflower steak with smoky spinach lentils
Cauliflower steak with smoky spinach lentils
Yield: 2 - 3

Prep Time: 10 minutes

Cook Time: 40 minutes

Total Time: 50 minutes

Cauliflower steak with smoky spinach lentils recipe is packed with protein, fiber, flavour, and makes a great weeknight dinner. It's vegan and gluten-free.
Ingredients
1 head cauliflower (medium to large size) cut lengthwise into steaks
2 cloves garlic, minced
¼ cup extra virgin olive oil
1 tsp paprika (normal or smoked, both work well)
1 tsp chilli powder (you can use chilli flakes too)
1 tsp oregano
Salt and pepper to taste
Smoky spinach lentils
1 tin lentils, rinsed and drained
1 clove garlic, minced
1 tsp smoked paprika
1 tsp ground cumin
1 tsp olive oil
1 tbsp vinegar
1 cup spinach
Salt and pepper to taste
Toppings: cherry tomatoes, yoghurt, chilli flakes
Instructions
Preheat oven to 200 degrees celsius
Place cauliflower steaks on a baking tray.
In a small bowl whisk together olive oil, garlic, paprika, chilli powder, oregano, salt and black pepper.
Brush the olive oil mixture equally over the tops of the cauliflower steaks.
Roast cauliflower steaks in the oven for 35 -40 minutes until tender and golden brown
While the steaks are roasting prepare your smoky spinach lentils
In a medium pot heat up the oil and add in the minced garlic. Fry for a minute or so and then add in smoked paprika and ground cumin and fry for further 30 seconds
Next add in the lentils, spinach and vinegar
Fry for 3 -4 minutes or until the spinach is wilted
Season to taste with salt and pepper, remember to taste.
If the lentils are too thick or sticking too the pot add splash of water.
Serve the lentils on the top of the cauliflower steaks with some cherry tomatoes, yoghurt and extra chilli flakes

Need more cauliflower inspiration? I have a delicious cauliflower rice right here. And there's one pot cauliflower bake over here, if you're looking for something a bit bigger. You can't go wrong with either.
As always please, if you make this recipe share it with me either on my Facebook,Twitter or Instagram. I would love to see it! Hashtag #HediHearts
Much love,
Hedi