Blackberry crumble bars recipe made healthy with freshly picked blackberries, oats,ground almonds, coconut oil and other good-for-you ingredients.
These blackberry crumble bars are gluten-free, vegan and have no eggs, dairy, refined flour or sugar. What they have is a delicious crust, a layer of blackberries and a crumbly oat topping.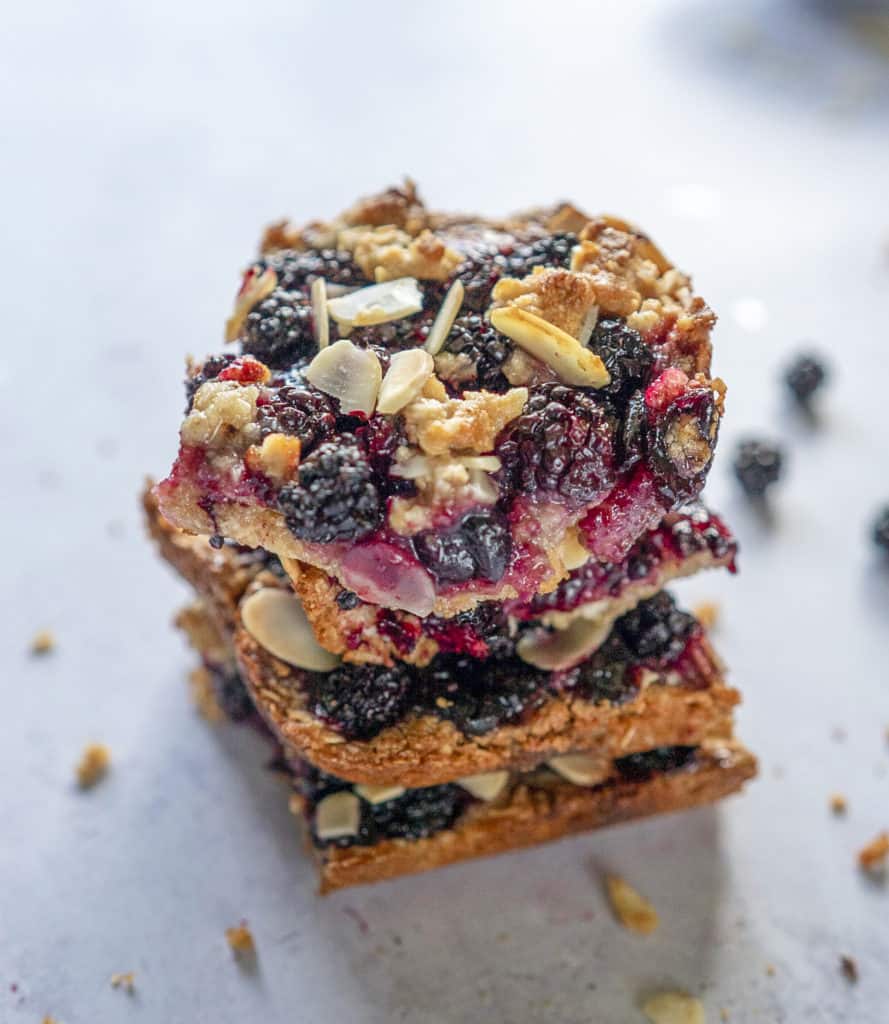 These make a great little snack for when you're on the go and need something quick to grab and head out of the door. Look at those slices! Does it makes you hungry right now ?

To make it extra special don't forget to add a generous sprinkle of Snacking Essentials Almonds. I am their proud ambassador and recipe developer and can't recommend them enough.
I have made these crumble bars with blackberries, because I love eating seasonal. However, you can use any fresh or frozen fruit including blueberries, strawberries, raspberries or blackcurrant.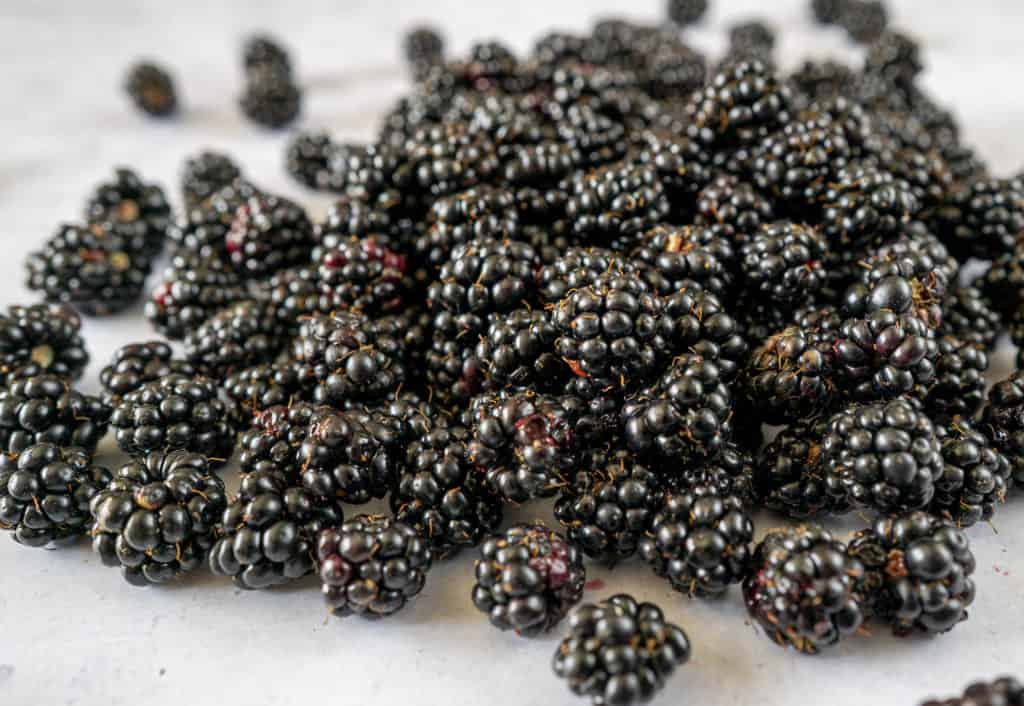 If you want to make these Blackberry crumble bars more decadent, I suggest adding a little bit of either blackberry or blackcurrant sugar-free jam on the top of the crust. Or if you have time make my homemade chia jam. Either way, I know you're going to LOVE them!
Here's the Blackberry Crumble Bars Recipe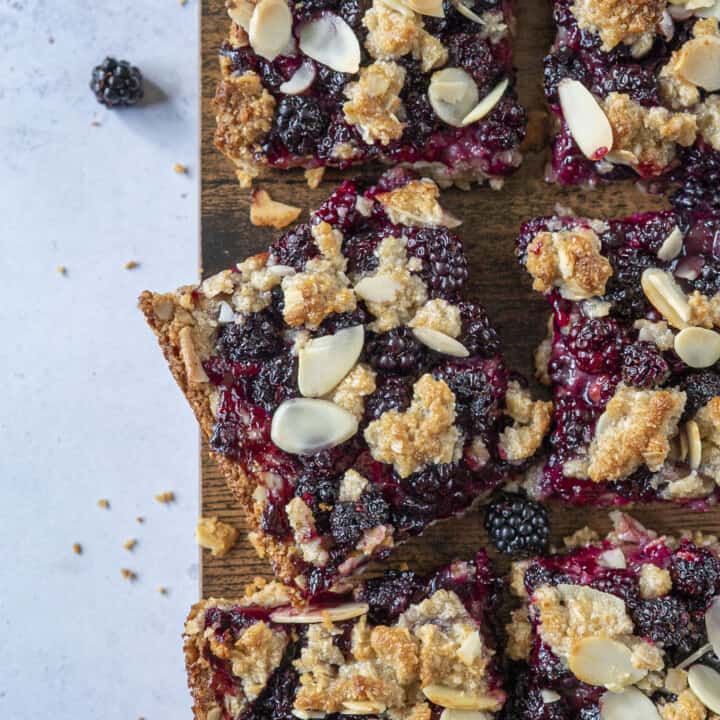 Blackberry Crumble Bars Recipe
Blackberry crumble bars recipe made healthy with blackberries, oat,ground almonds, coconut oil and other good-for-you ingredients. Vegan & Gluten Free
Ingredients
1,5 cup oats (for GF option use gluten free oats)
1,5 cup ground almonds
½ cup Snacking Essentials Flaked Almonds
1 teaspoon baking powder
1 teaspoon cinnamon
½ cup coconut oil, melted
½ cup date/maple/rice syrup (you can use honey too)
1 teaspoon vanilla extract
1 cup blackberries
Optional: ½ cup homemade or sugar-free blackberry jam
Instructions
Preheat oven to 180 degrees and grease your 9x9 baking tin
In a medium bowl mix together the oats, ground almonds, flaked almonds, baking powder and cinnamon.
In a small bowl whisk together the coconut oil, date syrup and vanilla extract
Pour the coconut oil mixture into the dry ingredients bowl and mix together until crumbly
Set aside ⅓ cup of the mixture to use later
Now lay the rest of the oat mixture into the prepared baking tin
Press down firmly on all edges
Now this is optional, but it makes these bars heavenly. Spread a thin layer of your blackberry jam evenly over the oat mixture and then top with blackberries.
Sprinkle the reserved oat mixture over the top and some extra flaked almonds
Pop in the oven and bake for around 30 minutes or until the top is a golden brown colour
Let cool down completely before slicing into bars
This recipe makes 9 slices. Store up to 1 week in the fridge in an airtight box. If you are after some more delicious recipes check out my
Blackberry Tart Recipe
or
Homemade Flapjacks
.
As always please, if you make this recipe share it with me either on my Facebook,Twitter or Instagram. I would love to see it! Hashtag #HediHearts
Much love,
Hedi