I am on it with salads, but rest assured my salads are not boring! Today's post is all about my healthy and easy lentil salad recipe. A little hint...the magic is in the dressing!
I love lentils, they are so versatile, filling and taste good too. They also help to boost your iron, fibre and protein levels, stabilise your blood sugar, and even help to fight against diabetes and digestive problems. See here for more details, it is nature's superfood! For cheese I have used Sainsbury's Coconut Feta cheese, which I love, but feel free to use any kind of feta cheese.
If you want to make this recipe really quick then cheat by using tinned lentils; however if you have a few spare minutes use dried lentils, cover them with water and gently simmer for 30-40 minutes. Just remember not to salt them before they're cooked otherwise they turn a bit mushy.  If you can use either brown, green or black lentils. Unlike red lentils these varieties hold their shape, so this lentil salad recipe will have more of a pilaflike consistency, while still being utterly delicious.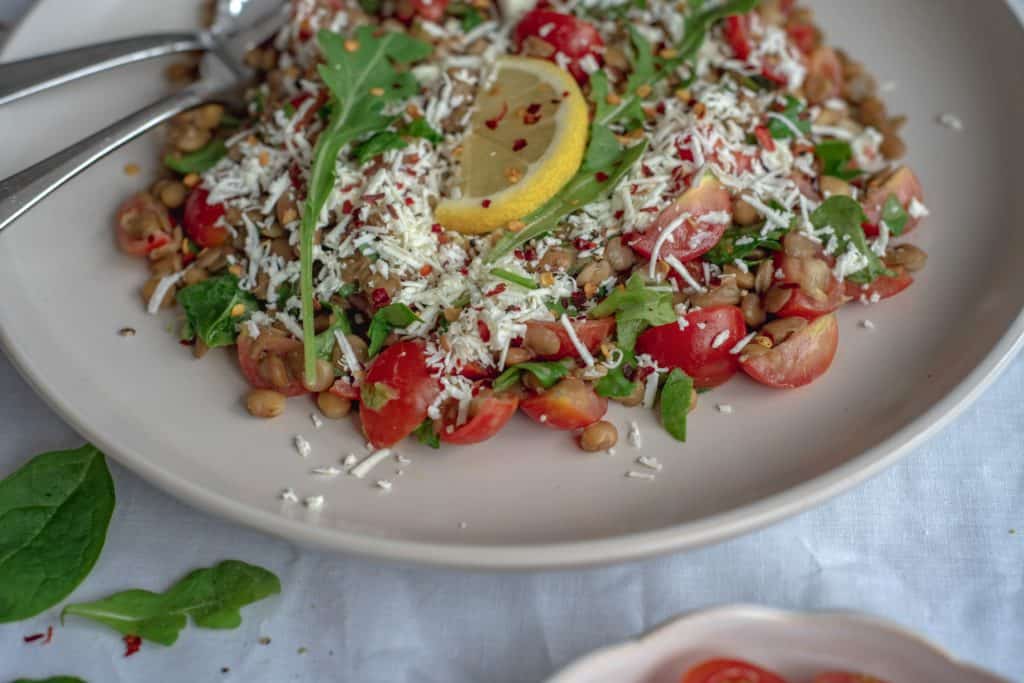 If you are trying to drop a few pounds or not , it's always a good idea to boost meals with loads of fresh veggies . I have opted for sweet cherry tomatoes and spinach, but you could add peppers, cucumber, rocket, baby gem lettuce, but also herbs such as watercress, coriander and parsley. Just experiment with your favourite herbs and spices - who knows what awesome combination you might discover?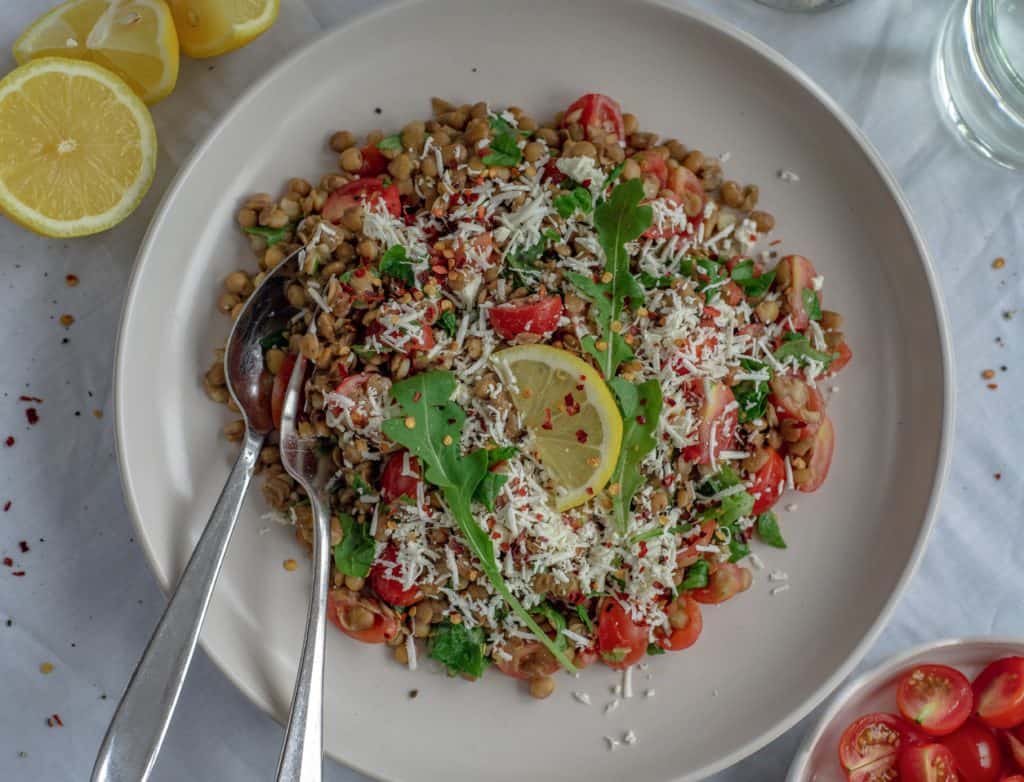 The dressing makes this lentil salad recipe come all together. I have used maple syrup, but you can use any other sweetener. I just love the combination of mustard, vinegar and maple syrup...so so good. The measurements/ingredients below can serve up to 4 servings or more, so keep refrigerated until ready to use.
Here's the easy and healthy lentil salad recipe
Healthy and easy lentil salad recipe
Healthy and easy lentil salad recipe with sweet cherry tomatoes, spinach, dairy free feta cheese all drizzled with a maple mustard dressing. Simply delicious!
Ingredients
250g green lentils, if using uncooked or 1 tin of green lentils, drained
½ punnet cherry tomatoes, quartered
½ pack dairy free feta cheese
2 handfuls spinach, chopped
Salt and pepper to taste
Dressing:
3 tablespoon maple syrup
2 tablespoon dijon mustard
2 tablespoon apple cider vinegar (you could use lemon juice too)
3 tablespoon extra virgin olive oil
Instructions
Cook the lentils according to the packet instructions
Meanwhile whisk all the dressing ingredients together in a jar or airtight container
Mix the cooked lentil with tomatoes, spinach and the dressing.
Taste and if needed add salt and pepper.
Before serving, sprinkle salad with feta cheese and serve with crusty bread
It's a good idea to let this chill for as long as possible before digging in. It's one of those dishes that's even better still the day after! If you want more lentil recipes, you have to try this gorgeous
sweet potato and lentil soup
or
heart-warming lentil curry
.
As always please, if you make this recipe share it with me either on my Facebook,Twitter or Instagram. I would love to see it! Hashtag #HediHearts
Much love,
Hedi