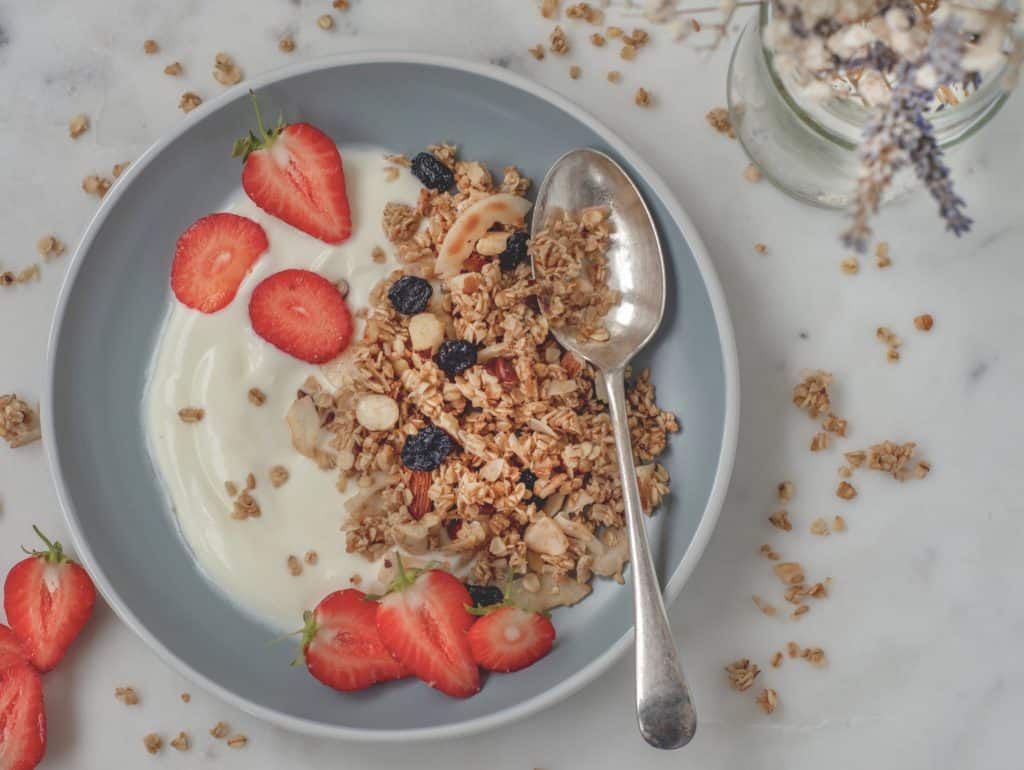 This must be the simplest recipe ever. Homemade 5-minute granola in a pan recipe which is healthy, gluten- free, dairy- free with a lot of crunch. Wholesome, delicious and nutritious. Just the way you like it!
Breakfast can be tricky when you have not a lot of time in the morning.This granola in a pan recipe will help you to transition from your old breakfast staple cereals (usually full of sugar) to cleaner options that will become hopefully become your new normal. It literally takes 5 minutes and the magic happens in one single pan!
What I love about his homemade 5-minute granola in a pan is that this is more than a breakfast. This is a healthy snack, an after dinner treat or to fuel or re-fuel your workout. Even as a school lunch treat for your kids with the added bonus being richer in nutrients than usual granola bars or other conventional snacks.
It's a fairly basic recipe, but you can adapt and adjust it based on your preferences. Just add all ingredients in the pan, stir few times and voila you are done. Watch the oats and nuts to make sure that they don't burn — you just want to stir them in the pan until they're nice and golden-brown.
To get the best crunchy chunks, remove the pan from the heat, mix in the dried fruits and let granola cool completely down completely without touching and stirring. Once completely cool break it up into larger chunks or smaller clusters.
You can try different add-ins such as currants, sultanas, dried strawberries, dried apples or apricots. I have used dried blueberries only because they had them in in sale at Holland and Barrets, I am not usually that posh.
Here's the homemade 5-minute granola in a pan recipe
Homemade 5-minute granola in a pan
Ingredients
1 cup usual or gluten free oats
⅓ cup nuts of choice ( I used mixed nuts)
⅓ cup coconut flakes
1 tablespoon flaxseeds
1 tablespoon coconut oil
2 tablespoon rice syrup or date nectar ( you can use any other liquid sweetener)
1 teaspoon cinnamon
Small handful dried blueberries
Instructions
Put everything into a large pan (except the dried fruit) on a medium-high heat
Cook, stirring often, for about 5 minutes, or until the granola is well coated and slightly brown/golden.
Set aside to cool and don't mix it to make sure you get some nice crunchy chunks
Cool it completely before adding the dried fruit, and store leftovers in a jar or airtight container at room temperature.
Need more granola recipes? I've more than got you covered, then. Here's a
peanut butter granola
,
gingerbread granola
and here's a
chocolate granola
. Also I have these amazing
granola bars
for your here! Treat yourself ?
As always please, if you make this recipe share it with me either on my Facebook,Twitter or Instagram. I would love to see it! Hashtag #HediHearts
Much love,
Hedi