Happy Monday! I know Mondays are not usually happy, but believe me, if you make this healthy, orange and chocolate overnight oats recipe your Monday mornings are never going to be the same again.
There is one thing that bugs me about the overall attitude to breakfast ...the myth about skipping breakfast in order to save calories for later in the day. This is so wrong, please don't do this to you or to your body. Treat yourself to my gorgeous orange and chocolate overnight oats and you will never skip breakfast ever again!
Breakfast is supposed to be the highlight of your day when it comes to food and indulging a bit, because you have the whole day to burn it off. Just remember eating clean or eating healthy is all about regular, well-balanced meals including good quality protein, low- GI carbs such as sweet potatoes and brown rice and of course plenty of fresh veg and fruit and breakfast like this orange and chocolate overnight oats.
Here's the orange and chocolate overnight oats recipe
Recipe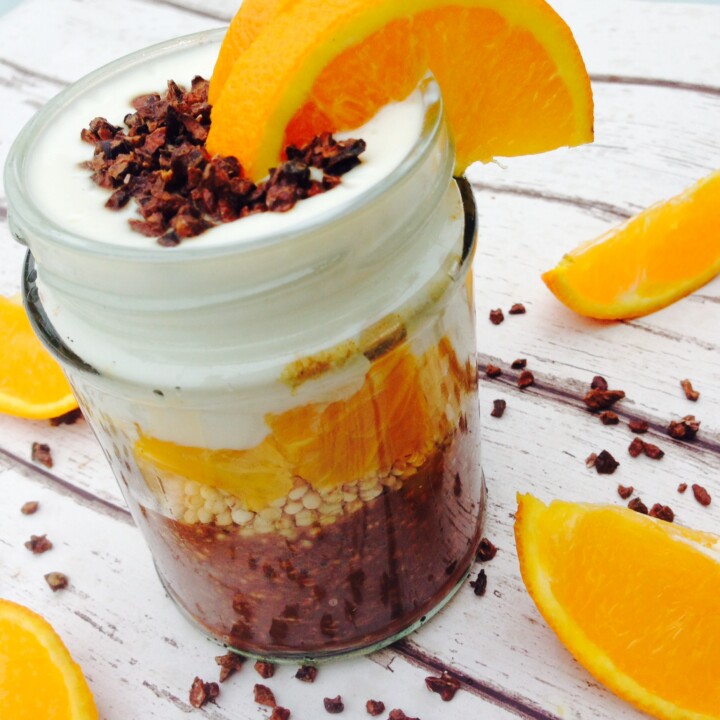 Orange and chocolate overnight oats
Breakfast doesn't get better than this. My orange and chocolate overnight oats is basically dessert for breakfast, super simple, delicious and healthy.
Ingredients
⅓ cup oats
½ cup coconut milk (I used Koko)
1 tablespoon raw cacao or cocoa powder
½ teaspoon cinnamon
drizzle of rice syrup (optional)
handful of puffed quinoa (puffed rice is a good alternative)
1 orange
White yogurt (I used Provamel soya & coconut yogurt)
Raw cacao nibs (I used Atreea)
Instructions
In a medium sized jar combine the oats, coconut milk, raw cacao, cinnamon and rice syrup. Mix together until all combined. Put the lid on and store overnight in the fridge.
In the morning add a layer of puffed quinoa, layer of cut up orange, a layer of yogurt and a sprinkle of raw cacao nibs on the top. Decorate with a couple of slices of orange and devour!
Hope you will love this orange and chocolate overnight recipe as much as I do. If you want to try more overnight oats recipes give a go to my
peanut butter one
,
one with chocolate sauce and strawberries,
apple pie overnight oats,
or one with
chia pudding
. Make sure you pin this recipe too!
As always please, if you make this recipe share it with me either on my Facebook,Twitter or Instagram. I would love to see it! Hashtag #HediHearts
Much love,
Hedi