Today I am sharing with you the best healthy salad recipe. It is fresh, flavorful and packed with everything I love and if you don't mind me saying really fancy looking too.
I love strawberries and there's nothing better than a plump, ripe British strawberry that is just bursting with flavour. They are currently in season and at their best right now and they pair perfectly with both sweet and savoury meals.
Of course we all know strawberries are a match made in heaven for cakes, bakes and tarts - imparting their sweet delicious flavour, but they also add a pop of colour and can help lighten heavy or creamy desserts. But a lot of people don't realise that they work just as well in savoury dishes.
They help transfer the savoury flavours into something more juicy and flavoursome and with a subtle sweetness balanced perfectly with the more savoury notes. I love them in salads just as much as I love them in coated in chocolate. It's all about finding that balance.
ABOUT THIS THE BEST HEALTHY SALAD RECIPE
Think sweet ripe strawberries, crunchy spinach, creamy avocado, roasted flaked almonds and chickpeas .Day made if you ask me. Plus, it also happens to be gluten free, low carb, keto and paleo friendly too and no actual cooking required.
I can't describe to you how good this is…. so you're going to have to trust me and give this best healthy salad a go. You can thank me later ? This salad can be served as a main or as a side dish. You can swap some of the ingredients, too. For example.. try walnuts or roasted pecans instead of almonds. No spinach in the house? Go for rocket, lamb lettuce or mixed greens.
It's easy, best enjoyed fresh, and tastes the best when drizzled with dressing right before serving. No one likes mushy spinach. If you'd like additional plant based protein, or want to make this salad a little heartier, try adding in a cup of cooked quinoa or brown rice.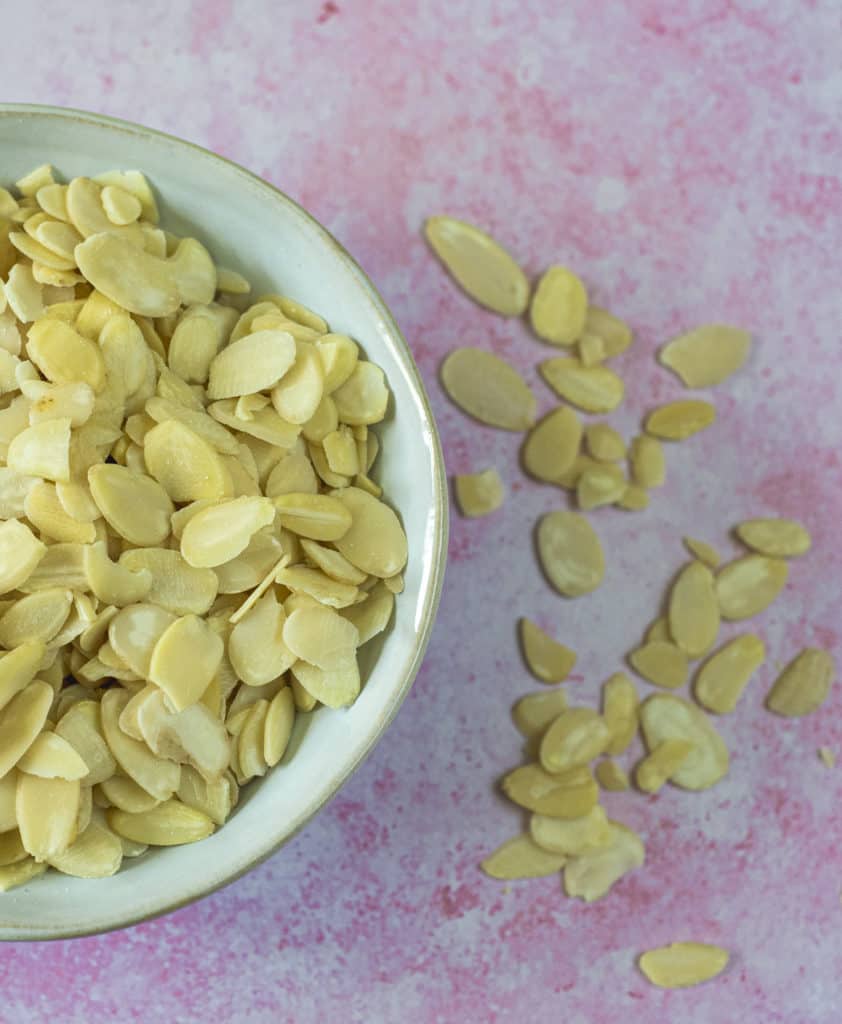 What are healthy salad toppings?
I say any type of nuts and seeds including sesame seeds, ground linseeds or poppy seeds. Of course freshly chopped up herbs, and freshly squeezed lemon or lime. Also this lush dressing which is so refreshing, light and zesty. I made it with SunMagic orange juice, extra virgin oil, dijon mustard, lemon, salt and pepper.
Recipe
The best healthy salad recipe
The best healthy salad recipe which combines all my favorite vegetables and fruit in one delicious bite. Serve with my orange dressing that ups the crunch!
Ingredients
400g strawberries, halved or sliced
1 tin chickpeas, rinsed and drained
1 big ripe avocado, cubed
4 big handfuls spinach, washed and dried
⅓ cup flaked almonds
Dressing:
⅓ cup SunMagic orange juice
¼ cup extra virgin oil
2 tablespoon freshly squeezed lemon juice
1 tablespoon honey or maple syrup for vegan friendly option
1 tablespoon Dijon Mustard
Salt and pepper to taste
Instructions
First roast the flaked almonds slightly in the oven; 10 minutes on 200 degrees
In a medium bowl add the spinach, halved strawberries, chickpeas and avocado
For the dressing combine all ingredients in an empty jar and shake well to make sure it all mixes together
Pour the juice dressing over and toss to combine
Top with the roasted almonds and enjoy immediately
To store, cover with plastic wrap directly over the surface of the salad and refrigerate the leftover portion. If you liked this recipe make sure you check out my
Spring Salad
,
Healthy Lentil Salad
or
Mozzarella salad
.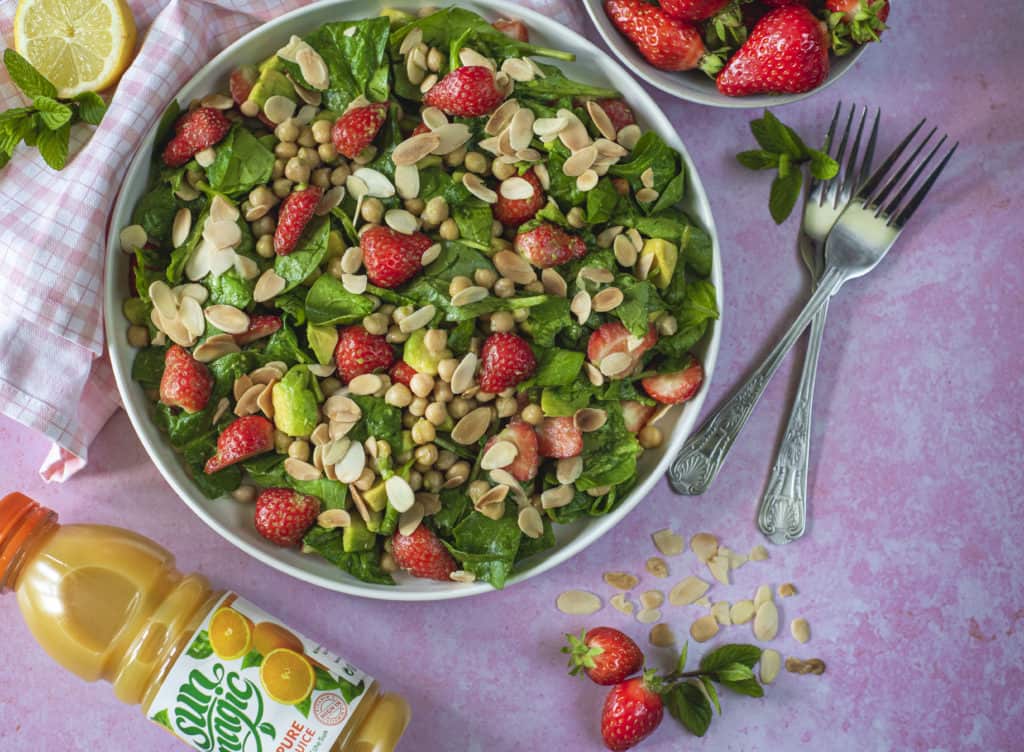 As always please, if you make this recipe share it with me either on my Facebook,Twitter or Instagram. I would love to see it! Hashtag #HediHearts
Much love,
Hedi