Healthy Apple Muffins that are best eaten on the day of baking, or the very next day, so bake and gather some friends and family to enjoy them with.
Apple and cinnamon are my favourite autumn/winter flavour combination. These healthy apple muffins are a great make-ahead breakfast to save time on a busy morning, or a filling snack. With no butter, sugar or oil, these muffins are a lighter choice, but still bursting with loads of flavour.
How do you make healthy apple muffins?
Making healthy apple muffins is pretty easy. All you need to do is mix all the wet ingredients in one bowl and the dry ingredients in another bowl. Then you pour the wet ingredients into the bowl with the dry ingredients, fold in the diced apples and divide the mixture into 12 muffin cases. Pop it all in the oven for around 30 minutes, and then devour immediately like there is no tomorrow.
To make these extra special I have used the Berry Mix from Snacking Essentials which is basically a mixture of juicy raisins, golden raisins and cranberries. So so good. If you want to try more of my muffin recipes, do check out Blueberry Muffins, delicious Almond and Banana Muffins, or savoury Carrot and Courgette Muffins.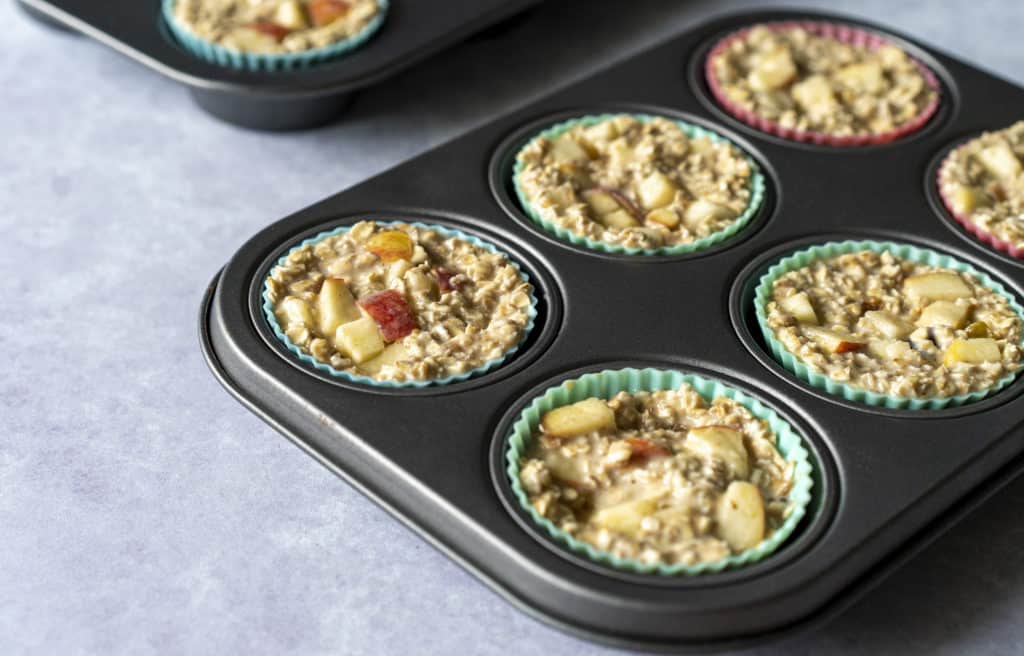 Healthy Apple Muffins
Ingredients
1 apple, peeled and diced
3 cups oats (use certified gluten free oats for gluten-free option)
1 teaspoon baking powder
2 teaspoon cinnamon
2 tablespoon ground flaxseed/linseed
1 pack of Snacking Essentials Berry Mix (100g)
Pinch of nutmeg
1 ½ cup milk (I used unsweetened almond milk)
½ cup applesauce or mashed banana
4 tablespoon date syrup (you can use rice or maple syrup too)
2 tablespoon almond butter (you can use tahini, peanut or cashew nut butter too)
1 teaspoon vanilla extract
Pinch of salt
Instructions
Preheat oven to 180 degrees Celsius
In a medium bowl, mix oats, cinnamon, baking powder and salt
In another bowl, whisk together almond milk and flaxseed and let sit for about 5 minutes
Next add in the remaining wet ingredients: applesauce, date syrup, almond butter and vanilla extract
Pour wet ingredients into the bowl with the dry ingredients
Stir to combine and fold in half of the diced apples and the Snacking Essentials Berry mix.
Divide the mixture into 12 muffin cases and top each with remaining diced apples.
Pop in the oven for 30-35 minutes or until the middle of the muffin has set and a toothpick comes out clean.
Let cool down completely before devouring
These can be eaten right away, or frozen and defrosted for many breakfasts to come – just take them out the night before for a great breakfast, or pop one in your lunchbox for a mid-morning or lunchtime snack.
As always please, if you make this recipe share it with me either on my Facebook,Twitter or Instagram. I would love to see it! Hashtag #HediHearts
Much love,
Hedi