Last week UK had its very own heatwave. Let's hope it wasn't the last. I fancied something sweet, yet light and nothing that had to be baked. So this is what I've come up with! Clean, healthy raw millionaire shortbread recipe. OMG this is something else and pretty easy to make too!
Basically all you need for this raw millionaire shortbread recipe is raw chocolate (I have used Chocolateeha), dates, nuts, coconut oil and either tahini or cashew nut butter. If budget is tight I recommend tahini, however be careful it has slightly bitter taste.
If you don't know what Tahini is it's basically sesame seeds butter or thick paste  made of ground sesame seeds. It can be found in most supermarkets or health shops. I love using it in hummus recipe ( I have some amazing hummus recipes here) , dressings, Sticky Toffee cake, Cookie dough balls or Rocky road!
The topping for this raw millionaire shortbread recipe is raw chocolate. You know my love for Chocolateeha, so make sure you buy a couple from her. She is currently on the Top Of The Shop series with Tom Kerridge on BBC2 and got to the finals!! So pleased for her, she is a lovely girl with loads of passion for her chocolates. I hope she wins! She gave me a discount code for you, just type in HEDIHEARTS to get 20% OFF.
Here's the clean healthy raw millionaire shortbread recipe
Recipe
Clean Healthy Raw Millionaire Shortbread Recipe
Ingredients
Base
1 cup dried dates
1 cup nuts of your choice (I used mixed nuts)
1 tablespoon coconut oil, melted
Caramel Layer
1 cup dried dates
⅓ cup tahini or cashew nut butter (must be runny)
¼ cup coconut oil
¼ cup hot boiled water
Toppings
1 bar Chocolateeha Raw chocolate, melted with 1 teaspoon coconut oil
Sea Salt Flakes (game changer, don't skip)
Instructions
Line your square baking tin with baking paper and tin foil, set aside
For the base get food processor and mix the dates, nuts and coconut oil until smooth
Press the finished mixture evenly into the baking tin and pop in the fridge to set for 30 minutes
For the caramel sauce pop the dates, tahini and melted coconut oil into the food processor.
Then gradually add the hot water until you get smooth slightly sticky paste.
Spread the mixture evenly over base mixture in baking tin and pop in freezer for 30 minutes
Next melt the chocolate and pour over date caramel mixture and sprinkle with salt
Pop back in the fridge until the chocolate has harden
Cut into 9 slices (wipe knife between each cut with paper towel if you want no crumbs on the squares) and devour
How easy and delicious does this clean, healthy raw millionaire shortbread recipe sound? I promise you, your family, friends and even enemies will love it. While you're here make sure you check out my
Raw peanut butter donuts recipe
which I posted last week. It tastes soooo good!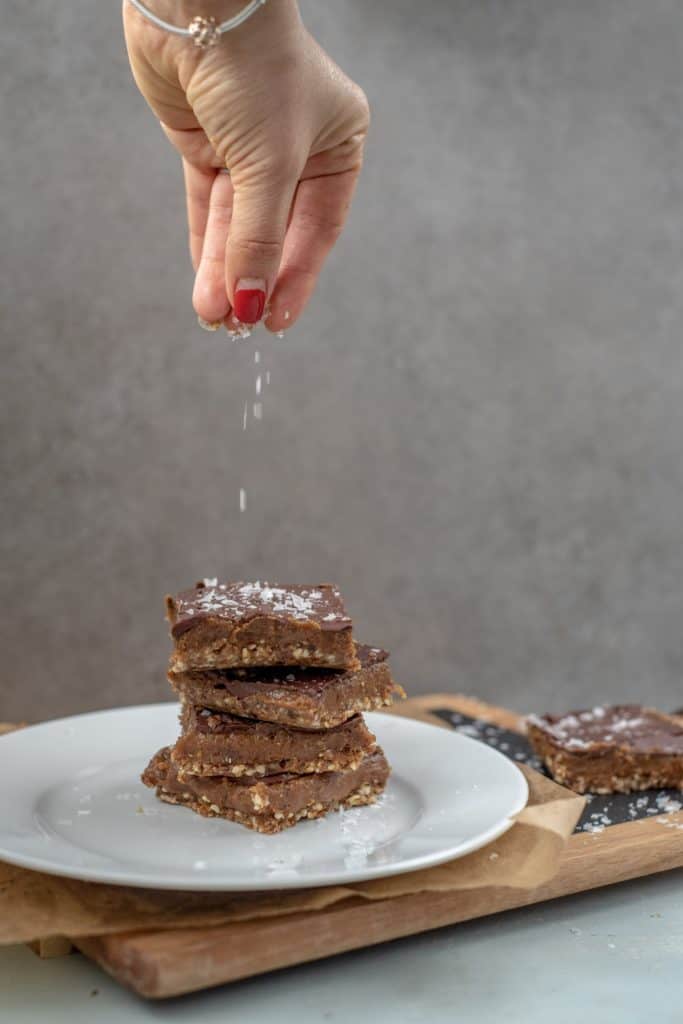 As always please, if you make this recipe share it with me either on my Facebook,Twitter or Instagram. I would love to see it! Hashtag #HediHearts. Make sure you pin this recipe too!
Much love,
Hedi