About 3 months late to the pancake cereal trend but I finally made my own healthy easy pancake cereal recipe. I can reveal I could eat this every single morning.
So what is pancake cereal? Fluffy miniature-sized pancakes served in a bowl just as you would serve regular cereal, ONLY BETTER. Basically you use your favourite pancake recipe and form mini pancakes with a teaspoon or piping bag . Serve it with cold milk, fresh berries and homemade chocolate drizzle.
How to make healthy easy pancake cereal
It's so easy and you can use any recipe you like or follow mine down below. I used spelt flour, because I like the slightly nutty taste. I don't know if you noticed on my socials, but I am currently obsessed with Coconut Merchant Turmeric coconut oil. It's so good for you and tastes lovely too.
Rest of the ingredients are milk of your choice, baking powder and baking soda to make them extra fluffy, vinegar ( I used Coconut Merchant Turmeric and Moringa Vinegar), vanilla extract and pinch of salt.
Other healthy pancakes on my site:
Clean and simple pancakes
Chocolate protein pancakes
Oat and peanut butter pancakes
Buckwheat pancakes
Healthy Easy Pancake Cereal
Easy healthy pancake cereal recipe for the whole family. Fluffy, satisfying and vegan! Serve with cold milk and fresh berries.
Ingredients
150g spelt flour (or any other flour)
1 teaspoon baking powder
1 teaspoon baking soda
3 tablespoon melted coconut oil (I used Coconut Merchant Turmeric Coconut Oil)
150 ml unsweetened milk ( I used UFC Velvet Coconut Milk
1 tablespoon vinegar ( I used Coconut Merchant Turmeric and Moringa vinegar)
1 tablespoon maple syrup
1 teaspoon vanilla extract
Pinch of salt
Instructions
Combine in one bowl flour, baking powder, baking soda and salt.
In another bowl combine all the wet ingredients.
Mix both bowls together and whisk the batter until you get no clumps.
Let sit for 5 minutes
Meanwhile heat your pan with touch of coconut oil and using either teaspoon or use piping/icing bag and drop little amount of batter on your pan.
Cook until golden on each side.
Serve with cold milk, fresh fruit and chocolate drizzle
...and there you have it; An easy, delicious and nutritious pancake cereal recipe for the whole family! Gluten-free, refined sugar free and vegan too.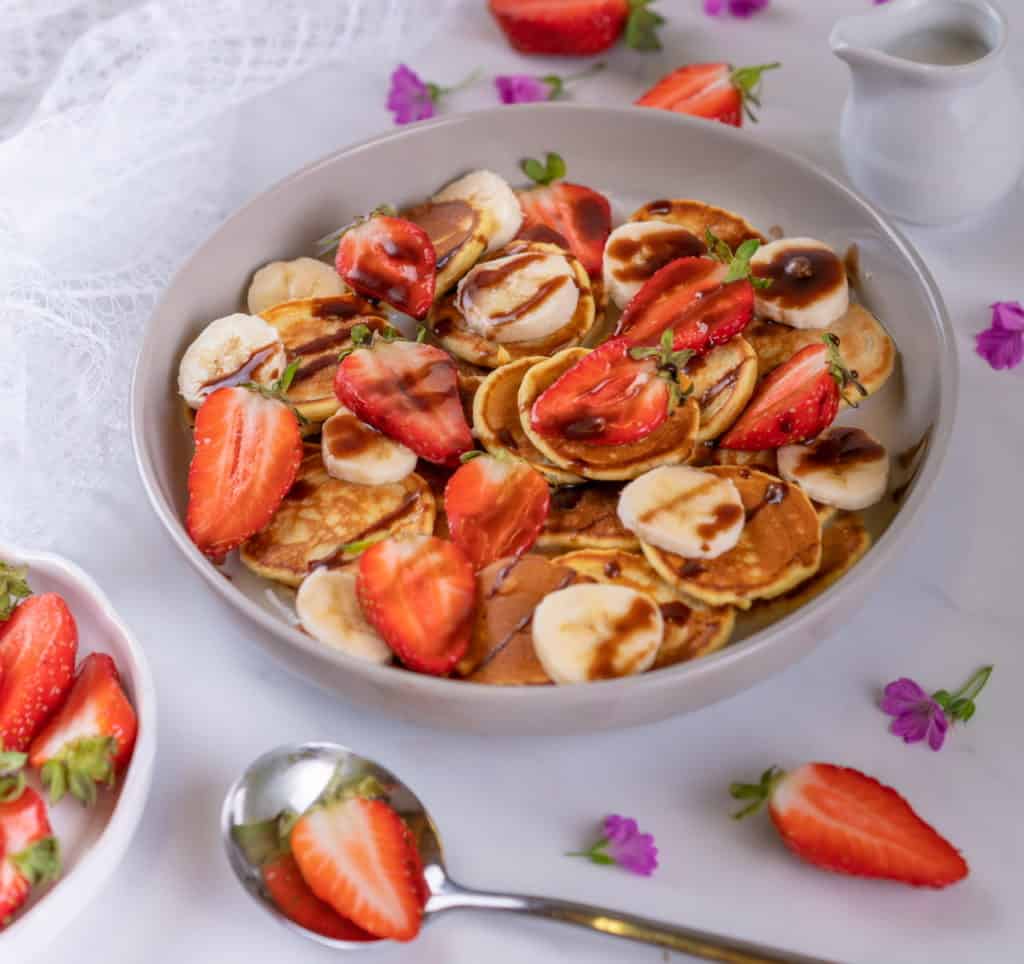 As always please, if you make this recipe share it with me either on my Facebook,Twitter or Instagram. I would love to see it! Hashtag #HediHearts
Much love,
Hedi