This healthy, easy party tartlets recipe is sponsored by Bamix of Switzerland to show of their amazing Bamix Superbox Hand Blender; thank you Bamix for the support!
I know the C word shouldn't be mentioned, but Christmas is, right after Halloween, the next big thing and the party season will start soon. If you want to surprise your guests, or just create some tasty and quick nibbles for yourself this easy party tartlets recipe is just what you need. And the whole recipe is done in one blender! Result!
I honestly love the Superbox. It includes the multipurpose blade, beater blade, whisk blade, mini-food processor, 1 litre blending jug, Swissline stand, plus the SliceSy® 5 blade slicer and grater set, powder disc and additional meat mincer blade. You really don't need anything else. You can find out more here.
This recipe is made of 2 parts. Part one is the tarts. Basically you need ground almonds, ground flax seed egg (flax seeds mixed with water) nutritional yeast, baking powder salt and pepper. If you have whole flax seeds, just pop them in Bamix processor and grind in to a fine powder.
Next step is adding all the ingredients in the food processor to create the dough and then pressing into the tartlets moulds.
Part 2 is avocado hummus, for which I have used my oldie but goodie recipe. You can have a look in here, but I will also include it in the recipe below.  Avocado hummus happened when hummus married guacamole. Pure deliciousness. Once again all done in the same blender! If you're looking for 'pure' hummus then look no further; it's a fantastic dip too!
Equally, I once made this sexy take on peanut butter hummus. It's great and to this day it's still my favourite hummus...check it out 🙂
Here's the easy party tartlets recipe
Recipe
Easy Party Tartlets Recipe
Ingredients
TARTLETS
1,5 cups ground almonds
2 flaxseed eggs (2 tablespoon ground flaxseeds + 6 tablespoon water, let sit for 10 minutes)
2 tablespoon nutritional yeast
1 teaspoon baking powder
Pinch of salt and few grinds of black pepper
AVOCADO HUMMUS
1 can chickpeas, drained and rinsed
1 large very ripe avocado
1 tablespoon tahini
2 - 3 tablespoon lemon or lime juice
1 clove garlic
2 tablespoon water
Salt and pepper to taste
Instructions
Preheat oven to 180 degrees celsius
Make the flaxseed eggs and let them sit on a side for 10 minutes
Put all the remaining ingredients into the blender and blitz
Next add in the flaxseed eggs and blitz everything together until well incorporated
Remove the dough from the blender, divide in into 12 and press into tartlet mould making sure you cover the base and sides of the mould.
Place all the tartlets on a baking tray and pop in the oven for around 15 minutes or until the edges start to brown.
In the meantime place all the ingredients for avocado hummus in the blender and blitz until smooth
Once the tartlets are baked, let cool down for a bit before filling each with a generous amount of the avocado hummus
Sprinkle with some chilli or fresh herbs.
If you likes this easy party tartlets recipe then here my other super easy snacks like these
almond crackers
or
chocolate chickpeas
 to take away those sweet cravings, and here are some lovely, easy, healthy and so very tasty 
blueberry muffins.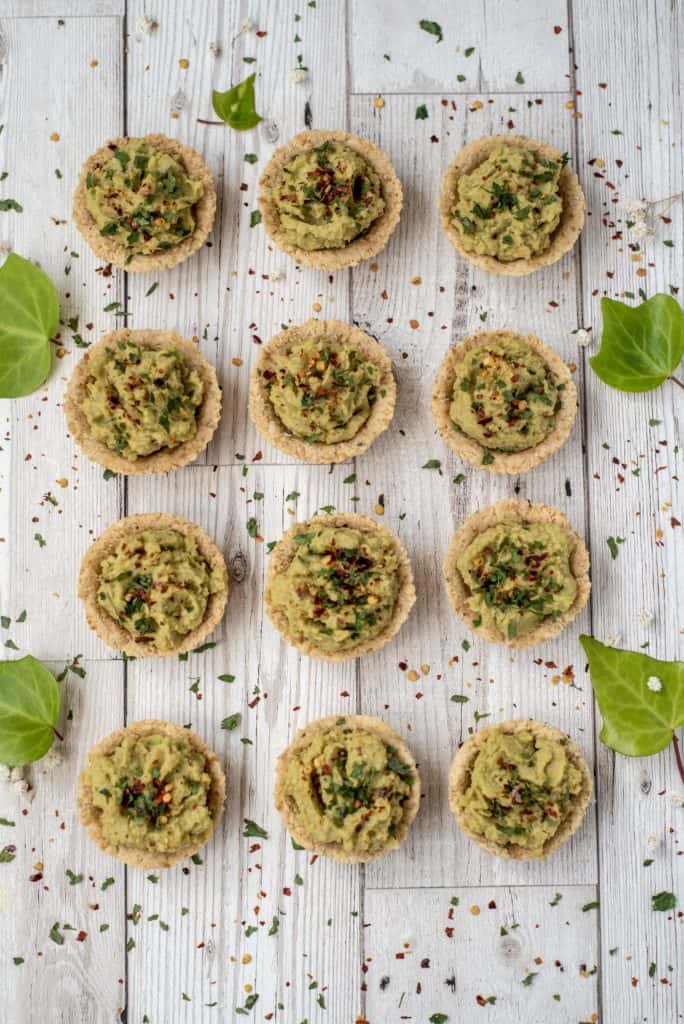 As always please, if you make this recipe share it with me either on my Facebook,Twitter or Instagram. I would love to see it! Hashtag #HediHearts
Much love,
Hedi