Ah toast. One of the nation's favourite. Nothing in the world beats a good cuppa with a toast. Well, until now, because today I am sharing with you my healthy toast 3 ways! This is a super fast recipe and therefore great when you're in a rush.
This recipe is sponsored by Bamix of Switzerland to show of their amazing Bamix Superbox Hand Blender; thank you Bamix for the support! Last week I made these easy party tartlets filled with avocado hummus using this fantastic blender, so check it out.
Now back to this super easy, nutritious, colourful, tasty and healthy toast 3 ways. I loved using sundried tomato sourdough bread from my local market in this recipe, but you could use any bread or give a go to my spelt homemade bread or wholemeal bread. Both work really well.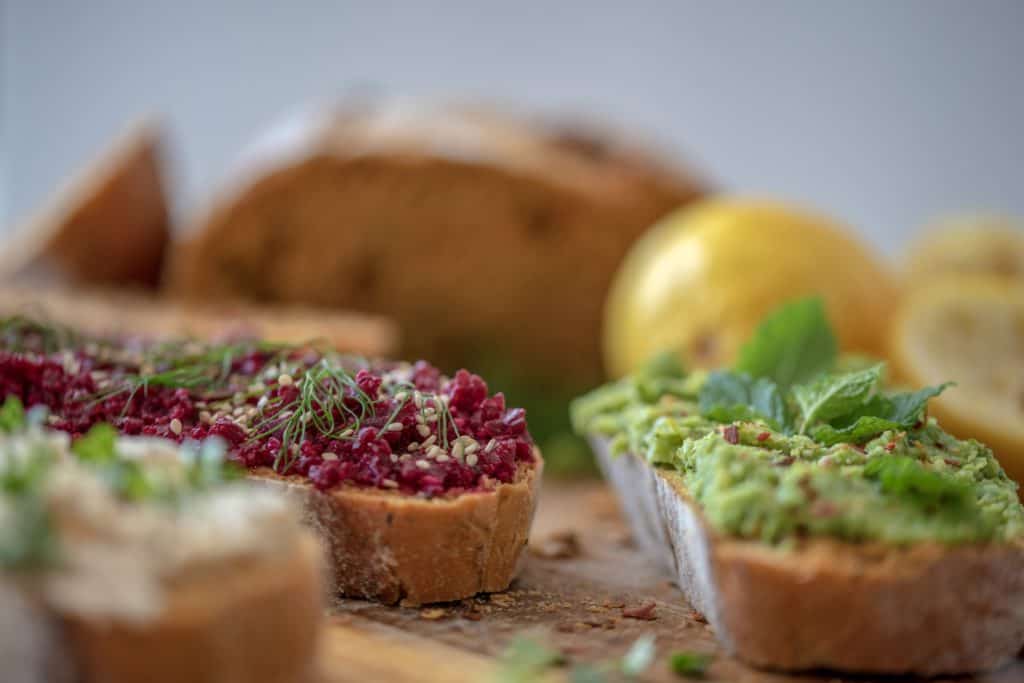 Let's talk about all the delicious toppings. Option one is broccoli, peas, mint, lemon, salt and pepper. Nutritional powerhouse with loads of vitamins, fiber, protein and nutrients. Use any type of broccoli, I love the tenderstem broccoli the most.
As far as peas go small, sweet peas are the best – petit pois is a great type to aim for. Frozen peas are fine. More than fine! Fresh mint of course with generous squeeze of lemon is a must too.
Option two is beetroot, feta (I used coconut one, but any will do) and cumin. So simple, yet so tasty. I know some of you are not the biggest fans of beetroot, but it's so good for you and when combined with cumin and feta it creates really good flavour combination.
Beetroots are good sources of vitamins and minerals, such as folate, manganese, potassium, iron and vitamin C. Plus look at the colour!
Last but not the least is white bean and garlic. Very simple, yet super tasty. You need white beans, garlic, oregano, salt, pepper olive oil and lemon. Beans contain great levels of fiber-protein, brilliant for your blood/sugar level, keeping you feeling full for longer, your digestive system and even reducing the risk of heart attacks.
Garlic is loaded with manganese, selenium and vitamin C as wells as calcium, potassium, iron and copper . It improves cholesterol levels, which in return help lowering the risk of heart disease. This white and garlic spread is so very good; your body will thank you for this nutritious beast!
Here's the healthy toast 3 ways
Recipe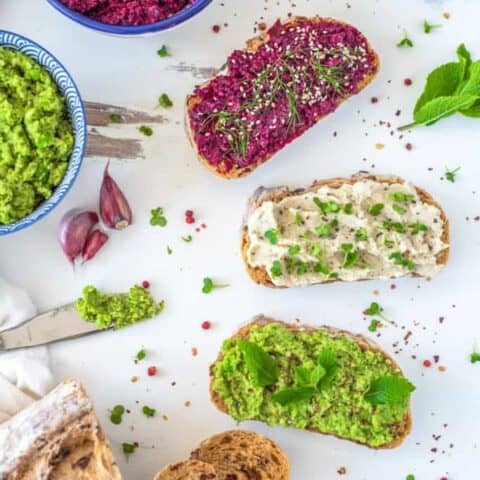 Healthy Toast 3 Ways
Ingredients
Option one - Broccoli, Peas and Mint
150g steamed broccoli
1 cup defrosted peas
1 clove garlic
Juice from 1 lemon
1 handful fresh mint
Salt and pepper to taste
Option two - Beetroot, Feta and Cumin
150g cooked or steamed beetroot
50g feta cheese (I used coconut feta, but you can use any type of feta)
1 teaspoon cumin
1 handful fresh dill
Salt and pepper to taste
Option 3 - White bean and garlic
1 (400g) tin white beans (drained and rinsed)
2 cloves garlic
3 tablespoon extra virgin olive oil
1 teaspoon oregano
Juice from ½ lemon
Salt and pepper to taste
Instructions
Put all ingredients for each option in a blender and blitz until smooth.
Spread on your toast, top up with extras like chilli flakes, sesame seeds or watercress and serve immediately.
If you like these healthy toast 3 ways then check out my super easy
sweet potato toast
. Alternatively this delicious
bruschetta
makes a great post-workout meal for anytime of day or my
Smashed Broad Beans and Avocado on Toast
hits the spot every time you need some quick and filling.
As always please, if you make this recipe share it with me either on my Facebook,Twitter or Instagram. I would love to see it! Hashtag #HediHearts
Much love,
Hedi