Today is all about my easy and healthy Bundt cake recipe. If you have never heard of Bundt cake, well you are in for a lovely little treat.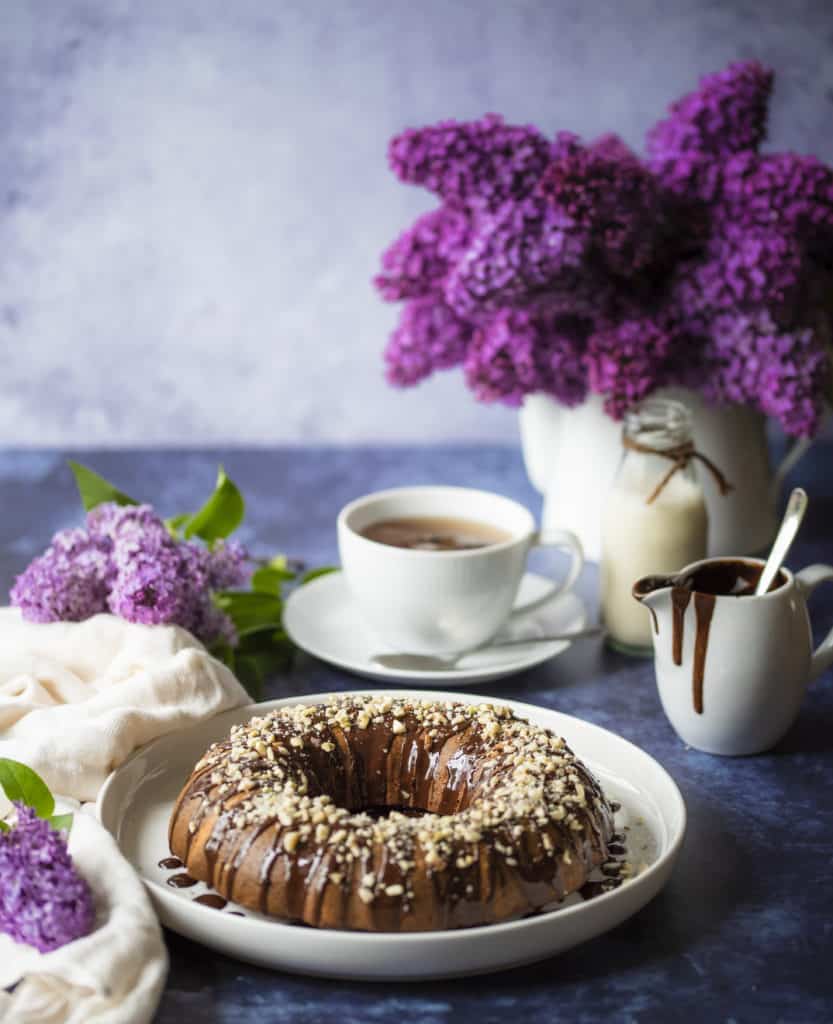 If you've never had a Bundt cake, please allow me to introduce you to what will surely become one of the most delicious and interesting looking recipes to grace your kitchen.
This easy and healthy Bundt cake is really delicious, healthy and tender. I would definitely include it among the recipes labeled as follows: perfect, bake regularly and do not lose the recipe!
It is really moist and has no refined flour or sugar. If you bake it for a more festive occasion, melt some raw chocolate and sprinkle generously with crushed nuts.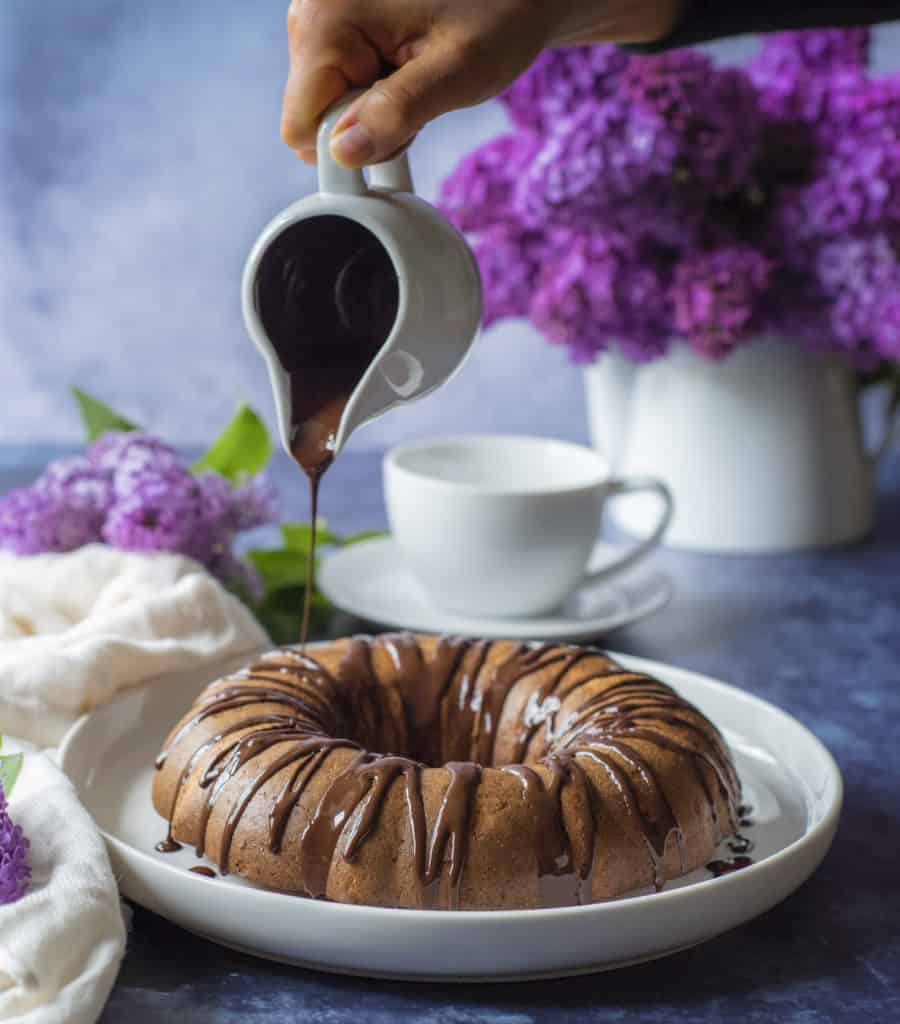 What is this Easy and Healthy Bundt Cake?
Not sure if you know but I am originally from Czech Republic, and Bundt cake was my childhood favourite treat!
The cake is made in the special form of the same name, which gives the cake a typical ring like shape with a hole in the middle.
Bundt cake can be also marbled - with a light and dark batter using cocoa or cacao powder. Or you can make it with nuts and raisins like I did in this easy and healthy Bundt cake recipe.
This is another recipe for Snacking Essentials. I love using their products. Check out the Healthy Flapjack I made for them last month or easy midweek dinner idea Rice Noodle Bowl with Crispy Tofu.
The Ingredients
Oats. I opted for porridge/rolled oats. To make is gluten-free get the certified gluten free version.
Coconut Oil. Any oil is fine, I just love coconut oil the most
Yoghurt. You can use any kind you have on hand. I used unsweetened soya, which is a great option for those who need this to be a dairy-free healthy bundt cake.
Flaxseed eggs. That's basically 3 tablespoons of ground flax seeds mixed with 9 tablespoons of water. You can use normal eggs too.
Date Syrup. To keep things healthy I chose to naturally sweeten this cake with date syrup but you can use any other liquid sweetener.
Apple puree. This is to help things to stick together. You can use shop bought puree too. The best is baby puree as there are no sugars added..
Nuts and Dried Fruits. I love Snacking Essentials range, but if you can't get your hands on them, go for any other.
BUNDT CAKE TOPPINGS
While you can eat this cake triumphantly just as is, here are a few ideas of what you can use to top it:
Ice Cream. Top this cake with a scoop of my ice cream
More Chocolate. If you're serving this to a real chocolate lover, top the cake with melted raw and sprinkle with crushed nuts
Whipped Cream. Add a dollop (or two!) of my coconut whipped cream for extreme decadence.
Caramel Sauce. Add a drizzle of my caramel sauce on top with a sprinkle of flaky sea salt. YES!
And if you are considering buying some new Bundt cake form, you can find a few in here.
Here's the simple and healthy Bundt cake recipe
Recipe
Easy and healthy Bundt cake
Ingredients
Dry Ingredients:
3 cups oats (use gluten free if you need gluten-free option)
1 teaspoon baking powder
⅓ cup crushed Nutty Mix Nuts Snacking Essentials
⅓ cup Berry Mix from Snacking Essentials
1 teaspoon cinnamon
Pinch of salt
Wet Ingredients:
3 flaxseed eggs
3 tablespoon date nectar (or honey, maple or rice syrup)
2 small apples, peeled, cored and then pureed with touch of water in a blender (you can also use ¾ cup of shop bought apple puree)
3 tablespoon coconut oil, melted
1 cup white yoghurt (I used soya)
Toppings:
Melted dark chocolate, crushed nuts
Instructions
Preheat oven to 180 degrees and grease your Bundt cake baking dish with a touch of coconut oil
Now in a medium size bowl mix together all the dry ingredients and set aside
In a smaller bowl mix all the wet ingredients
Pour the wet ingredients into the bowl of oats and stir well to combine
Tip the mixture into the prepared baking dish and place in the oven and bake for around 50 - 55 minutes or until the cake is golden
Let cool for 10 minutes before taking it out of the baking tin
Drizzle with melted dark chocolate and sprinkle generously with crushed up Nutty Mix Snacking Essentials nuts
This Bundt cake is the perfect welcome to spring! If you fancy some more baking give a go to my
Triple Chocolate Cake
, my
Bounty Cake
or
Sticky Toffee Cake
.
As always please, if you make this recipe share it with me either on my Facebook,Twitter or Instagram. I would love to see it! Hashtag #HediHearts
Much love,
Hedi