How is it almost June, already? This year is flying by and despite the uncertainties and the difficulties we are living through, one thing is for sure - we've got your back with new recipes that will keep you energised and ready to face anything. Today I am sharing my easy chia pudding recipe.
This layered number is super easy, tasty and loaded with good fats, fibre + antioxidants.
The bottom layer is my homemade peanut butter granola, strawberries and blueberries. On the top is coconut yoghurt and my energy balls.
Honestly this is a bliss treat in this warm weather but you could make eat this anytime.
How do you make easy chia pudding?
It's really easy.
In a bowl you mix chia seeds and milk of your choice. I love my hazelnut milk the best.
Add touch of vanilla extract and a tablespoon of yoghurt to make it a bit more creamy.
Put it in the fridge for minutes to set.
After 15 minutes take it out and stir well again before placing back in the fridge.
Give it another 30 minutes before layering with your favourite toppings and then serve.
You can leave out the maple syrup if you prefer to sweeten it only with toppings like fresh fruit, dried fruit or granola.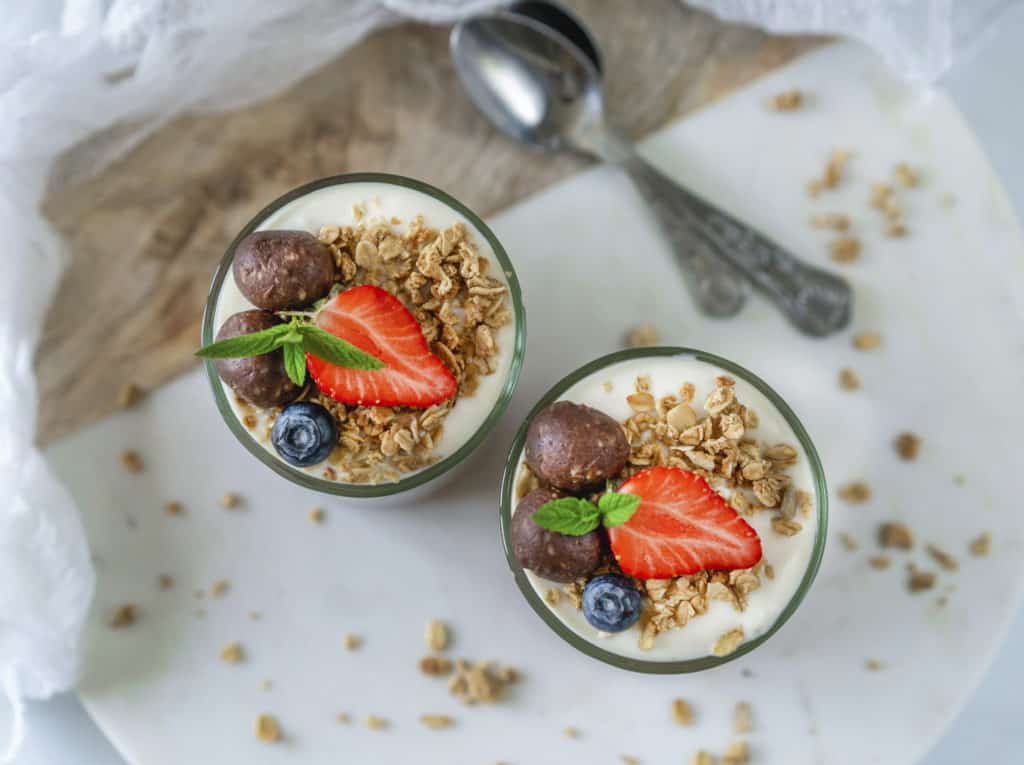 The benefits of chia are endless... source of omega-3s + high in fiber + promotes regularity for healthy digestive tract + loaded with antioxidants. You can read more about benefits of chia seeds here.
More Chia Pudding Recipes
More Recipes With Chia Seeds:
Chia Pudding and Chocolate Overnight Oats
Recipe
Easy Chia Pudding
Easy chia pudding recipe made with 5 ingredients. Add your favourite toppings to make the best healthy snack or breakfast. Vegan & Gluten-free
Ingredients
¼ cup chia seeds
1 cup milk (I used unsweetened almond milk)
1 tablespoon yogurt
1 teaspoon maple syrup
1 teaspoon vanilla extract
Toppings: Homemade Peanut butter granola (link in the post), homemade energy balls (link in the post) , yogurt, fresh fruit
Instructions
Whisk all ingredients together in a bowl or a jar.
Pop in the fridge to set for 15 minutes, then take out and mix it all well again.
Place the bowl back in the fridge for further 30 minutes or even overnight
Take another jar or bowl and layer the granola and fruit at the bottom
Divide the chia pudding and then top up with yogurt and small energy balls
Devour
If you liked this easy chia pudding, then you definitely need to check out my
Chocolate and Orange Overnight Oats.
As always please, if you make this recipe share it with me either on my Facebook,Twitter or Instagram. I would love to see it! Hashtag #HediHearts. Also don't forget to check out my Youtube channel, I post new recipes weekly.
Much love,
Hedi