Hello, hello! Today I am sharing my healthy Banoffee pie recipe which is love at first sight and taste! I think you are going to enjoy making this. It's creamy and oh-so-tasty.
If you don't know what Banoffee pie is then think of a lush dessert pie made with crumbled biscuits base topped with bananas, cream and toffee sauce.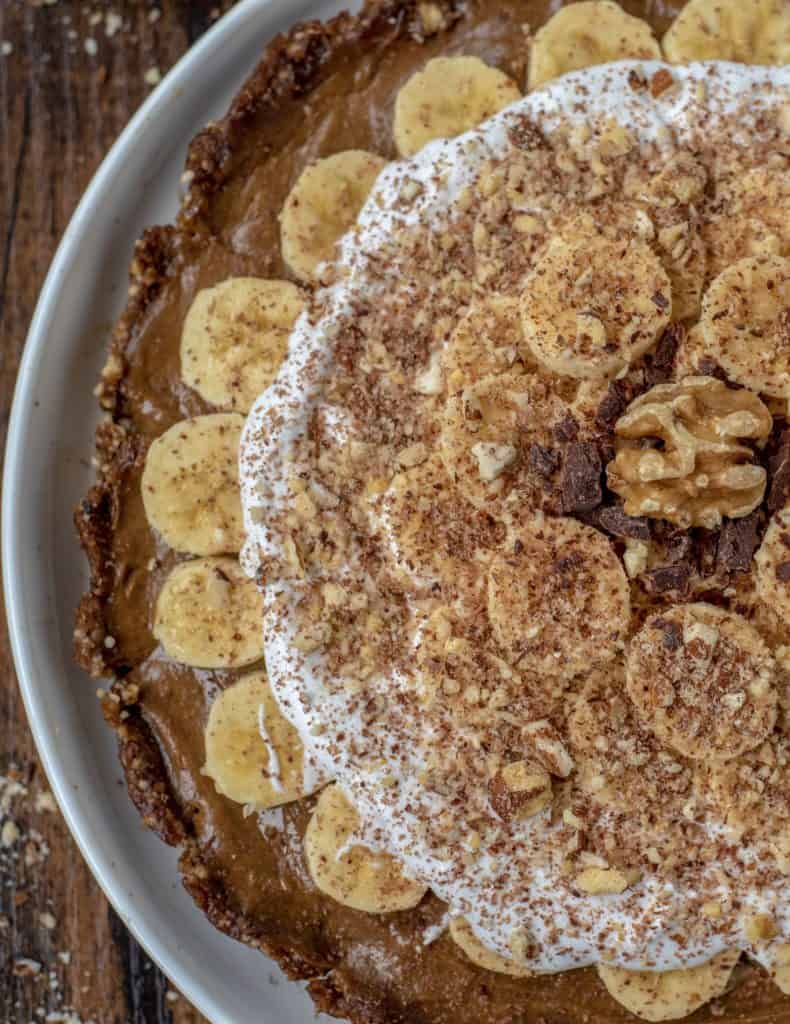 It's not traditionally the most waist-friendly dessert, so that's why I thought I'd create a healthier and lighter version for us all to enjoy!
This light Banoffee pie is created with crushed nuts and dates as the base, and topped with a beautiful caramel date sauce, bananas and whipped coconut cream.
It's completely dairy and gluten-free, vegan and refined sugar-free. This is definitely a much healthier Banoffee Pie while still being super easy to prepare, delicious, and pretty too!
This would make the ideal cake to take to a get-together or summer BBQ.
Instructions
Need a vegan banoffee pie recipe that's also gluten-free, sugar-free, and all-around healthier? Then this is your recipe, and my goodness, it's so delicious, you won't believe it's actually good for you!
The base is made of dates, nuts and a splash of water. That's it. Nuts are life! Never underestimate their ability to take the edge off a sugar-craving and keep you full for longer.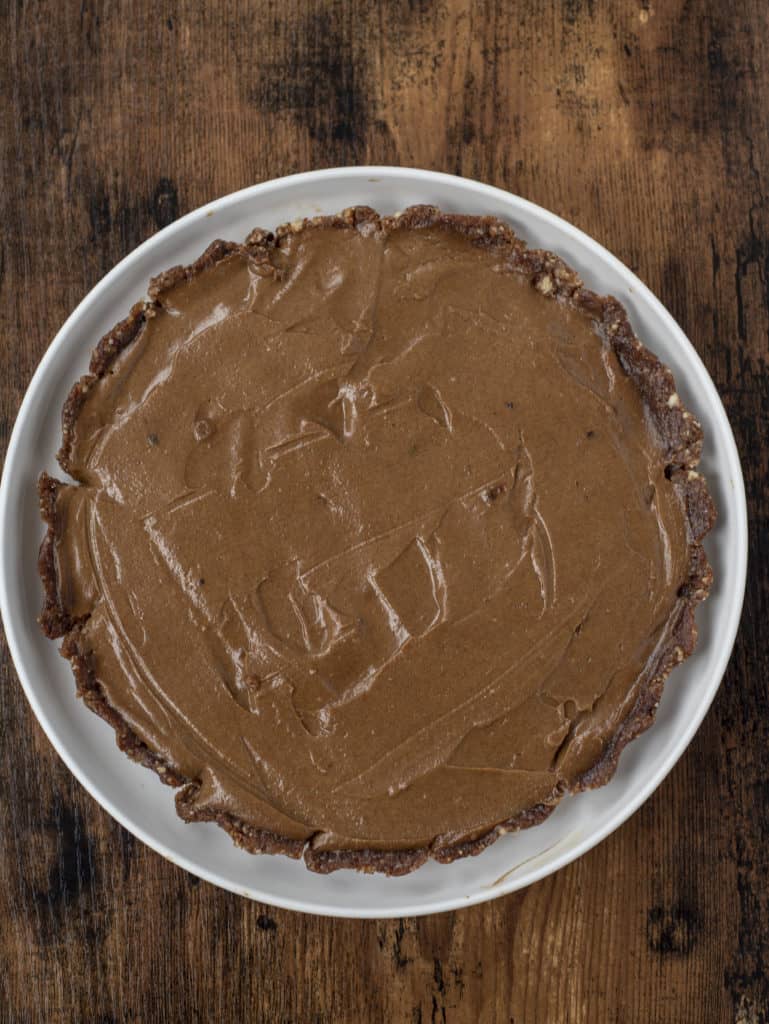 Dates help to make it all stick together and add a toffee-like flavour to your raw vegan banoffee pie.
The caramel sauce is a combination of dates, cashews and almond milk. It creates a silky, sweet and smooth caramel sauce which makes this sugar-free banoffee pie completely decadent and divine but still light and airy - just like it should be!
I love bananas and pies, so this recipe is a dream come true. Bananas are one of the most popular fruits amongst athletes, as they're an excellent source of potassium, B6, fibre and magnesium.
Make sure you use ripe bananas in this recipe, avoid the green ones.
Last but not least is whipped coconut cream. All you need is a tin of full-fat coconut milk. Pop it in the fridge the night before, and it will be ready to use the next day.
The coconut cream will separate from the milk and solidify which will make it easy for whipping up. Alternatively, you can purchase coconut whipping cream which normally comes in a UHT carton.
I also want to say that making this recipe is very simple and relatively fast, even for a complete beginner. Plus this no-bake banoffee pie, so there is not much that can wrong with it.
Plus, you can easily adapt it to your own personal style. You can divide the recipe into glasses or small pots if you want to mix up the presentation and impress your guests. Or even halve or quarter the recipe to enjoy on your own.
Related
Healthy Banoffee Pie
Healthy Banoffee pie recipe is light and a great dairy-free spin on the traditional recipe full of wholesome ingredients. Vegan and gluten-free too!
Ingredients
Base
2 cups of mixed nuts (I used almonds, cashews, walnuts and hazelnuts)
1.5 cups pitted dates
Caramel Sauce
1.5 cups pitted dates
¼ cup cashew nuts
1 cup unsweetened almond milk
Topping
1 tin full fat coconut milk (pop in fridge overnight)
4 bananas, sliced (2 under cream, 2 on top)
Crushed nuts
Instructions
First put the dates and cashew nuts in a bowl, cover with water and leave to soak for 1 hour.
Next, make the base by processing the nuts and dates in a blender or food processor.
Use high-speed blender and add a splash of water halfway through to help bind it together
Get a pie or cake case, line it with cling film and mould the mixture into the bottom and up the sides too.
Pop in the freezer to set and start making your caramel sauce.
Drain off the water, then put the dates and cashews in a food processor along with the almond milk.
Process until completely smooth
Next spread the caramel onto the chilled crust, top up with 2 sliced bananas and pop back in the fridge.
Next up is the whipped coconut cream.
Take the tin out of the fridge, and carefully scrape off the coconut cream. Make sure you don't add any liquid.
Whisk or beat the cream until a thick consistency is achieved.
Gently spoon the coconut cream on top of the bananas, add the remaining banana slices, and sprinkle generously with some chopped nuts and grated dark chocolate (optional)
Chill until ready to serve.
Notes
You can purchase coconut whipping cream instead of using canned coconut milk.
Nutrition Information:
Yield:

10
Serving Size:

1
Amount Per Serving:
Calories:

414
Total Fat:

23g
Saturated Fat:

7g
Trans Fat:

0g
Unsaturated Fat:

15g
Cholesterol:

0mg
Sodium:

129mg
Carbohydrates:

53g
Fiber:

8g
Sugar:

35g
Protein:

8g
Please keep in mind that the nutritional information is calculated using a nutrition facts calculator. It is a rough estimate and can vary greatly based on products used.

And there you have it! Insanely delicious no-bake vegan banoffee pie recipe which tastes just as good as the traditional, without the heavy feeling after.
As always please, if you make this recipe share it with me either on my Facebook,Twitter or Instagram. I would love to see it! Hashtag #HediHearts
Much love,
Hedi