Seriously this healthy chocolate hummus recipe is OUT OF THIS WORLD. Made with just wholesome ingredients including chickpeas, cacao and a nut butter, it's also vegan, gluten-free and so damn tastyyy! So much better than the artificial store-bought stuff!
It is lusciously creamy, indulgent yet still light and fluffy. Using just a tin of chickpeas, you can have this incredible hummus today, not tomorrow! No chickpea peeling and 2 hours of cooking required.
How to Make the Healthy Chocolate Hummus
This healthy chocolate hummus recipe takes less than five minutes to throw together, which means it is the perfect healthy snack to serve after school, in the evening or any time of the day really 🙂
This super simple recipe starts out with chickpeas.
If you've been following my blog for a while, you'll know how much I love chickpeas! It's my favorite ingredient in healthier baking, especially because it packs in a good amount of plant based/ veggie protein.
I've used one tin of chickpeas, which has almost 18g of protein. That's amazing!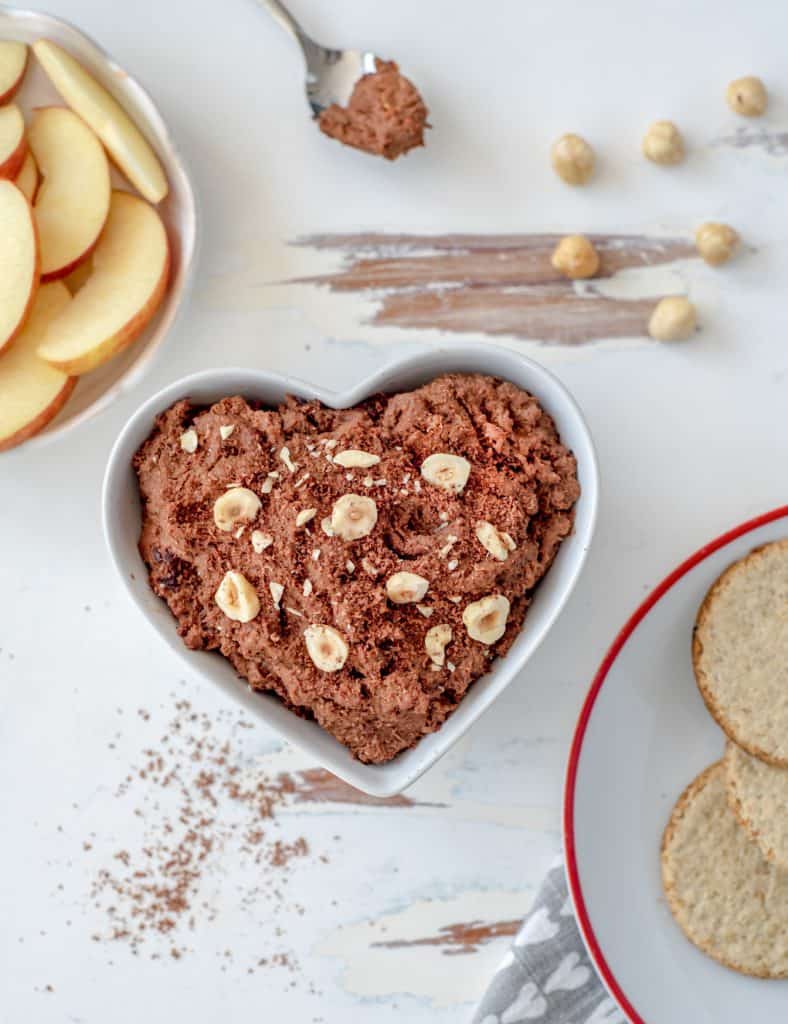 Chickpea, when blended, has a thick and creamy texture, so all you need to do is pop it in a blender, add in peanut/almond/cashew nut butter ( your choice) cacao or cocoa powder, date or rice nectar, vanilla extract and some water.
That's it.
You might want to adjust sweetness to your liking.
Feel free to had another tablespoon of the syrup, or use non-dairy milk instead of water.
What can I eat chocolate hummus with?
I love eating chocolate hummus with fresh fruit such as apple slices, strawberries, or even sliced bananas. Crackers, rice cakes or oatcakes are also brilliant for dipping in.
You could also smear it on my Homemade Bread, use it as a topping for my Mug cake or Black Bean Brownies, spoon it into overnight oats or chia pudding, or eat it straight from the bowl with a spoon.
How to store healthy chocolate hummus?
To Store. Place any leftovers in an airtight storage container in fridge for up to a week.
To Freeze. Place it in an airtight freezer-safe container for up to 3 months. Let it thaw overnight in the fridge and stir well.
More Easy, Healthy Dessert Recipes with Chocolate
Here's the healthy chocolate hummus recipe
Healthy Chocolate Hummus Recipe
Healthy chocolate hummus recipe which is OUT OF THIS WORLD. Made with just wholesome ingredients, it's quick, #easy, #vegan, dairy and gluten-free #healthyrecipes #glutenfree #vegantreats #healthieroptions
Ingredients
1 can chickpeas (drained and rinsed)
3 tablespoon peanut butter/almond butter/ cashew butter or tahini for nut free option
2 tablespoon cocoa powder
2 tablespoon rice or date nectar
1 teaspoon vanilla extract
1 tablespoon water
Optional: Grated dark chocolate on top
Instructions
In a blender/food processor add all the ingredients
Blend until smooth – you may need to scrape down the sides of the food processor a couple of times with a spatula.
Add extra water at a time to thin as needed. I only used 1 tablespoon.
Transfer the chocolate hummus to small serving bowl.
Serve with your favourite fruit, oatcakes or on a toast
Enjoy!
PS: You could also grate some extra dark chocolate on top, like I did 🙂
Nutrition Information:
Yield:

8
Serving Size:

1
Amount Per Serving:
Calories:

168
Total Fat:

10g
Saturated Fat:

2g
Trans Fat:

0g
Unsaturated Fat:

7g
Cholesterol:

0mg
Sodium:

124mg
Carbohydrates:

15g
Fiber:

4g
Sugar:

4g
Protein:

6g
Please keep in mind that the nutritional information is calculated using a nutrition facts calculator. It is a rough estimate and can vary greatly based on products used.
If dipping is your kinda thing, please make sure you make my lush light guacamole, or absolutely gorgeous caramel dip. If you need more hummus in your life, here is peanut butter hummus, pumpkin hummus or walnut and cranberry hummus. #HummusObsessed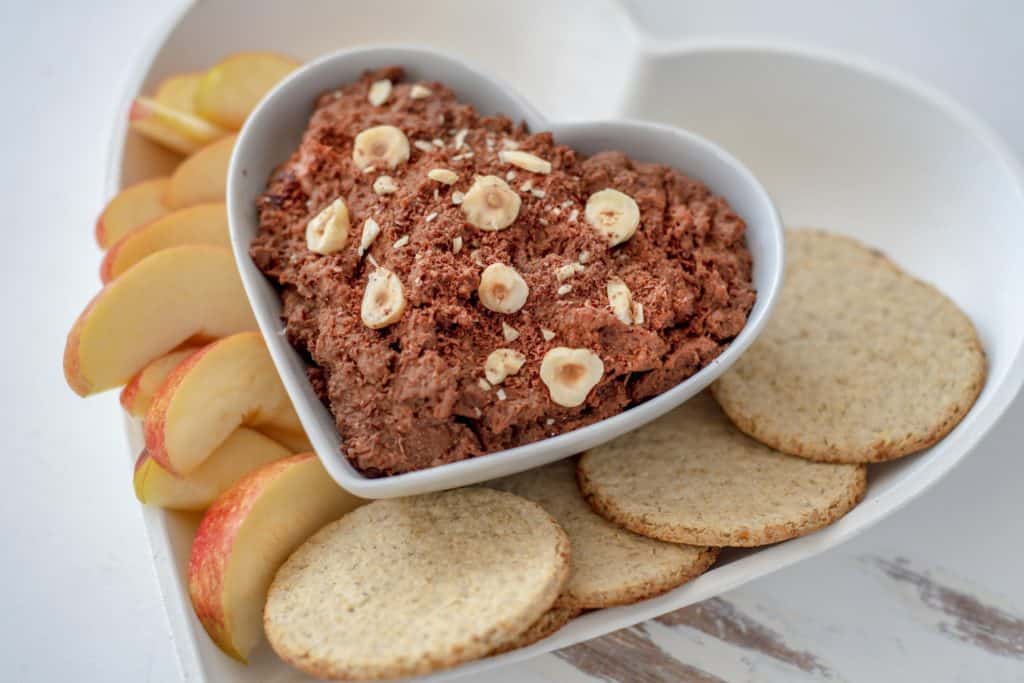 As always please, if you make this recipe share it with me either on my Facebook,Twitter or Instagram. I would love to see it! Hashtag #HediHearts
Much love,
Hedi